Jason Maxiell to don Horace Grant goggles
Magic forward to honor former awesome player with awesome goggles by wearing similarly awesome goggles.
From the department of "completely and totally awesome," Magic forward Jason Maxiell will be donning awesome eyeware this year. From Magic blog Orlando Pinstriped Post: 
Free-agent signee Jason Maxiell will become the second player in Magic history to wear no. 54, following Horace Grant. And if Maxiell gets his way, he'll also don Grant's familiar and iconic goggles, which were once the centerpiece of a Sports Illustrated cover, for the season ahead.

Maxiell underwent surgery on Easter to correct a detached retina, and he will "most likely" wear protective goggles for his own safety throughout the season. "I don't have to, but I would rather [wear them]." He's still not sure when or how the original injury occurred.

Currently, Maxiell is wearing a sleeker and more stylish pair of goggles similar to the ones Bo Outlaw wore when he was with the Magic. Maxiell says the Grant goggles are "a little more durable, [and] a little more my style."
via Orlando Magic training camp notebook, Day Three - Orlando Pinstriped Post.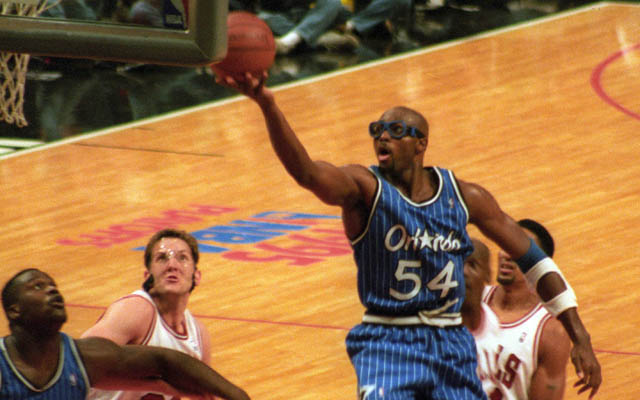 Your excitement about this should be umeasureable. (Is excitemente measureable?) Maxiell's not Grant, in nearly any way except for being kind of a badass. It's cool to see him honoring Magic history, even if Grant is best known for his days with the Bulls. I'd be fine with the league mandating all goggles be Horace Grant goggles. 
The former Clipper apparently had some tricks up his sleeve after a chippy game

The Rockets were apparently looking for Austin Rivers and Blake Griffin after a chippy gam...

If they don't meet in the Finals again, let's appreciate every one of the 27 matchups since...
D-Wade picked up the steal and got creative on the fast break as the Cavs headed into half...

Despite the embarrassing hiccup, the youngest Ball had himself a pretty great day on the c...

The players were both ejected in the closing seconds, then continued their discussion off the...