Kobe Bryant says he has 'shattered' expected recovery time
Kobe Bryant is well ahead of schedule in recovering from Achilles surgery. Will he be ready for the Lakers' opening night?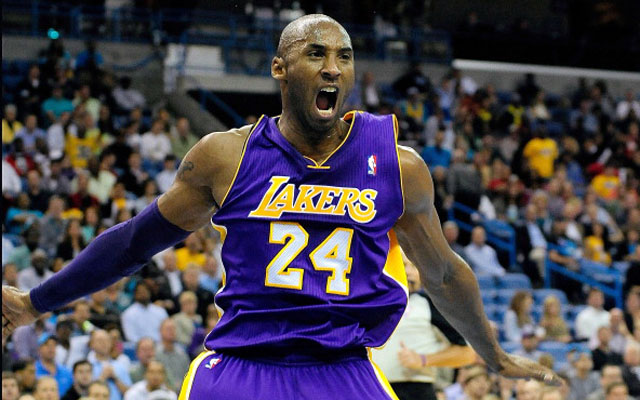 On a recent Nike-sponsored trip to China, Kobe Bryant says his recovery from the Achilles tear he suffered last spring is way ahead of schedule. From NBA.com: 
"The surgical procedure was different […] and because of that the recovery has been different," Bryant said in the southern city of Shenzhen. "The normal timetable for recovery from an Achilles, we've shattered that. Three-and-a-half months I can already walk just fine, I'm lifting weights with the Achilles just fine and that's different. So we don't know what that timetable is going to be. It's kind of new territory for us all."'
via Bryant 'Shatters' Recovery Timetable « Hang Time Blog | NBA.com.
Look, I'm just going to say it. 
I think he's back for opening night. I understand an Achilles tear is different from every other injury he's suffered. I understand he's well past the point when players recover from injuries like this. And I get he is human, technically, after all. 
But at some point you've been doing this long enough that you realize Kobe Bryan is only human technically. For better or worse, and there are drawbacks, Bryant is willing to go beyond what every other person is willing to in pursuit of being great at his job. He's willing to go though physical, mental, and emotional barriers to reach what greatness means to him. 
Bryant has never understood how to cross barriers with a team, how to get around obstacles that live in the group environment. But individual challenges, like recovery from an injury? That's something he can conquer. That's what he lives to face. 
And he's well on his way to starting on opening night. Maybe he won't. But if you ask me, right now, I'll tell you I feel confident Kobe Bryant will have his name called in the Lakers' first game of the season. 
That's just who he is. 
There was some explosive guard play this week in the NBA's rookie class

With half of the season in the books, there were some clear favorites for our Midseason Aw...

Zack Cimini is 12-3 on picks for or against the Pistons ATS and locked in a play for Frida...
Both Washington and Detroit will try to snap losing streaks Friday night

The Hornets are reportedly looking to move their franchise point guard

We've got all the scores, highlights and news for Thursday night