Larry Legend to Home Security: Journey down the rabbit hole
You can get stuck in the Larry Bird rabbit hole on YouTube for hours, but eventually it will get you to some pretty awesome home security commercials. Let's journey.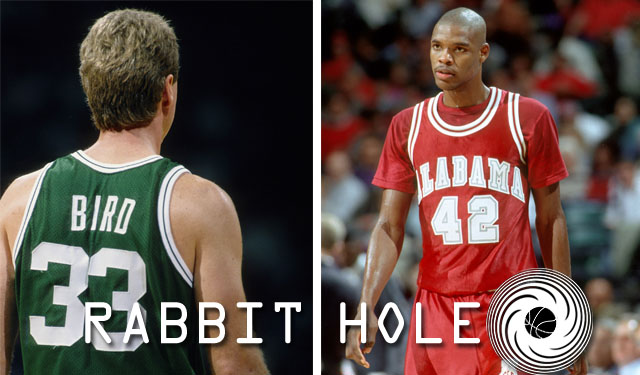 We've had nearly a week of preseason basketball and while it hasn't always been the best product the NBA puts on the floor, we've had a nice glimpse into the current makeup of teams and the new players in new uniforms. There are still a couple of weeks to kill though before we get to the games that matter and until then, we'll have to get by on weird rotations, basic offensive and defensive schemes, and guys just making sure they don't get injured if a win or loss doesn't result in an official change in the standings.
While we wait for those real games to get here, we've got quite a bit of time to kill. This week's journey down the NBA YouTube rabbit hole can certainly help us with killing time. 
First stop: Larry Bird is a lifer
There are two things I'm obsessed with when it comes to the NBA. No, not Ricky Davis. OK, let me rephrase that: there are three things I'm obsessed with when it comes to the NBA. I love me some Ricky Davis, but we'll save that all Ricky Davis rabbit hole for another day. The other two things are incredible shooting and clairvoyant passing. I love dunks, blocked shots, great schemes, incredible handles, and other stuff about the NBA too, but give me a great shooter and/or a great passer and I'm locked into the highlights and the stories behind those abilities for hours.
When Ken Berger of CBSSports.com posted a Larry Bird story this past week, I geeked out a little bit. Larry Legend is my second favorite player of all time (no, not behind Ricky Davis. He's behind Kevin Garnett). I'm not as engrained in the Larry Bird fandom as Boston Celtics fans or even say Bill Simmons by any measure, but the raw ability, basketball intelligence, and remarkable ego of Larry Bird has always been a big draw for me. His autobiography Drive: The Story of My Life is my favorite autobiography of all time and I've read it probably 15 times in my life.
With him back running the Indiana Pacers, it gives us a chance to just have Bird as more of a part of our basketball lives. This quote from him in Ken's piece was something that immediately sent me down the Larry Legend rabbit hole:
Larry Bird sits quietly in the stands watching practice, peering down through basketball eyes that have seen so much. Sometimes, he stands and leans on a railing, stretching his chronically achy back. His eyes, though -- squinty, a little droopy -- never avert their Hall of Fame gaze from the action on the court below.

Bird is back in his element, back running the only team he wanted to run. A year off has rejuvenated him, has reminded him of a fact he probably should've already known.

"If you're a lifer, you're a lifer," Bird told CBSSports.com in a quiet moment after practice last week.

Bird is a lifer, all right; a private man who knows there is no use fighting the awkward bond between his small-town roots and his life's work in the public eye. He has returned after a year off to reclaim his perch as president of the Indiana Pacers, an outcome he truly didn't foresee when he left.
The idea of Bird calling himself "a lifer" gave me the same chills that his highlights and incredible on-the-court exploits have given me for all of my basketball fandom life. The fun thing about Bird is that you can pinpoint just about any part of his game and YouTube has a video for you.
Larry Bird has all of the highlights you might want
The first place I always go with Larry Bird highlights is trying to watch his passing. Magic Johnson is the greatest passer I've ever watched and has arguably the most spectacular passing highlights you'll ever see. While Bird wasn't nearly as "Showtime" as Magic, watching clips of his greatest passes is its own kind of amazing. Here's a YouTube mix with the 80's instrumental soundtrack that makes you feel like you're watching a Grand Theft Auto trailer. This video is just of his passing:
There are three things of note here for me other than, "Holy wow!": 
I don't think anybody ever was or ever will be as great as Larry Bird at passing out of a shot motion. Because he was such a deadly shooter, you had to instantly fixate on him putting up a shot when that motion started. However, he was quick to abort that mission and go to Plan B. Maybe sometimes it was Plan A and he just used the shot motion to trick everybody? 
I doubt anybody was as good at passing to start the break after securing a loose ball on the ground. 
For the basketball junkie in all of us, when you take a second look at this passing video, it's fun to not fixate on the ball so much. Instead, try looking at it and figuring out the moment he knows how the play is going to unfold. It's unreal to get a glimpse into his basketball IQ.
Some of the better hidden gems on YouTube are all of those old Red Auerbach instructional videos. My favorite one is "Winning Basketball with Larry Bird and Red Auerbach." You can watch the entire hour long video, but there are plenty of broken up clips of this video and others on YouTube.
Want to know how to run the pick-and-roll properly? Just ask Larry Bird, Kevin McHale, Robert Parish, and Danny Ainge on how to do it. There's a video for it!
If you ever wanted shooting tips from Larry Bird and Red Auerbach, you can get some basic fundamentals here:
In this much shorter clip from a different session, Larry Bird talks about the important of the placement of the ball in your motion for optimum control of the shot. And he shows you just how freakishly talented he is:
When he talks about bringing the ball too far back on his shot motion, he mentions that it gives him a lack of control on the direction of the shot. Then he shoots with a bad shooting motion and still knocks it down with the explanation of, "Of course me, you know?" as he laughs at his own absurd ability. That's what made Bird so fun; he was supremely confident in his ability, no matter what the circumstances were.
And that led to a lot of talking.
Larry Bird would tell you how he was going to beat you, then he'd do it
"Imagine the arrogance, the wonderful arrogance of a man who needs two to tie or three to win and says, 'let's roll the dice.'"
There are a lot of great clutch shooters in the history of basketball, but not many of them have the résumé that Larry Bird has. The fact that he could make any shot from any angle from anywhere made him the ultimate end of game weapon. There are some people that would pick Michael Jordan or Kobe Bryant or Reggie Miller for their do-or-die last second shot, but I'd take Larry Bird in his prime any day over those guys, just because he could match their confidence and he was a better shooter than all of those guys.
Looking at his career numbers almost make you feel like there is some type of mistake on his Basketball-Reference page. His career averages of 24.3 points, 10.0 rebounds, and 6.3 assists are ridiculous. With 49.6/37.6/88.6 career shooting percentages, he's almost a career 50/40/90 guy and probably gets there if he didn't have to suffer through crippling back issues. Throw in his three MVPs and three championship rings too. That's probably why he had no problem talking trash to you.
Couple of notes about this video:
The time Clyde Drexler talks about facing Larry Bird when Clyde was just a rookie, Bird had 41 points on 15-of-27 shooting. He was 10-of-10 from the line. He also chipped in 14 rebounds. He was right about Drexler not knowing how to defend him because he was a rookie.
The play where he follows his own shot, catches the board, and flips it in with his off hand in one motion is probably something we won't see again. It's not because of today's players or basketball either; I'm not sure we saw that play before Bird graced us with his greatness.
James Worthy said he'd rather guard Michael Jordan than Larry Bird. Think about that.
HE SCORED 27 POINTS LEFT-HANDED!
Before we switch gears, if you want to watch 10 minutes of Larry Bird as a rookie playing with Pete Maravich, Tiny Archibald and Dave Cowens, this is the link for you.
Watch Larry Bird videos and trash talking videos come up in the sidebar
When I was watching the Larry Bird trash talking video, I glanced over at the sidebar on the YouTube page and something immediately caught my eye:
"Charles Oakley celebrating in Larry Johnson's face"
That was good enough for me to click.
Larry Johnson was a gigantic, boisterous man but when Charles Oakley finished that play and celebrated in LJ's face, the Hornets' monster didn't seem to take any umbrage from the enthusiastic display. Why is that? Because you have to be pretty serious to mess with Charles Oakley. Just look at how terrified rookie Scottie Pippen was of Oakley and they were teammates.
There were some guys that were truly unafraid and would challenge the legendary brawler. Karl Malone didn't seem to be one of them in this next clip as he backed away fairly quickly, but Xavier McDaniel was definitely not the type of guy to back down from anybody, even Oak.
Charles Barkley also didn't have a problem with putting his hands on Charles Oakley. Even with the famous story of someone answering why Oakley was the most intimidating player with, "There's a lotta tough guys in the league, but Oak don't give a f---."
Hey! There's Larry Johnson still making sure nobody reacts to Oakley in a way that may make him tear down the arena like he's one of the characters from the arcade game classic "Rampage."
Speaking of ferocious players, I miss Latrell Sprewell
Also on the sidebar of these Oakley fights and trash talking videos was a clip of a young, Golden State Warriors Latrell Sprewell celebrating in Charles Barkley's face after he dunked on him. Any time you can start looking at old Sprewell videos, you've got to take that plunge.
There are plenty of stories and videos out there about Latrell Sprewell, but none are more famous than him getting suspended for one year after he attacked coach P.J. Carlesimo twice during a Warriors practice. The story of the buildup to that event is fascinating in the sense that Sprewell clearly wasn't the only one frustrated with Carlesimo's tactics (Bimbo Coles is probably not a fan), but Spree lost his cool and went nuts on him.
But that practice wasn't the only place in which Sprewell acted like a monster; he was a truly ferocious player on the court and even took Michael Jordan's place on the All-NBA First Team in 1994 after Jordan retired, despite having a PER of 15.9 (obviously, there wasn't a PER back then but it's funny to look back at it now). He was probably the most powerful two-handed dunker that wasn't a big man, and even then you could probably find a way to measure the anger in his two-handed dunks against the power in Shaquille O'Neal's two-handed dunks.
(Warning: when it gets to the Knicks highlights, game audio will cut in and the sound level of it is unruly. Be careful if you're avoiding work while watching this in an office or cubicle.)
More NBA Trash Talking
When I was looking up NBA trash talking videos because of the Charles Oakley/Larry Bird stuff from earlier in the post, I came across my first real memory of getting caught up in a playoff moment. Probably the first real playoff moment I remember vividly from my childhood was watching the 1991 series between the Boston Celtics and the Indiana Pacers. I had seen a lot of playoff basketball before that time, but I was nine years old during this series and for some reason it really stuck with me.
First, here's the video that reminded me of that moment:
The moment involved two of the greatest trash talkers in NBA history with Larry Bird and Chuck Person. Bird was at the tail end of his career and Person was just starting to get going with his. It led to a pretty cool moment to essentially cap off Bird's career, considering he only played in one more season.
It was so fun to see a legend and a young player go toe-to-toe and just jaw at each other as they were giving one another buckets. Person's ability to pull-up from anywhere on the floor sang to the gunner in my heart and still resonates to this day. A fun little throwback in time is watching the post game show in which Bob Costas and Pat Riley discuss what happened in this game. 
You can also read an extensive flashback full of comments from both Person and Bird, who seemed to have each other's respect on the court.
Great moments in NBA posters
It's hard to think of Chuck Person and not immediately think of one of the greatest NBA posters of all time. And once you go down the road of those old NBA posters, arguably the creepiest one of all time also comes to mind.
The poster on the left is Chuck Person as the Rifleman. Notice the bull's eye target on the box of the backboard when it probably should have been put in the middle of the rim. There's the Rifleman kerchief to go with his oddly designed plaid shirt. And then there are the brown leather chaps... my god, the chaps! That's a phenomenal poster.
The one on the right is Dale Ellis basically about to do a little breaking and entering. It almost looks like the guy reading the newspaper is on the toilet, but upon further review, he's confusingly standing inside a house with his leg up or maybe he's outside the house and Dale Ellis is inside? I'm not quite sure. Regardless, this guy needs a home security system in the worst way.
Home Security
Speaking of home security systems, the Brinks commercials are a great way to spend some time on YouTube. They're all completely extreme, always show imminent danger, and then the perps usually just run away from the alarm noise even though the heat of the moment led them to commit a crime that looked like was headed toward violence. 
The more amazing ones are set around two "dates" gone horribly wrong. They took away the embedding on this one, but it's pretty sudden and ridiculous. 
The home security commercial about the crazy ex boyfriend is fantastic.
Oh why not one more?
Never invite A.J. to your house party; he's a bit clingy and never knows when to leave.
Teletovic missed the final three months of 2014-15 season with Nets recovering from same i...

Keep it right here for all of the news, notes, scores and highlights from around the leagu...

The NBA's City edition Nike jerseys are bold and very different
The Wolves may be smoke and mirrors, but the Pacers have the look of a team that can hang in...

LeBron said it might be difficult if the Lakers rookie ducks out of the way before he gets...

Galin Dragiev has his finger on the pulse of the Mavericks and just locked in a play for Thursday's...