LeBron James: Every player would have played through concussion
LeBron James says that all players would have played through a concussion after Paul George denied symptoms to team officials which allowed him to play.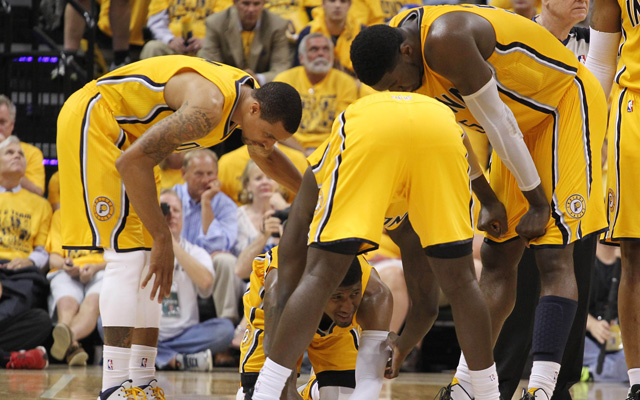 More postseason coverage: Playoff schedule, results | Latest news, notes
Paul George missed practice but shot around Thursday, and remains questionable for Game 3 in Miami on Saturday. George played through the concussion after failing to notify team officials of his symptoms after being kicked in the head by Dwyane Wade on Tuesday. On Thursday, LeBron James, David West, and Roy Hibbert all said that it's difficult for a player to elect to come out of a conference finals game with so much on the line. 
"I think every last player in the Final Four would have played through it," James said.  "This is the conference finals, and obviously, a concussion is very serious. Our concussion test is not as extensive as the NFL. It doesn't happen as much. I think all of us would have played through it under the circumstances."

That doesn't make it right, but LeBron wasn't alone in this line of thinking. David West similarly said that it might be difficult for a player to be completely honest in terms of his symptoms if he wants to stay in the game.

"I think sometimes it is [difficult]," West said. "You want to play. Particularly if you know if it's an ankle or something like that.  If you tighten the shoe up or whatever, you're able to get through. And with the time of year it is. But you've got to stick to the protocol, and you've got to do what's best for yourself long term."

"You have to let the team know and the doctors know, the trainers know when you have symptoms," Pacers big man Roy Hibbert said. "You have to think about your longevity as a human being before just the game. He has the right people around him and the organization is behind him, so whenever he's ready to go, he'll be back."
via LeBron on Paul George's concussion: 'I think all of us would have played through it under the circumstances' | ProBasketballTalk.
This, right here, is the biggest issue. The NBA is taking heat over its concussion protocol because George managed to slip past the protocol system. But if George did not present any symptoms of concern when evaluated, and did not report of any symptoms as he did after the game when he was asked, it's going to be difficult for teams to be overly cautious with so much on the line. 
Better technology might be the answer here, some sort of way to monitor body and brain behavior following contact, but in the absence of that technology, players have to understand how important it is to report what happened. If Geroge was unaware of his responses when asked, clearly some other method is necessary. But if George purposefully avoided telling doctors that he blacked out, players have to be made aware of the importance of being honest with medical personnel in these situations. 
Until then, the macho attitude of most pro athletes will continue to cause these kinds of issues. 
20 teams have reportedly inquired about Irving's availability, with six already making off...

A year after his own high-profile franchise switch, Kevin Durant chimes in on Kyrie Irving

Miami is on Irving's list, but this package still wouldn't be enough to get a deal done
Some teams want to fight the Warriors, others want to 'fight' for the right to draft Michael...

Oklahoma City has reportedly offered the MVP a five-year extension worth over $200 million

The big man was a big part of the Warriors' championship run last season