Mavericks waive Derek Fisher
Derek Fisher and the Dallas Mavericks are parting ways after just nine games.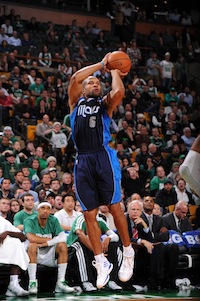 Derek Fisher is done in Dallas.
(Getty Images)
Derek Fisher and the Dallas Mavericks are parting ways after just nine games.
The team announced Saturday they have waived the veteran point guard.
There's a catch, though: It was actually by Fisher's request that he was waived. According to an ESPN report, Fisher put the request in a few days ago, but agreed to play on until the team could find another point guard to replace him. But he strained his right patellar tendon against the 76ers Tuesday which has him out for at least a week.
Fisher released a statement Saturday explaining the decision:
"In Tuesday's game against Philadelphia, I suffered an injury to my patellar tendon. The recovery time will be approximately two weeks. With this news and the difficulty I have been having being away from my family, I have asked the organization to waive me so I can return home.
"Mark Cuban has been extremely supportive and has granted me this request. I cannot say enough good things about this organization. From Mark, to Coach Carlisle, to the players on the Mavericks' team, I sincerely thank them for the opportunity.
"I have made decisions in the past, leaving money and opportunity on the table, and I will need to do that again. My family is my priority and that is where I choose to be. I won't close the possibility that I will play again, however for now my family and being close to them remains the priority."
Fisher, 38, signed with the Mavs Nov. 29 and surprisingly became their starting point guard over Darren Collison and Rodrigue Beaubois. In nine games he averaged 8.6 points and 3.6 assists in 25 minutes per game.
According to ESPN.com, the Mavs are planning to call up Chris Douglas-Roberts to fill Fisher's vacated roster spot.
The Mavs are expected to be very active on the trade market to find a point guard, as they're obviously not pleased with Collison, Beaubois or Dominique Jones. The fact Fisher was immediately made a starter when he signed should really tell it all.
The question is why Fisher asked out. Is it because he gave it one more go and is ready to hang 'em up? Or was it because he was quickly realizing the Mavs weren't going to be in the title discussion -- or maybe even playoff discussion -- after slipping to 12-15?
By his statement, it almost seems retirement is on his mind. Fisher's future is certainly up in the air. Even if he wants another shot, question is, does anyone want him?
Larry Hartstein has his finger on the pulse of Philly basketball and locked in his pick

James Harden is back for the Rockets after missing the last seven games due to a hamstring...

SportsLine's Mike McClure, a DFS pro with more than $1M in winnings, gives optimal lineup...
James Harden is expected to return for this national TV contest between the Timberwolves and...

Philly and Boston are matching up again after the Sixers' second-half collapse in London

Kris Dunn somehow took a chunk of the Bulls court out with his teeth, but didn't lose any in...