Mavs, Magic talked Howard swap, but don't get excited
The Magic and Mavericks have reportedly held talks about a trade for Dwight Howard.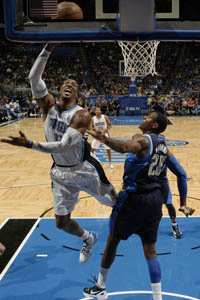 Howard's still out of the Mavs' reach in trade talks.
(Getty Images)
It's Dwight Howard. There will always be teams interested in talking. 
When the Brooklyn Nets deal fell through, and the Lakers talks went nowhere, and the Rockets deal seemingly fizzled, there was a lot of conversation about where exactly the Magic were going to go. If the offers they've gotten after all this time weren't good enough, what were they going to get for Howard? Who would even talk about a possible deal? 
Well, there are always teams. Those offers likely won't be good enough to get a deal done, or they would have come sooner. But they'll be there. Like the Mavericks. 
From Fox Sports Southwest: 
Meanwhile, FOXSportsSouthwest.com has learned that Nelson and Hennigan visited last week about a Dwight Howard trade. But …

"There's just not much there (in terms of a Mavs-Magic trade to be done in 2012),'' Nelson tells us.

Nelson suggests that there are offers on the table for Dwight that "trump'' what Dallas can present now or in the near future, which includes expiring contracts, the promise of cap space, and maybe the willingness to take back contract ballast.
via Mavericks, Magic visit about Howard trade.
The Mavericks' ability to throw Shawn Marion, Rodrigue Beaubois, Vince Carter (for a second time) and poor draft picks while taking on deals isn't going to get Rob Hennigan's eyes popping. He's got better offers on the table. But the Mavericks will stay in the hunt, hanging around, especially since Howard leaked that he'd consider signing with Dallas in free agency. 
Dallas hasn't been pressuring the Magic to make a deal like the Nets, colluding with Howard. They haven't been holding out to make sure they absolutely win the deal in a big way, like the Lakers. They're just kind of there, available to dump some money and get a fresh start. That has to make them an attractive option. But the assets just aren't there. 
If Howard winds up in Dallas blue, instead of Orlando blue, it'll be through free agency, unless something unexpected occurs. 
Thomas took to Twitter to let the Celtics know he doesn't want to ruin Pierce's night

The Hall of Famer's jersey was retired by the Celtics in 1982

It's rare to see a legit punch in an NBA fight, but this was definitely one of them
We've got all the scores, highlights and news from an NBA Tuesday

The former Slam Dunk Contest champion will take his talents to Tri-State

Do NBA players have look-a-likes from famous paintings? We found out on the new Arts & Culture...