Mike D'Antoni says Kobe Bryant will be a 'dominant player' again
Kobe Bryant is set to return on Sunday. But will he be the player he was before his injury?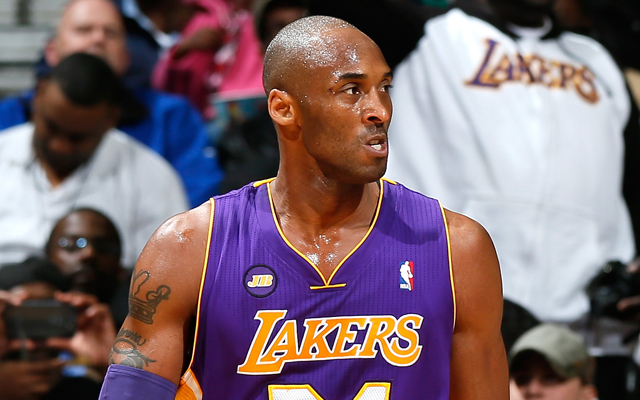 Kobe Bryant is back. But the question now is, will Kobe Bryant be back?
At age 35 coming off a devastating injury, can Bryant return to the level he's played at the last 15 years? Can he be one of the league's best players again?
Mike D'Antoni is confident.  
"He'll be a dominant player," D'Antoni said, via ESPN LA. "He can play any way. He can play below the rim, above the rim, beside the rim. I mean, the guy can play any way. He'll figure out how he'll be effective and then he'll come at you with everything he's got. That's been his M.O., and I think that's what he'll do."
There will be many that will judge Kobe's performance on Sunday to try and understand where he's at physically, but keep in mind: He didn't have a training camp and hasn't had any preseason games. There's a certain expectation that comes with Kobe Bryant because he seems so sueprhuman and able to conquer things that routine people would have no chance of, but it'll take some time to recover past form, if it's even attainable at all. 
"Getting your sea legs, it takes some time to do that," Bryant said. "That's why we have preseason games and it builds to the regular season. It just takes a while, no matter how much running and conditioning you do, to get out there and play is different. So I'm sure I'll be limited in some capacity."
We're talking about a guy that's had seasons averaging as many as 35.4 points a game and hasn't averaged less than 24 since 1998. Forget the injury, at his age, that's a lot to live up to. Eventually, father time wins. Especially when you consider Kobe's played 1,239 career games (not counting the postseason) and almost 50,000 minutes. 
But D'Antoni said he had no doubt's Bryant would make it back, despite his age and wear that's had over his 17 seasons.
"Modern medicine and the way he is, yeah, I thought he'd come back," D'Antoni said.
Another question: Will he have a minute restriction? Bryant acknowledged on Thursday to reporters that he would "probably" play less, but keep in mind, he played a fairly ridiculous 38.6 minutes a game last season. However, D'Antoni wouldn't go as far to install a minute restriction quite yet.
"I'll talk to [Lakers trainer] Gary [Vitti] about that and Gary will talk to Kobe and we'll try to figure it out," D'Antoni said on Friday. "A little bit of it will be he'll just have to go, 'I need a blow,' and we'll try to figure out the best way [to limit his minutes]. I don't think we know. We'll have a game plan, but he'll adjust to it as he feels what he feels his body can do."
Saturday, though, D'Antoni did say the team will try and keep Bryant's minutes "somewhere in the 20's."
So Kobe's back, but how long will it be until he's back, if ever?
An ongoing investigation continues to reveal details about the Mavericks' workplace

Larry Hartstein has his finger on the pulse of Kings basketball and just released a play for...

One reported proposal has seeds 7-10 playing for the final two spots in each conference
The longtime Maverick says he's disappointed by all the negative news surrounding his beloved...

Larry Hartstein has nailed 17 of his last 22 NBA against the spread picks and locked in a play...

The NBA is reportedly entertaining the notion of a play-in tournament for the postseason