NBA Offseason Report: Charlotte Bobcats
Over the next month, CBSSports.com's Eye On Basketball will take a team-by-team look at the 2012 NBA offseason. Next up: the Charlotte Bobcats.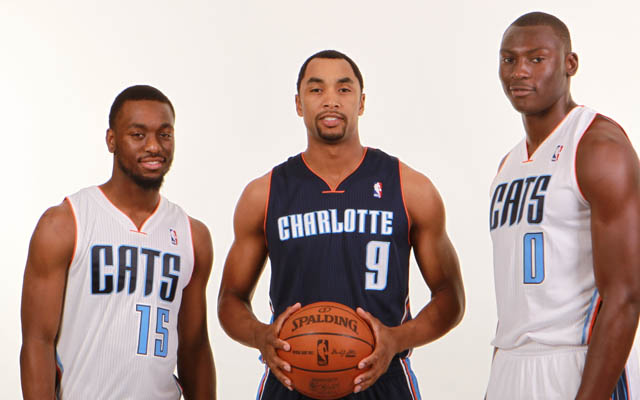 It can only go up from here!
(Getty Images)
Over the next month, CBSSports.com's Eye On Basketball will take a team-by-team look at the 2012 NBA offseason. Next up: the Charlotte Bobcats.
I. How they finished 2012: Step by step, heart-to-heart, left-right-left, wall all fall down, like toy soldiers.

(Finished last in the league with the worst winning percentage in NBA history. So, no, things did not go well last season.)

II. Needs entering the offseason: Everything. I'm not kidding. Even their good players needed to be reserves. Point guard. Power forward. Everything. They needed talent, at every position, in every single capacity. I'm not bailing on this answer, I'm just being honest. That's how bad they were.

III. The Draft: "Well, hey, we went through that season from hell, but at least we got Anthony Davis..."

(Hornets' lottery ball rolls out.)

"Break out the whiskey!"

But there's good news in Charlotte. They didn't get the brow, but they did land a fantastic prospect in Michael Kidd-Gilchrist. Gilchrist, considered to be the second-best player in the class, gives them a terrific defender and a hyper-athletic player. He's not going to complete their roster or give them a monumental step forward, but he's going to be a pillar of the roster for years to come.

He's not the solution, but he's part of the framing of it.

IV. Free Agency: The Bobcats clearly weren't going to snag anyone big in free agency, but they did manage two significant acquisitions. They added Ben Gordon in a trade, which is going to significantly alter their offense. Then they replaced D.J. Augustin with Ramon Sessions. Sessions may not be an upgrade over Augustin, but he'll direct a different kind of offense and bring a more aggressive approach.

Brendan Haywood gets them a center with a pulse, which is still an upgrade.

V. Overall grade and accomplishments: C.

It's fine. They were terrible, the lottery screwed them quite a bit, they got a little bit better in a handful of areas. They'll still be horrible, they didn't move forward a ton, but they got a little bit better. It's fine, even if they're not. They may not be the worst team in the league next year, but that won't be because of what they did do in the offseason, and it's hard to say they could have done more.

And that'll wrap it up as far as changes to the Bobcats.
The former Clipper apparently had some tricks up his sleeve after a chippy game

The Rockets were apparently looking for Austin Rivers and Blake Griffin after a chippy gam...

If they don't meet in the Finals again, let's appreciate every one of the 27 matchups since...
D-Wade picked up the steal and got creative on the fast break as the Cavs headed into half...

Despite the embarrassing hiccup, the youngest Ball had himself a pretty great day on the c...

The players were both ejected in the closing seconds, then continued their discussion off the...