Nuggets to acquire Arron Afflalo from Magic
Shooting guard Arron Afflalo is heading back to Denver in exchange for Evan Fournier and the No. 56 pick in the draft.
• 2 min read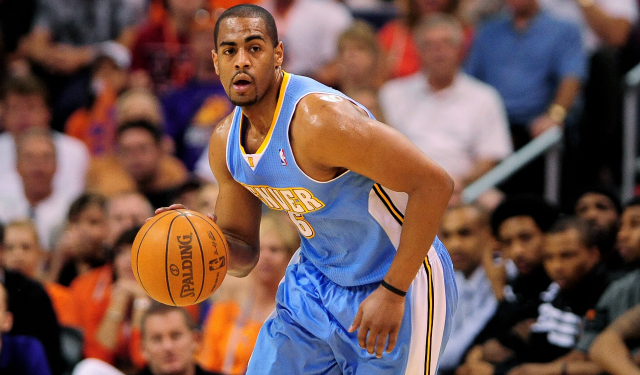 More: Harper: Trade grades | Free Agency | Draft
The Orlando Magic have agreed to trade guard Arron Afflalo back to the Denver Nuggets, in exchange for guard Evan Fournier and the No. 56 pick in Thursday's 2014 NBA Draft, as first reported by Yahoo Sports' Adrian Wojnarowski.
Afflalo, who the Magic acquired from Denver two years ago in a four-way trade that also involved Dwight Howard, Andrew Bynum and Andre Iguodala, has been rumored to be on the trading block for a while. He averaged a career-high 18.2 points per game last season, shooting 46 percent from the field and 43 percent from the three-point line. He will be 29 years old when the season starts, and he will make $7.5 million next year with a player option for the same amount in 2015-2016.
The veteran told the Orlando Sentinel's Josh Robbins that he hadn't asked for a trade and appreciated his time in Orlando, and he clearly understood the rationale for the deal.
"Even a casual fan could probably tell that, if a player is maybe four years older than the average player on the team that it takes time for those other guys to develop," Afflalo said. "Basketball has a shelf life. Although I feel like I'm a player that's only going to get better with time . . . every franchise, every team has to give a lot of insight to what they feel is best.

…

"I'm excited," Afflalo said.

"Since I left there, there's a completely different change in the management, a completely different coaching staff. I've always been very appreciative of the Kroenke family. They gave me my first opportunity for success, so to speak. . . . When you play this game, you play to win and you play to have fun with your teammates and build relationships with your teammates. That group of guys that are still currently there are guys that I've had the best tenure with in my NBA career."
Fournier is only 21, and the No. 20 pick in the 2012 draft is still on his rookie contract. He averaged 8.4 points per game last season, shooting 42 percent from the field and 38 percent from the 3-point line.
This is obviously a win-now move for the Nuggets, while Orlando is looking to the future with financial flexibility.
Orlando will hold a team option on Evan Fournier in '15-'16, so in essence the Magic trim $7.5m off next season's books with Afflalo trade.

— Ken Berger (@KBergCBS) June 26, 2014
From Thunder Dan to Pistol Pete to Agent Zero, guards who would be better these days

Griffin said recently he thinks it's more likely that LeBron James goes to New York than L...

Mayo was suspended for two years last summer for violating the league's anti-drug program
The NBA broke its silence with a statement related to the Lakers-Paul George tampering cha...

The Clippers big man thinks LeBron will reunite with the banana boat crew at some point

Have the Clippers reportedly found their next GM?