Pacers-Heat Game 6: Statement games and retaliation
The Heat and Pacers face off in Game 6 in an increasingly physical series. It's not about adjustments, it's about making a statement.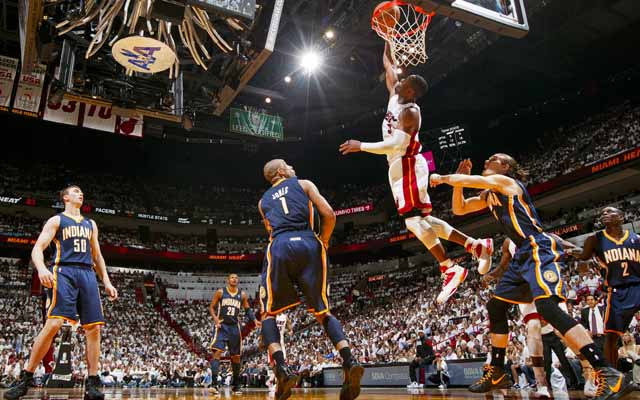 Game 6 will be downright mean.
(Getty Images)
Some playoff series are tactical long-term contests, nothing more than a string of adjustments and counter-adjustments and counter-counter-adjustments. Others are just illustrations of how good both teams are. Think of the Spurs and Jazz or Clippers series, where the Spurs won not because of matchup advantages but because they were purely better.
But
Heat
-
Pacers
? It's a statement series.
The Pacers made a statement through the first three games that they would not be intimidated, regulated, or dismissed. They blasted the Heat physically and mentally, getting under their skin, up and down the floor, and in their space in the paint. The statement was that they were not here to make a good showing, they were here to punch the Heat in the face and take their spot in the Eastern Conference Finals. Even Game 1 was a strong game for them despite the loss.
The Heat resonded in Games 4 and 5 with a pretty simple illustration that they are capable of destroying Indiana with two guys because they have that kind of talent.
So what's Game 6?
Who's meaner. That's what this series has come down to. This game is going to be mean and whoever's meaner walks out with the win.
The Heat shot far worse than they will on average in Games 1-3. Indiana lost their way in every sense in Games 4 and 5. Those things are likely to level out. Miami will hit some shots but not as many as they did in Game 5. Indiana will likely respond to the softness their GM accused them of (and having
Udonis Haslem
out is going to help) with a tougher approach.
It's likely to be an ugly game. The two teams have figured each other out at this point (as much as you can figure out "
LeBron James
is really good," and "
Roy Hibbert
is tall") to where it's likely the offense will drag down again. But more than that is the tone of this series which reached another level in Game 5.
The league is facing a dangerous situations.
Tyler Hansbrough
received no suspension for his flagrant foul on
Dwyane Wade
, while Udonis Haslem received a suspension for his retaliation. The tone has been set by LeBron James and
Danny Granger
battling and trading barbs and elbows. It's continued with Dwyane Wade blasting
Darren Collison
. It's been increasing with every game, and there's absolutely no chance it cools down in Game 6. Whoever uses whatever physical activity or nonsense goes on to propel them will walk out with the win.
Even by curtailing retaliation with Haslem's suspension, the officials still failed to punish the acts in-game, which sets a different standard. Both sides are looking for opportunities to exact punishment based on what they feel is the actions from the other side. This series has gotten nasty.
It's not going to be about adjustments or size or tactics. It's about both teams trying to exert their will over the other team in order to make a statement. The Heat can say the series is over, that the Pacers' attitude was bluster. The Pacers can say they are tough enough to stand up to the Heat and are going to beat them by bullying them in the final two games.
Basically, it's put up or shut up in Game 7.
The Bulls lead by three with 10 seconds left but lost 116-115

Larry Nance Sr. starred for Cleveland from 1988-94

The hotline comes in the wake of the 'Sports Illustrated' investigation into the Dallas Ma...
Giannis, who spent last weekend in L.A. for the All-Star Game, says he loves 'low-key' Mil...

We have all the scores, highlights and news from the first day back from the All-Star brea...

Smart, set to return Friday, said doctors told him he was very lucky that the glass did not...