Q&A with Utah Jazz CEO and 'Undercover Boss' Greg Miller
Utah Jazz CEO Greg Miller spoke to CBSSports.com ahead of an episode of "Undercover Boss" he was featured in that airs Friday February 28 at 8 p.m. ET on CBS. He discussed his experiences on the show, the direction of the NBA under new commissioner Adam Silver and trying to win an NBA title with a small-market team.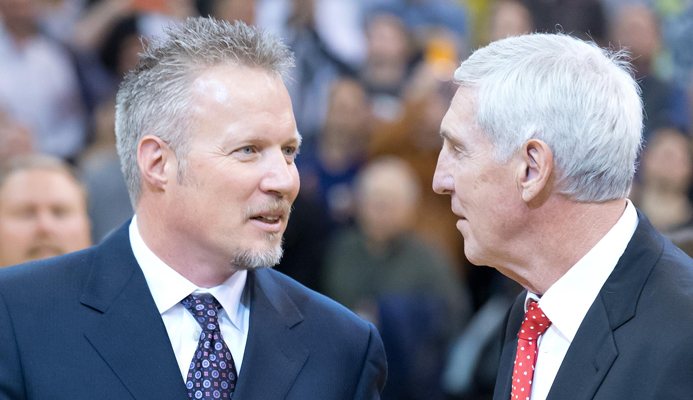 Utah Jazz CEO Greg Miller knows he has big shoes to fill. It's been five years since his father, legendary Jazz owner Larry H. Miller passed away and Miller became CEO not only of the Jazz but the head of the Miller family's massive business conglomerate. It's a legacy he's clearly invested a great deal of passion in.
Miller recently filmed an episode of the CBS reality series "Undercover Boss" (Friday, 8/9c on CBS). The Utah Jazz is the first NBA franchise to be featured on "Undercover Boss." Miller's four jobs took place at EnergySolutions Arena, where he worked as a halftime performer among the infamous Dunk Team members, as a human basketball hoop as a member of the Interactive Team, as a concessions area employee – and as part of the floor operations unit, which transforms the floor of the arena for different events.
Miller spoke with CBSSports.com by phone to discuss his experiences on the show, the direction of the NBA under Adam Silver, and trying to win a championship with a small-market team.
CBSSports.com: So a quiet trade deadline for you guys overall. Is it safe to say you're happy with the direction of the franchise at this point?
Greg Miller, Utah Jazz CEO: Yeah, I'd say that this has been a very good developmental year. Going into the season, we stated openly our plan is to go young and develop the young guys into a championship contender. I think the development we've seen has been exactly what we've hoped for. And I'm happy with it.
CBSSports.com: It's said a lot that you can't apply business principles from outside sports to running an NBA team. I tend to believe there are certain principles for success that cross boundaries no matter what the field is. Do you agree that pro sports are its own entity that you can't relate other concepts to?
Miller: I'd probably line up more with you on that. The way we run the Jazz, it's all about aggressive asset accumulation. We're trying to build for the long term and have sustainable high performance instead of a short term flash where we're good for a season and then have to start over. we're trying to build methodically. That will allow us to be competitive for a long, long time.
Those principles apply across all kinds of business whether it's car business, insurance business, whatever, it's applicable across those fields.
CBSSports.com: It's been interesting recently to read about players' personal relationships with their owners. Is there anyone particularly on the team you're particularly close to?
Miller: I consider them all friends. I think we're all blessed to have gentlemen on and off the court. They're good for the community they represent the franchise well. I try not to get too close to any of them because it's the nature of the business that it's fairly dynamic in terms of personnel moves. It's tough enough without having that added dimension.
Having said that I feel like I've made an effort to express my appreciation to the guys who are going to be part of my guys in the future. I'd include Derrick Favors, Burke, Burks, Gordon, Enes and others. When I see them at games, I feel comfortable around them and I think they feel comfortable with me.
CBSSports.com: We're about a month into the Adam Silver era. What are your early impressions of the new commissioner?
Miller: I've had the benefit of having known Adam for a little over five years and worked with him as deputy commissioner. I've been impressed with him; the more I've gotten to know him the more impressive he's become. He's very thorough in whatever issues he's about to tackle. He does his homework. He knows the strategy he wants to employ and what he wants to get done.
I think he'll be different from David in that he's a little more even-tempered, but he's articulate. He's got some big shoes to fill, which I can relate to. My dad set the bar very high in our organization. I've always felt that we have that in common. we're both successors to people who did their jobs very very well.
I think Adam is the right man for the job. David served the league and the fans and the owners really well for 30 years. And he certainly did his part to build the game of basketball and build the value of NBA franchises. It'll be Adam's turn to see what he can add. I'm excited to be a part of it.
CBSSports.com: We're a few years into the new CBA and the purpose was to help small markets. What are your impressions for how the new CBA is affecting the league?
Miller: I think it's had the effect of levelling the playing field. the luxury tax is now so punitive that even the markets with deeper pockets would have to be really crazy to go into that. I can tell you that as long as our family owns the team and the current tax structure, you'll never see the Jazz go into the luxury tax. The playing field has been levelled somewhat.
I think it's a good thing for small markets. I think it's a little too new to have a completely clear picture of the impacts. I think based on what we've seen, it's been good for small markets and good for the league.
CBSSports.com: This franchise has always been good; it's consistently been a playoff team. How long do you foresee until you're back to where you want to be?
Miller: Just as soon as possible. I can tell you that I'd like to win a title this year and next year, but I don't think that's likely. It's something we're focused on and working towards. We play every game to win. Every trade we discussed, every free agency recruit that we analyze or scout is with the intent of making our team a championship team.
CBSSports.com: This draft has everyone around the league excited. Have you paid any attention to it and do you believe you can find the next franchise player in it?
Miller: It's as good a chance as we've had for a long time to find that kind of player. We're obviously excited about the depth of the draft and how it can improve our team.
CBSSports.com: You said in an article a few years ago that one of your mottos for your business practices is "learn what we do best and do more of it." What do the Jazz do best and how can you do more of it?
Miller: We have a good work ethic, and we have good chemistry among the players and between the players and the coach. We have a willingness to learn. We believe in each other and I think we have a lot of assets to work with whether it's cap room or draft picks or different things of that nature.
Our intent is to use every one of their resources to put together a contender.
CBSSports.com: How do you keep up to date of what goes on with the team, is it game by game, week by week?
Miller: It's really just been a neat and natural evolution. We have seven divisions within our business now.
Each of those businesses has a president that overseas it. In the sports entity, it's my brother Steve. In the sports it covers the the Jazz, the Bees, our Triple-A baseball team, Miller Motorsports Park and Tour of Utah, our cycling race. Along with that, I meet with those presidents on a weekly basis, just as a matter of routine, and throughout those cycles there's always a business that needs more attention like in the case of the trade deadline.
We had a meeting with myself, and several members of our decision group. We filtered out different scenarios to make our team better. That's an example of spending more time on one business. And then there's a high degree of delegation and accountability. I have to have faith in those presidents and their ability to lead those teams and do what I expect those teams to do. I'm very fortunate that I have six high-performance people in those positions.
CBSSports.com: When you were on "Undercover Boss," did it give you a greater appreciation for how much work goes into a Jazz game night behind the scenes?
Miller: I wouldn't say it gave me a greater appreciation because I've always appreciated how hard-working our employees are. Particularly the crew that comes in after the game. That's the part-time crew. I see the same ushers and the same hosts year after year after year. And we have such low turnover in those positions that it's almost become like family and I've gotten to know them, and in some cases I've gotten to know their family situations. so I take a lot of pride in dealing and being plugged into the front-line in our workers.
So when I had the opportunity to participate in "Undercover Boss" I was hoping to validate what I thought was the case. That was the case. I was very happy with the feedback from our employees and management, while also getting some ideas for what we can improve in our processes and what we do.
CBSSports.com: What was your most memorable moment from the experience?
Miller: There were a lot of them but the first one was my first job which was setting up the Jazz floor. My boss' name was Dennis. My character's name was Mark and he said, "Mark, I only have two rules: 1. Don't drop my floor and 2. Don't drop my Lexus tables." But the significant thing was the floor. And I instantly had an affinity for him because its name is the Larry H. Miller Court at Energy Solutions Arena. So he had a vested interest in protecting this legacy that was a part of what my father built, and that was very powerful for me.
Catch Greg Miller's appearance on Undercover Boss Friday at 8/7c on CBS. For more information on the show, visit the show's website.
The Ball brothers better put their heads down and focus on basketball, according to Billy...

Paul George returns to Indiana for the first time since his trade to the Thunder

Also, LeBron James' historic season continues, while Kevin Durant reminds us who he is
The Rockets are looking for 11 in a row

Indiana hasn't hosted the NBA's star-studded event since 1985

Is the hype fair, or are these three men really above their peers as the NBA's best sideline...