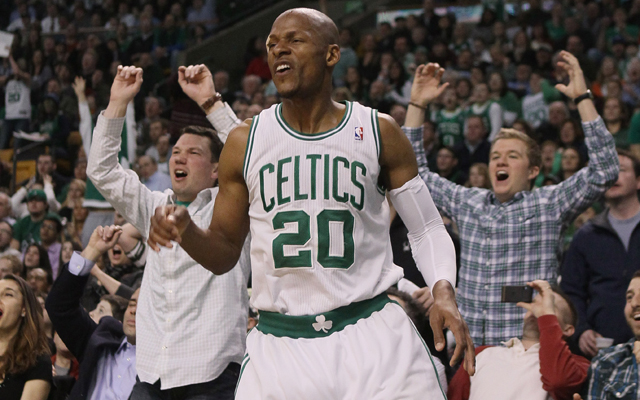 Ray Allen has decided to take his talents to South Beach.

(Getty Images)
Any prayers or hopes that it might not actually be true are gone, Boston. Ray Allen has officially signed with the Miami Heat.
The most hurtful thing was that Allen actually took less from the Heat than what the Celtics were reportedly offering. Allen signed a three-year deal for just under $10 million while Boston was offering $12 million over two years.
"You come into the summer, and you don't know what potentially can happen," Allen said at his introductory press conference Wednesday via the Associated Press. "And you take the process a step at a time, try to figure out what's best for you and your family. And here I sit."
Allen, 36, adds an incredible dimension to the already dangerous Heat, providing a marksman on the perimeter. With LeBron James dominating as a post passer, Allen should have his fair share of looks.
"Whatever's going to be best for me in this situation is going to figure itself out," Allen said. "This team won a championship without me. I'm not going to come in and expect for coach to cater to who I am and what I do. I've got to make that work on the floor with my new teammates."
There was talk that a rift between Allen and Boston teammate Rajon Rondo might've added to his desire to depart.
"I can't say that it factored in my decision," Allen said. "As teammates, we were brothers. ... There's differences. We all have differences. Paul eats corn flakes. I might not like corn flakes. That's just part of kind of who we are as individuals."
Allen, a 16-year NBA veteran and 10-time All-Star, has appeared in 1,148 regular season games (1,140 starts) averaging 20.0 points, 4.2 rebounds, 3.6 assists, 1.16 steals and 36.9 minutes while shooting 45.2 percent from the field, 40 percent from three-point range and 89.4 percent from the foul line. He's also the NBA's all-time 3-point leader.
Following his deal with the Heat, Ken Berger of CBSSports.com wrote that Allen's move signals the death of the Boston Big Three.
And now, it's official.