Ray Allen to consider retirement
Miami guard Ray Allen will mull his options and make a decision about his future.
• 1 min read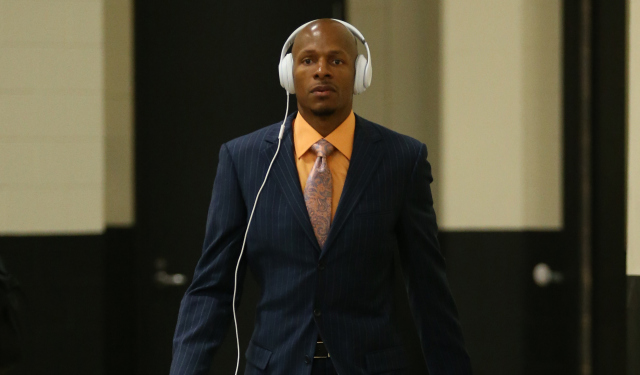 More Offseason Analysis: Coaching changes, news | Free Agency | Draft
Miami Heat guard Ray Allen will consider retirement, he told reporters after losing Game 5 of the NBA Finals on Sunday. He hasn't made a decision yet, but the 38-year-old will do so soon, via ESPN's Brian Windhorst:
"I've had a great career, I'm content with what I've done," Allen said. "It's hard to think past this moment. In the next couple of days I'll think about it and see where my true heart lies."

…

"One thing is for certain, to [make retirement decision] on my terms is the most important thing," Allen said. "Whether that is me retiring, staying here or going somewhere else it will be on my terms. I've made it to this point and I felt great that I have the choice to make it for myself."
Allen is one of five players from the famed 1996 NBA Draft class, arguably the best ever, who played in the league this season. The others are Steve Nash, Kobe Bryant, Jermaine O'Neal and Derek Fisher, who is now the head coach of the New York Knicks. Allen has kept in remarkable shape, suiting up for 73 games in the regular season and all 20 of Miami's playoff games. He averaged a career-low 9.6 points per game, but shot 37.5 percent on three-pointers and had occasional scoring outbursts. 
Despite a 1-for-8 shooting performance in the season-ending loss, Allen is still one of the best marksmen on the planet. A 10-time All-Star and two-time NBA champion, it would be understandable if he wanted to walk away. There's certainly still a place for him in the league, though, if he wants to give it another go. 
Westbrook's late layup gave the Thunder a 109-108 victory

LeBron became the seventh player in league history to reach the milestone

There were a few things that stood out from Tuesday's All-Star selections
Here are three players from each conference who had legitimate claims to make the game

LeBron achieved the milestone in the first quarter Tuesday

Here are the full lineups for the 2018 NBA All-Star Game