Report: Bucks will claim Kendall Marshall off waivers
The Milwaukee Bucks will reportedly claim Kendall Marshall off of waivers, which blocks the Lakers from re-signing him.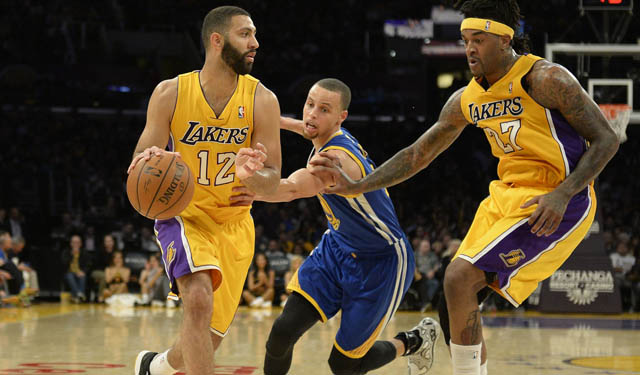 More Offseason Analysis: Coaching changes, news | Free Agency | Draft
The Los Angeles Lakers waived Kendall Marshall's non-guaranteed contract on Friday, in order to utilize every bit of cap space they can squeeze out this summer. The plan was to wait for Marshall to clear waivers then sign him back for the minimum contract he was already getting. The Lakers wanted to retain Marshall's services, but the Milwaukee Bucks aren't going to let that happen.
According to Marc Stein of ESPN.com, the Lakers have lost their chance to re-sign Marshall because the Bucks are claiming him off waivers. The Bucks will add to their point guard depth, putting Marshall behind Brandon Knight and Nate Wolters.
ESPN sources say Bucks will be clamining Kendall Marshall off waivers as soon as possible, foiling Lakers' plans of re-signing @KButter5

— Marc Stein (@ESPNSteinLine) July 19, 2014
Marshall was a lottery pick of the Phoenix Suns in 2012, but after just his rookie season, he was traded to the Washington Wizards and then waived a few days later. He spent some time with the Delaware 87ers last season before signing with the Lakers in December. Marshall immediately made an impact with the Lakers, putting up impressive assist numbers under Mike D'Antoni and showing an improved jumper. 
For the season, Marshall played 54 games, starting 45 of them. He averaged 8.0 points, 8.8 assists, and shot 39.9 percent from 3-point range.
Kevin Durant says he doesn't agree with what President Donald Trump agrees with

Evaluating where the future Hall of Famer might land up if he is freed from Chicago's rebuilding...

Adam Silver said his piece with the schedule out; we address that and what the slate looks...
The Hawks and Sharecare reportedly agreed to terms on a five-year deal

A look at the context of the schedule and who plays who when, and how far they travel during...

Durant took on rapper Lil Dicky and actually might have lost