Report: Three-team trade for Hornets, Suns, Wolves hits a snag
A three-team trade that had been agreed to has hit a snag with compliance in regards to league rules, which may strand Robin Lopez in Phoenix.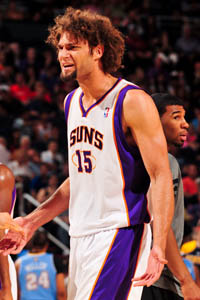 "OK, wait, where am I playing next year?"
(Getty Images)
The Suns were going to get cap space. The Hornets were going to get a center. The Wolves were going to get Andrei Kirilenko. And now that's in danger of all falling through. 
The Arizona Republic reports that the three-team trade reported to be agreed to earlier this week has hit a snag with regards to the money and how it shifts under the NBA's trade rules: 
The largest remaining issue is making the trade oblige with rules to get league approval. If the league rejects the trade parameters, Warrick would remain with the Suns and Lopez likely would remain with the Suns for his $4 million qualifying offer. In that case, Lopez would become an unrestricted free agent next summer.
via Robin Lopez deal to New Orleans Hornets has speed bumps.
The deal needs to be reworked and it's unlikely that the teams are so far apart the deal can't be completed. Without a solution, the Hornets are without a starting center and the Wolves miss out on Andrei Kirilenko who they came to terms with under a two-year, $20 million deal on Wednesday. 
There have been questions about the deal since it was first reported, with reports varying on where Brad Miller's retired contract is headed. There's a lot of money trying to be ditched in this deal, along with picks. But all three teams have movable deals, you'd think they could reconstruct this thing.
The big loser if it falls apart is Robin Lopez who loses his three-year, $15 million reported deal. He'd have little opportunity to raise his value in Phoenix and could wind up losing some money.
Stephen Oh is 23-7 picking Rockets and Spurs games and just locked in a play for Friday

SportsLine simulated Friday's Sixers-Thunder game 10,000 times

Cavs star chose to be very secretive when talking to Lakers rookie after Thursday's game
New York announced Porzingis would not return shortly after star forward left game

Teletovic missed the final three months of 2014-15 season with Nets recovering from same i...

Keep it right here for all of the news, notes, scores and highlights from around the leagu...