Reports: Heat not interested in Michael Beasley for many reasons
It looks like Miami is moving on from the Michael Beasley era ... again.
• 2 min read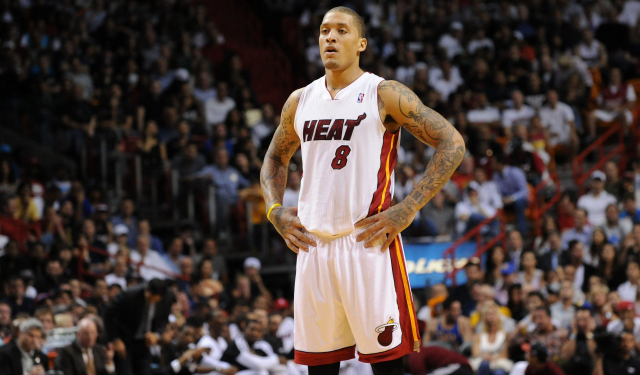 The Miami Heat are not going to bring back free agent forward Michael Beasley because the coaching staff does not trust him, according to Barry Jackson of the Miami Herald. They recently signed guard Tyler Johnson will wear Beasley's No. 8.
A person with direct knowledge cited several reasons for the Heat's lack of interest: Inconsistency, lack of trust in his defense (and ability to execute the Heat's defensive system), and maturity/focus issues, which are still a concern even though he improved somewhat in that regard last season.

…

The Heat has told Beasley it has not closed the door on a return, though Miami never really tells any free agent that it has ruled out a return. But Miami hasn't made an offer to him, either, and it appears barring a change of heart that the Heat has moved on, having given Beasley's jersey number to Williams.
There were legitimately encouraging signs from Beasley last season when he got on the floor. Early in the year, he appeared to be trying harder on defense, and overall he was more efficient than ever before, shooting 50 percent from the field and 39 percent from behind the 3-point line.
Heat head coach Erik Spoelstra went long stretches without giving Beasley any minutes, though, and completely yanked him from the rotation in the playoffs before giving him a try in Game 5 of the NBA Finals. It wasn't because of one specific issue, according to the South Florida Sun Sentinel's Ira Winderman:
A party familiar with the situation insists there was no "flashpoint" last season, no incident yet to surface, no off-court or locker-room episode that doomed the No. 2 overall pick in the 2008 NBA Draft.

Instead, there was a mention of maturity, how there was an upgrade in that aspect over Beasley's first two seasons with the team, but perhaps not enough to earn renewed trust for a season when every game has to matter. 
Those in the Miami organization know Beasley better than anybody around the league, as president Pat Riley drafted him No. 2 overall back in 2008, the same year Spoelstra took over as head coach. If Riley and Spoelstra have given up on him a second time -- they traded him for cash and draft picks in 2010 -- that is not good news for his career. Neither is the fact that, according to the Boston Globe, LeBron James was "not pleased with Beasley's focus."
The 25-year-old still has talent, and the Los Angeles Lakers worked him out at the end of July with some interest in signing him. The Sun Sentinel speculated that the Indiana Pacers might consider him in the wake of Paul George's injury, but it's been extremely quiet on the Beasley rumor front this summer. The same was true this time last year -- the Heat only signed him in September, and they gave him a fully unguaranteed minimum contract. If he's going to stay in the league next season, he might have to accept the same terms.
(HT: PBT)
Chris Paul sat out the fourth quarter of the Rockets win due to an apparent knee injury

Durant couldn't quite get the shot off in time, and the Rockets prevailed

Draymond Green walked off the floor limping and rubbing his knee in the third quarter
Golden State raised its second banner in three years. Now they start their run for another

Hayward's injury left the Celtics shocked for a moment.

The 11-carat rings hold more diamonds than any other ring awarded in any other major sport...