Reports: Rockets interested in Rajon Rondo but don't get excited
Houston would love to add the All-Star point guard, but Boston's asking price is likely way too high.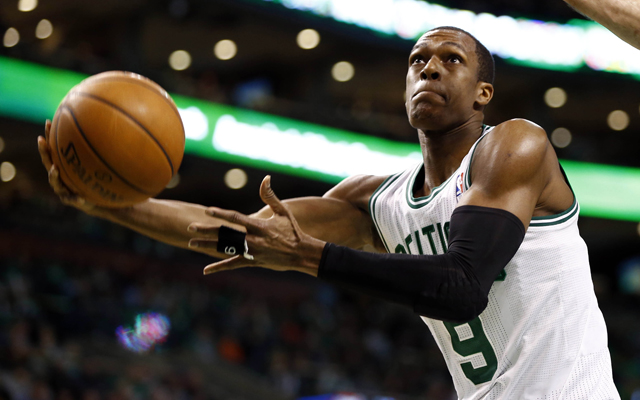 This one started making the rounds on Wednesday afternoon. First FoxSports.com's Sam Amico mentioned that the Rockets and Celtics have talked about a deal and it may involve Rajon Rondo. Then ESPN picked it up and furthered it: 
Sources familiar w/Rockets' thinking say HOU has absolute interest in trading for Rajon Rondo. But that alone doesn't mean we'll see a deal

— Marc Stein (@ESPNSteinLine) February 19, 2014
Close relationship between Danny Ainge and Daryl Morey means talks are always easy to fire up but Celts' demands for Rondo are very high

— Marc Stein (@ESPNSteinLine) February 19, 2014
Celtics, I'm told, would insist on Chandler Parsons in a theoretical Rondo deal. And Rockets, by all accounts, NOT willing to surrender CP

— Marc Stein (@ESPNSteinLine) February 19, 2014
USA Today reports that Rockets have interest... but haven't... even... called...
Makes sense for Houston to pursue Boston's Rondo (and @ESPNSteinLine says Rox have interest) but I'm told the two teams have not spoken.

— Sam Amick (@sam_amick) February 19, 2014
That seems weird. "Man, we'd love to get Rondo and it would take Parsons who we won't give up but we haven't called." 
What? 
The obstacles are real, though. The Celtics are notorious about wanting a king's ransom for any player of value, let alone their biggest asset. The Rockets don't want to surrender Parsons, he's about as close to untouchable as it gets. The Celtics would want Jeremy Lin, Parsons, and probably multiple picks for Rondo. Houston's not doing that. 
It's not a bad fit, though. Rondo can create opportunities in the offense in the pick and roll with Dwight Howard, can take some pressure off of James Harden offensively and cover up for him on defense. It's a great fit, but it's going to take a truly desperate team with lots of stuff they're willing to part with to get Rondo out of Boston. 
So it's a blockbuster idea, but doesn't seem likely.
Several teams were reportedly interested in Nelson after he was waived by the Nuggets

Cousins got into a heated exchange with a fan during the Pelicans' season opener

Mike McClure, a DFS pro with more than $1M in winnings, gives optimal DraftKings and FanDuel...
Bryant said that execution is the key to taking on 'the big guys'

KD finished with a career-high seven blocks in the Warriors' win over the Pelicans

Rose left Friday night's game with a sprained ankle, and is expected to miss at least one...