Road to the Finals: San Antonio Spurs
In an ongoing series, CBSSports.com's Eye On Basketball will take a look at playoff teams as they head into the NBA playoffs. First up: the San Antonio Spurs.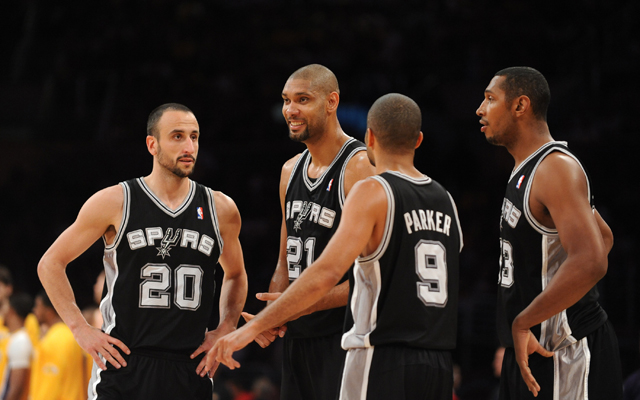 In our ongoing series, CBSSports.com's Eye On Basketball will take a look at playoff teams as they head into the NBA playoffs. First up: the San Antonio Spurs.
When we talk about the Spurs, there's a certain level of respect and admiration. The longevity, the success, the beautiful basketball -- the Spurs are truly an NBA treasure.
But there's also a dirty little secret about them: They haven't been to the Finals since 2007. They've had two first round exits in the last four years. They've dominated regular seasons, but have recently fail, and failed quite spectacularly, in the playoffs. Why?
The answer to that is sort of unknown, and also very complicated. They've failed in part because of bad luck, in part because of personnel, in part because that's just the way game breaks sometimes.
Here they are though, positioned once again as a favorite. The Western Conference playoffs are going to be rough and rugged, with a road even to the conference finals lined with a numbers of obstacles.
But Obstacle No. 1 for the Spurs is going to be themselves. As in, their own personal health. Last week, while giving a rather hilarious practice interview, Stephen Jackson made a significant proclamation: Everyone will be ready for the playoffs.
Will they though, and even if they play, at what percent will that be? Manu Ginobili's hamstring, Tony Parker's neck/leg, Jackson's ankle, Tim Duncan's old age -- the Spurs are banged up. Jackson "guar-ron-teed" that every player would be available in the postseason, but even so, their effectiveness and overall health is a question mark. It's been one for this team for multiple years running because of its advanced average age, and mostly, they've managed and overcome it. But if they're not healthy, if they don't have Ginobili or a 100 percent Parker, forget it.
The Spurs though have continued their zombie-like run of maintaining regular season dominance despite seemingly passed over the hill four seasons ago. They're going to win 60 games this year, and they're likely to have the No. 1 seed in the West. They haven't changed much from the team that lost four straight to the Thunder in last season's Western Conference Finals, but young players like Tiago Splitter and Kawhi Leonard seem to be deveoping and more ready for big moments.
Which leads to Obstacle No. 2 for the Spurs: the Thunder. The season series split 2-2 with each team defending their home court. The Thunder beat the Spurs by 17 and 12 in Oklahoma City, the Spurs beat the Thunder by two and 12 in San Antonio. Obviously though, there's a major difference in this matchup from last season. Gone is the guy that hit the massive dagger 3 in Game 5 of the WCF. Thr guy that averaged 18.5 points in the six games. The guy that's now an All-Star in Houston and averaging almost 26 a game.
But the Thunder still pose a very difficult matchup for the Spurs, especially in Oklahoma City which has been a house of horrors for San Antonio. The Thunder won three straight there in the Western Finals, and five consecutive overall. The Thunder can out-athlete the Spurs, have size inside to match up with Splitter and Tim Duncan, and a quality bench that can at least survive against San Antonio's waves of depth.
This season though, the Spurs just seem better positioned. Tim Duncan's resurgence has been incredible. He's only played in 65 games, but in those 65, he's performed at an MVP-like level. Specifically, he's anchored the Spurs defensively as good as ever.
Last season, the Spurs were more prolific offensively, registering as the best in the league at 108.5 points per 100 possessions. Defensively, there were solid, but not great allowing 100.6 points per 100. This season, they've dipped a little on the offensive end (106.7, seventh), but have rediscovered that classic Spurs defense, rising to third in the league (98.9). Teams shoot below 45 percent against the Spurs, they defend the 3-point line (34.7 perent, tied seventh) and they protect the rim. It's a pretty simple formula: Contest 3-pointers, protect the paint, and try and force long 2-pointers.
The Spurs have potential matchup problems with the Grizzlies -- who eliminated them in the first round in 2011 -- and could be given a tough run by the Nuggets, whose breakneck pace is a problem for pretty much everyone.
But assuming good health, the Spurs seem to be headed on a crash course rematch with the Thunder in the Western Finals. It's been five years since the Spurs played for an NBA title. Will things finally change this time around?
Here's the thing with their matchup with OKC though: The Thunder's best is better than the Spurs best, Harden or not. When both teams meet their standard of performance, OKC's just a superior team. The catch to that is that the Spurs are much more consistent with their play and have a wider margin for error. The Spurs can often win when they play poorly. The Thunder, not as much.
One of the greatest strengths for the Spurs is their incredible depth, as Gregg Popovich can line contributors up. Danny Green, Gary Neal, Jackson, Splitter, Leonard, DeJuan Blair, Matt Bonner, Nando de Colo -- basically, the entire roster is a threat to hurt you. Relying on depth in the postseason is an iffy thing though. Bench players can come and go, show and no-show. It's what happened against OKC in last season's Western Finals.
Maybe with a year of seasoning and the experience of coming up short will make a difference for Green, Leonard and company. But history tells us that stars win playoff games and if the Spurs want to, just like it's always been, it's going to be on the shoulders of Duncan, Parker and Ginobili.
Rose is reportedly sick of being injured, and it's 'taking a toll on him mentally'

SportsLine's proven computer model simulated Friday's Cavs-Hornets game 10,000 times

SportsLine's Mike McClure, a DFS pro with more than $1M in winnings, gives optimal lineup...
SportsLine's advanced computer model simulated Friday's Bulls-Warriors game 10,000 times

Okafor has played just 25 minutes this season for the 76ers

Is Boston confident that it can erase any deficit, or concerned that it constantly needs t...