Steve Nash really struggling with injuries, is it just time?
Lakers point guard having to come to terms with what his body is and is not able to do as he approaches 40.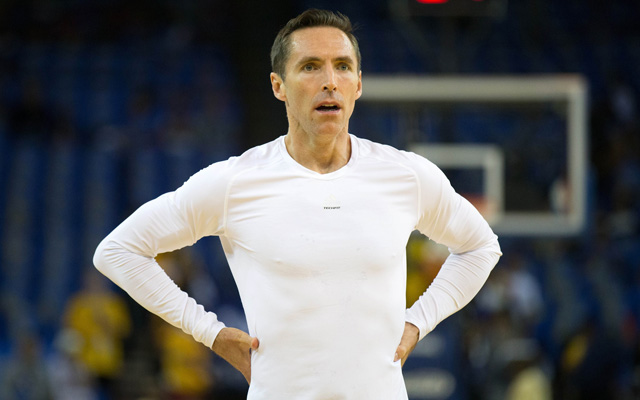 In an interview with Bleacher Report, Lakers point guard Steve Nash said Friday after the Lakers' loss to the Spurs that he's struggling with nerve problems and is having doubts he can ever be the MVP-caliber point guard he once was, even for stretches, again. 
"The nerves in the broken leg, then the nerves in the back and hamstring (last season)…I'd never felt my nerves in my life. I feel them every day now," Nash said late Friday night. "So my body's different. I worked incredibly hard this summer and got myself back where I have a chance. I felt good tonight; I could've had a good game.

"The want is there; I'm still enjoying the challenge. It comes from within. I know what I've been through; I know how old I am and the miles I have on the body, but I still take the challenge. And there are still things I can build on and can improve."

...

"I am 39. I'll be 40 in a few months," Nash said. "So you have to adapt your mindset to the new challenge. This is where I'm at. I have to get on top of my body, and I've got to let my game come around.

"It's going to take more patience than usual, and it's going to take maybe less work and more rest. I really have to check myself a lot as far as my typical approach to things to not overdo and not put myself back because I'm overdoing it or I'm trying for too much.

"This is where I am. I've got to accept some of that—and not give an inch when it comes to my belief."
via Steve Nash Searching for Answers, Confidence in Early Goings of Lakers Season | Bleacher Report.
Nash played 23 minutes Friday, going 1-of-8 or five points, with five assists and two turnovers. He just doesn't look the same. Last season he suffered a leg fracture that kept him out the first two months of the season, then battled hip problems related to his degenerative back condition. The issue with leg problems is it causes a chain reaction. Not only is it painful and hard to get back on the floor, but the rest weakens his legs which puts more stress on is back (something he's talked about before) and makes that condition worse. 
Maybe Nash isn't done. Maybe he can get back. (It would sure help to have the Suns' phenomenal training staff to help him. Hasn't been a banner year for the Lakers' much-hyped crew.) But the signs are all bad right now, and the season started four days ago. 
Jordan Bell had himself a night against Portland

The younger Ball brothers are heading to BC Prienai, but that could spell trouble

Not many games, but still plenty of action and intrigue Monday in the Association
SportsLine's advanced computer model simulated Tuesday night's Lakers-Knicks game 10,000 t...

The Reno Aces are concerned about the new WNBA franchise stealing their thunder

Hinkie parted ways with the 76ers in 2016 after drastically changing the direction of the...