Steve Nash still limited in practice, team concerned about his status
Lakers guard Steve Nash only practiced fully on Thursday for the first time, and continues to struggle with his body at age 39.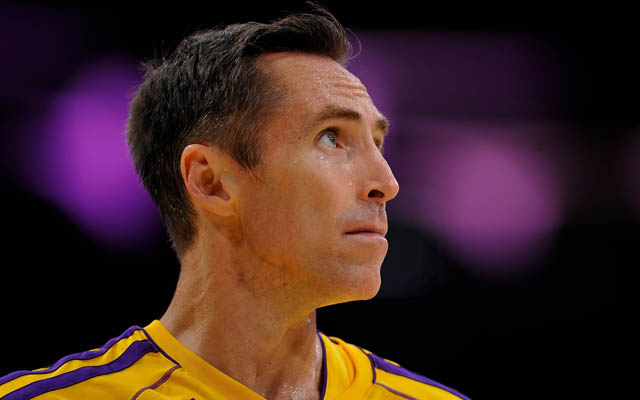 You're starting to truly worry that the window for Lakers guard Steve Nash may have closed. 
Nash missed much of last season with first a leg fracture and then complications of his degenerative back condition. He's 39, and like many players, leaving behind the strange magic the Suns trainers practice seems to have impacted his durability. It's an issue the Lakers are concerned about, ESPNLA.com reports, and in fact, Nash hadn't gone through a full practice until Thursday 
"Steve hasn't been able to complete a practice yet, so that's the bigger issue," Gasol said of Nash, who is averaging just 3.5 points and 3.5 assists in 16.7 minutes per game in the preseason, sitting out one of the exhibition games altogether. "I'm a little bit concerned because I want him to be healthy, I want him to play. I want him to play and I want him to do well. I want him to help us. I hope that he can."

(Coach Mike) D'Antoni said Nash was able to make it through a full practice Thursday but cautioned that he could hold Nash out of the preseason finale Friday in Anaheim.

"It's a different stage in my career," Nash said. "I used to be able to get out, run up and down and feel like a world-beater every day, and now I have to try and get myself into some sort of form to try and execute for my team. It's a different frame of mind. It's a different challenge, but like I said, I'm up for it. I'm positive about it, I feel optimistic, I'm inspired by my teammates and I'm going to keep pushing through."
via Nash's status starting to cause concern - Los Angeles Lakers Blog - ESPN Los Angeles.
None of this makes you feel good about how consistently Nash is going to be able to play, at all, for the Lakers. This is not a question of minutes, this is whether he'll be able to go game-by-game. D'Antoni has already said Nash will sit "on and off" this season.
Nash will do everything he can, but with a back condition that everyone has known was going to be more and more of a problem for him, and at age 39, there comes a breaking point. Maybe it's not this season. But you can see it from here. And that's bad news for the Lakers, who need him in order to contend for a playoff spot this season. 
Wade opted in to his $24 million player option earlier this summer

Barkley spoke to the NFL Today crew about the response the president received in his home...

The restricted free agent has a deal in place that will keep him with the Bulls after a st...
James' support continues his trend of social activism on social media

The newly-acquired All-Star thinks the addition of Anthony boosts the Thunder in the NBA's...

The Knicks were asking for the house in discussions for Carmelo Anthony