Team USA vs. Finland preview: The 2014 World Cup is here
On Saturday, Team USA kicks off the 2014 World Cup against Finland in what should be a hostile environment.
• 3 min read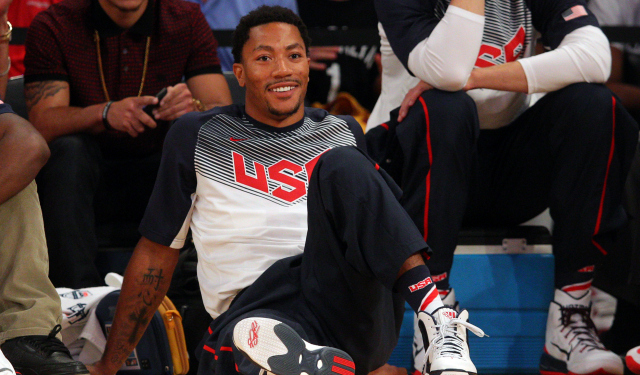 Team USA's first test in the 2014 FIBA World Cup will be provided by Finland on Saturday. You might have some questions about this, and we're here to answer them.
When and how can I watch it? 3:30 p.m. ET on ESPN. You can also stream it on WatchESPN.
Finland, really? Yes. This is Finland's first appearance in the tournament. A lot of it had to do with Angry Birds.
That can't possibly be true, can it? Yes. While Finland wasn't bad at last year's EuroBasket — they tied for ninth place with Belgium, and earned wins over Turkey, Russia, Greece and Slovenia -- they likely would not be in Spain without Angry Birds. FIBA announced its four wild cards at the beginning of February and drew some pointed criticism for choosing Finland, ranked No. 37 in the world at the time. The other three selections -- Greece, Turkey and Brazil -- were ranked fifth, seventh and 10th, respectively. Higher-ranked and arguably more deserving teams like Russia, China and Canada missed the cut. 
If you're wondering what was in it for FIBA to choose Finland, here's your answer, via a Rovio press release:
Flying to support their fellow Finnish forest-dwellers, Rovio's Angry Birds are joining the Finnish Men's National Basketball Team, more commonly known as the Wolfpack, in its goal of receiving one of four Wild Card bids to the 2014 FIBA Basketball World Cup.

As part of the Finnish Wild Card bid, Rovio has agreed to provide advertising inventory in its ground-breaking mobile entertainment platform to the Wolfpack and the 2014 FIBA World Cup, if Finland is selected.

…

"We are fully aware that despite our strong athletic results and fan support, we need to think creatively about how we can truly show our strength to FIBA and the basketball world," Antti Zitting, President of Finnish Basketball Association said.
So, yeah, if you play Angry Birds, you'll see ads for the FIBA World Cup. Free promotion for FIBA!
Are you telling me Angry Birds is responsible for a terrible team being in this tournament? No. First, let's place the blame squarely on FIBA for this weird outcome, not the opportunistic Finnish Basketball Association or the patriotic people at Rovio. Second, Finland isn't terrible. They're getting better, and they have some solid players. They even almost had Drew Gooden.
Drew Gooden is Finnish? His mom is Finnish, and he planned to be a part of the team but his application for dual citizenship was not processed in time. Gooden used to go to Finland every couple of years to see his grandparents, and he still plans to play for the national team at some point.
OK, no Drew Gooden. Who's on the team then? The only NBA player on the roster is Erik Murphy, the jump-shooting big man who was drafted by the Bulls last year and waived in April. He was claimed off of waivers by Utah and then traded to Cleveland. 
If you've watched Finland in international competition in the past, you'll probably recognize point guard Petteri Koponen and big man Hanno Mottola. Koponen is the star of the team, he's pretty fun to watch and he was drafted in 2007. The Mavericks actually still hold his NBA rights. Mottola, the first Finnish NBA player and a former Utah Ute, spent a couple of years in Atlanta many moons ago. He's had a long international career and is about to turn 38, so we'll see how much he has left in the tank.
Is there anything I might have missed about Team USA? Kyrie Irving is going to start ahead of Derrick Rose, but Rose said he's "feeling good right now." Also, head coach Mike Krzyzewski has decided that DeMarcus Cousins will back up Anthony Davis at center. 
Should I watch this? Up to you. You might be really into college football. But this is the first chance to see Team USA play in a game that matters even a little bit, and it'll be interesting to see how they look in this environment. Finnish fans chartered 40-plus planes to Spain, and Finnish officials expect them to fill perhaps half of the 16,261-seat arena, with thousands more possibly coming," per the Associated Press. This is a huge deal for Finland, even if we expect Team USA to win by a sizable margin. 
Thomas took to Twitter to let the Celtics know he doesn't want to ruin Pierce's night

The Hall of Famer's jersey was retired by the Celtics in 1982

It's rare to see a legit punch in an NBA fight, but this was definitely one of them
We've got all the scores, highlights and news from an NBA Tuesday

The former Slam Dunk Contest champion will take his talents to Tri-State

Do NBA players have look-a-likes from famous paintings? We found out on the new Arts & Culture...