The Inbounds: Clippers, all together now
The Clippers have a lot of different personalities these days. That usually means a team has moments in which it has great and moments and some in which it makes stupid decisions. But it's less about the quality of the decisions and more about the makeup of the play on the floor.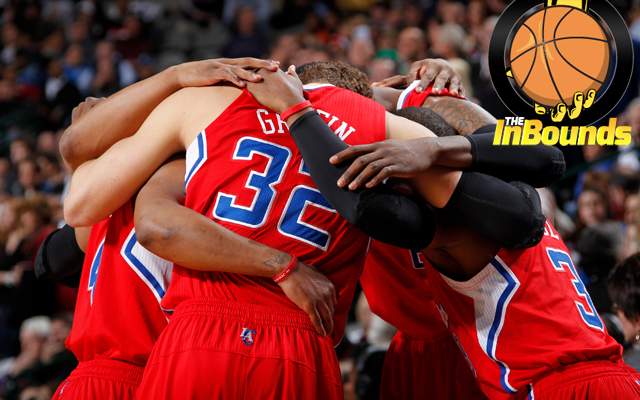 All together now.
(Getty Images)
The Inbounds focuses on one element, thought, question, or joke in the league. It appears daily Monday through Friday on CBSSports.com.
The Clippers have a lot of different personalities these days. Usually that means a team has moments in which it has great and some in which it makes stupid decisions. But it's less about the quality of the decisions and more about the makeup of the play on the floor.
The Clippers engineered a deep team this offseason. That was the objective. Their bread and butter is Chris Paul and Blake Griffin. But they knew they needed some versatility. And what they wound up with is a team that can turn its style on you abruptly. That has less to do with the play itself than the style of play.

The key to all of this is Eric Bledsoe. The explosive young point guard backs up the best in the business, but he's nailing teams with a change of pace they're simply not ready for. You scheme for two days on trying to contain Paul and his methodical, grind-it-out, deliberate style, to try to limit his pull-up jumpers off the dribble and the lobs off the pick and roll. Then Bledsoe comes in and nails you with blinding speed, more spread attacks in transition and terrific finishing ability. It's a brutal change of pace that has helped the Clippers get out to a strong start, as seen in their blowout win of the previously undefeated Spurs on Wednesday night.

We've got very little info to go on. But in limited minutes, the Clippers have two of the top five lineups in efficiency differential, with two lineups whose only shared player is Jamal Crawford. They've got a little bit of confusion in them as well, with the two losses heading into Wednesday's game (though I'm willing to give them a pass on losing to the Cavaliers on account of Dion Waiters hitting so many contested threes).

The data itself isn't sustainable and largely tossable. But watching the Clippers, you see how many different lineups they can distribute. They haven't even scratched the surface of using Paul and Bledsoe in a dual-point-guard lineup yet. Lamar Odom still looks uneven (he has had some genuinely good moments mixed in with a whole lot of awful ones). Grant Hill's still out. Chauncey Billups is still out.

That's the insane part. They have more depth coming!

It's not that the Clippers look like world-beaters, and I still very much expect the mid-season swoon that they fell into last season -- which almost cost Vinny Del Negro his job. But the structure of this team is such that if something's not working, the Clippers can throw out an alternative. They are anchored by Paul's brilliance, Griffin's explosiveness and the emergence -- yes, it's time to start believing -- of DeAndre Jordan. But they can add bigger pieces, go small, aim for offense, gear for defense, do a number of things.

That's going to be helpful when April and maybe May roll around.

There's a cost to the veteran aspect of this team, but we're already seeing the bench pay off to counter it. Paul will need rest days and will take off time once spring starts creeping in. But that just means more time for Bledsoe, who would realistically start on a high number of teams in the league. It's not impossible but would take a catastrophic injury collective to take out their wing depth.

Seriously, here is the Clippers' wing rotation:

Willie Green, who fits better on this team than any before and is focusing on transition buckets and corner threes.

Crawford, who has made a strong case for Sixth Man of the Year candidate early on.
Hill, who if he gets healthy can guard multiple positions and make smart plays, something they lack in crunch-time situations.

Billups, who will give them the luxury of a two-point-guard lineup, all the rage in the NBA, at any point in the game while not needing extensive minutes.

Caron Butler, who continues to be underrated for what he can still provide defensively and within the team framework.

Trey Thompkins, who showed a lot of promise early in his career.

The Clippers certainly have depth issues down low, and counting on Ryan Hollins for backup minutes is a scary prospect. But they are a team that has set out primed to improve in the regular season and find a winning solution for the playoffs.

And maybe most stunning of all? There is no question, a week and two days into the season, who the best team in Los Angeles is, and it doesn't wear yellow.
The Knicks forward is a bucket-getter in the truest sense of the term

On the TNT broadcast, even Shaq finally admitted that he likes Joel Embiid's game

The Warriors new Nike classic uniforms will be revealed Thursday
Joel Embiid doesn't want to call what the 76ers are doing a minutes restriction

The Mavs played a tribute video to the American flag prior to their opening game on Wednes...

The Suns stink, but this was cool!