To Byron Scott, there is no ceiling for Kyrie Irving
Byron Scott talks about Kyrie Irving. Could the Cavaliers star be the best point guard in the league in the near future?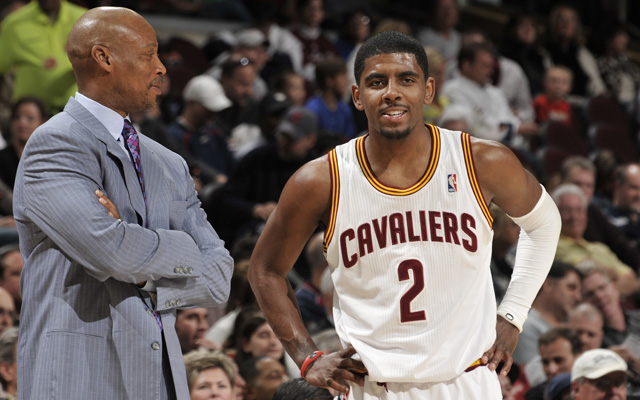 Byron Scott has high expectations for Kyrie Irving.
(Getty Images)
Kyrie Irving wasn't at his best and was still the best on the floor Friday night. The second-year phenom came down with your run-of-the-mill sickness this week, missed Cavaliers shootaround, and was a gametime decison vs. the Denver Nuggets. Cavs PR said he would "try and give it a go," with coach Byron Scott saying pregame he'd have to keep an eye on him and check to make sure the young playmaker was OK in the altitude in his condition.

Irving played 38 minutes and 39 seconds, the most of any Cavalier.

He finished with 28 points, three rebounds, seven assists, five steals, and one turnover, all while feeling pretty horrible. A Friday night battle in January between a lowly-hyped Denver team and a 9-28 (soon to be 9-29) lottery also-ran is not exactly the Flu Game Redux, but it showed something.

Irving, at age 20, is one of the most feared players in this league and has the attitude to push himself beyond physical and emotional challenges expected of a player his age. Irving succumbed to those challenges late, going 1 for 5 in the final six minutes. Part of that was clearly attributable to his illness. (A larger part of that was attributable to Nuggets coach George Karl sicking elite defender Andre Iguodala on him. Iguodala, as he has done repeatedly in his career, swallowed the poor kid whole.)

But he still put on an incredible performance throughout the game, punishing any narrow gap the Nuggets left for him, controlling the game with his athleticism and shooting prowess. Even under the weather, he showed what makes him such a special player, even on such an injury-struck and low-talent team.

But the question remains: How good can he be?

We've seen other great young point guards. We've seen his dazzling speed across this league, we've seen shooters and crossover experts. But there's something different about Irving. It's that he combines athleticism with brilliant shooting, that he understands how to take over in big moments and yet isn't a gunner. He's spectacular on the court and coaches rave about him off it.

You getting the picture? If it seems like I'm laying it on thick, it's for this reason:

This is a league filled with phenomenal, elite point guards in nearly every division. And despite Chris Paul's emergence as not just one of the best in the league, but in the history of this game, Irving has a chance, a chance, to be the best point guard in this league in the next five years.

That's not to discount Paul, who is playing at an MVP level this season and has learned how to save his body as he enters his veteran prime. That's not to throw away Russell Westbrook, who despite whatever perception exists because of his play next to Kevin Durant, remains maybe the most singularly explosive player in the league and who improves every game. And that's not to throw away Rajon Rondo's creativity and the constant threat he'll figure out his free-throw touch and learn when to look to score; or Derrick Rose's potential return to full health and growth; or what Damian Lillard is doing in Portland or ... you get the picture.

The status of best point guard in the NBA has a lot of suitors. But with every game, there are those who believe Irving's combination of skill, handle, aggression, confidence, control, maturity and flat out "Good God, did you see what that kid just did?" abiltiy will land him at the top in the near future. The very near future.

Among those who think it's possible is a man who knows a little bit about the present and future of great point guards in the NBA: Irving's coach. Scott, who coached Paul for five years in New Orleans, sat down with CBSSports.com Friday to discuss Irving's ceiling. For starters, is there one?

CBSSports.com: Chris Paul is held as the gold standard in this league when it comes to the point guard position. His work ethic, skill, the way he's so proficient at everything. But even then, I really believe Kyrie has a chance to be the best point guard in the league in the next, really, four to five years. Do you agree?

Byron Scott, head coach, Cleveland Cavaliers: I think it is. I think one thing that he needs to do this summer is call Chris Paul and work out with him.

CBSSports.com: Why's that?

Scott: Because then he would learn from the best. I know he's friends with LeBron James. I know Kevin Durant. He needs to work out with some of these guys, some of the biggest stars in this league, and see how they work. I think he'd have a different perspective on what this is all about. I think it would help him tremendously.

But I do think in the next 3-4 years ... He and I have talked about this. He has the possibility of being the best point guard in this league.

CBSSports.com: The only knock on him his rookie year was his defense, which is pretty common for rookies. The numbers suggest there's been legitimate improvement there (Irving is ranked in the 59th percentile defensively according to Synergy Sports), but do you think that his curve of progression defensively is where you want it to be?

Scott: No, because I'm one of those guys who want him to be there already. But I do know it's going to take him some time, as it does most young players to develop on that end of the floor. He's so much further along offensively than he is defensively.

Does he want to be better defensively? Absolutely. I think he wants to be a complete basketball player. He's learning how to play that position on the floor, which is a very demanding position to play in this league, on both ends. I still see strides that he's making, that he's made this year compared to last year. But he still has a ways to go.

CBSSports.com: It seems like he can take almost anyone in this league one-on-one (Irving is the best player in isolation with a minimum of 100 possessions this season via Synergy). But I can't really evaluate his playmaking ability because of the team around him. Does he need to improve there?

Scott: I don't know if there's anything that he needs to work on to get better as a playmaker. I think he's there. We have to add some pieces to what we're doing to help him, obviously.

From a playmaker standpoint, to me a couple of things that you need:

1. You need to have the ability to get by players. That's one.

2. You have to have the vision to be able to see when they're open.

That's the two things you need, and he has both of those. We just need to surround him with some other players who can finish and make shots as well. I think we're getting there. I think his ability as a playmaker is something that we'll continue to see grow, as we grow as a team.

CBSSports.com: You've coached Chris Paul and now Kyrie Irving, some pretty good point guards, to say the least. Irving's handle blows most people away. Where does his handle rank on the list of players you've coached?

Scott: His handle is probably 1(b) with Chris Paul, if you go through point guards that I've had. Those guys, their handle was just sick. They could put it on the floor and just go wherever they wanted to go. It's like the ball was made for their hands.

Every time they dribble the ball, it just seemed to be a perfect fit. His handle is really unbelievable, and the only guy that I've coached who's right there is Chris Paul.

CBSSports.com: Pick-and-roll is something that a lot of young point guards take years to learn. Is he ahead of the curve for his age, there?

Scott: For a 20-year-old, his pick-and-roll game is exceptional. Because you just don't see a lot of guys his age that can come off the pick-and-roll and do a few things. Number one, if you can pull up behind the pick and make big shots. Two, if the big shows, he can go around him or he can split him. With those two things he's able to get around guys and make plays for himself and his teammates. For him to be able to do those things at 20-years-old is phenomenal.

CBSSports.com: You get the first pick, you get the kid with all this talent, but then he comes in with kind of attitude. Does that make it easier to deal with all these growing pains the team is going through?

Scott: It does make you more excited, because we know that we have a few of the pieces in place, they're just young pieces. They have to mature and grow and gain that experience.

One thing I love about Ky at 20 years old is that he really is more mature than most 20-year-olds. He has a pretty good idea of what he wants to do, what he wants to be in this league. He has a vision of where he's going to be in the next four years. You don't see that in most 20-year-olds when they come in the league. Most times they just want to play. They don't really think about next year or the year after. He's thinking about two, three years from now down the line.

His maturity level is totally different from most guys I've coached at that age.
Victor Oladipo just wants to live his life and enjoy his breakout season with his new team

Keep it right here for all of the news, notes, scores, and highlights from around the Asso...

LeBron has a player option for next season, and is expected to opt out and become a free a...
The Pistons will be looking to snap a five-game losing streak when they host the Celtics on...

Bryant offers some advice for Ball and other rookies about having a sense of urgency in the...

Burks has stepped up in a big way for the Jazz, averaging over 20 points per game since Rodney...