Warriors' Iguodala denies being Mark Jackson's mole in playoffs
Golden State guard claims he was not the one to indicate to Warriors coach that Nuggets were trying to intentionally hurt Steph Curry.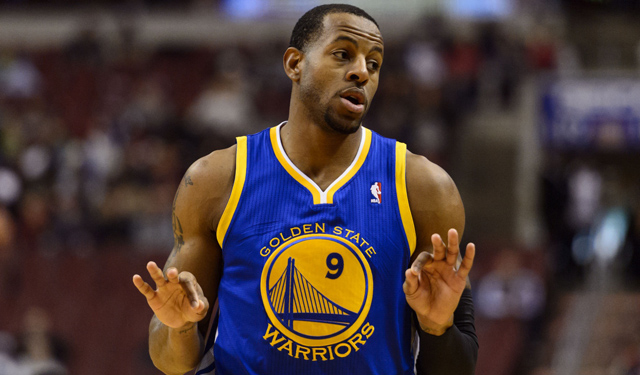 Golden State guard Andre Iguodala denied Monday before the Warriors game in Denver that he was the "mole" who told Warriors coach Mark Jackson that the Nuggets were intentionally trying to hurt guard Stephen Curry during their first-round playoff matchup last season. 
Andre Iguodala denies being any type of mole during last season's playoff series between Denver and Golden State. #Nuggets

— Chris Dempsey (@dempseypost) December 23, 2013
Here's what Jackson told reporters last April: 
"They were the more physical team, the aggressor," Warriors coach Mark Jackson said. "They hurt us in the first half scoring the basketball in the paint, made us pay for our turnovers. They tried to send hit men on Steph Curry."

That's right. He said the Nuggets "tried to send hit men on Steph Curry."

Curry echoed his coach's feelings after the game, joking that the Nuggets put a "hit" out on him.

More Jackson: "There was some dirty plays. it's playoff basketball. That's all right. We all do. Make no mistake about it we went up 3-1 playing hard, physical basketball. Not trying to hurt anybody."

More specifically about the dirty plays on Curry, Jackson: "I'm not going to get into specifics. You can take a look at the game. The screen on Curry by the foul line on a shot at his ankle clearly. That can't be debated. I've got inside information that some people don't like that brand of basketball. And they clearly didn't co-sign it. So they wanted to let me know that they had no part in what was taking place. Let the best team win, and with the exception of going down with a freak injury, let everybody leave out of here healthy. That's not good basketball."
via VIDEO: Mark Jackson accuses the Nuggets of dirty play in Game 5 - CBSSports.com.
At the time, Iguodala remarked "As far as anybody trying to cheap shot, I don't condone that myself. It's not in my game." Earlier this month George Karl singled out Iguodala as the "mole." The Warriors won the series 4-2, and Iguodala signed with the Warriors in free agency just two months later. 
Iguodala had declined comment on the matter before Monday. 
CBS Sports HQ Daily Newsletter
Get the best highlights and stories - yeah, just the good stuff handpicked by our team to start your day.
Please check the opt-in box to acknowledge that you would like to subscribe.
Thanks for signing up!
Keep an eye on your inbox for the latest sports news.
Sorry!
There was an error processing your subscription.
Team owner Glen Taylor has reportedly mandated that Butler be dealt in the next several da...

One source reportedly said the Butler trade is 'just a matter of when'

Towns was the No. 1 pick of the 2015 NBA Draft for the Timberwolves
The first preseason games are less than a week away

The Wolves may begin camp on Tuesday without Butler, one way or another

Embiid praised Ayton's potential, but said the youngster has a lot of work to do