2014 NFL Draft: Cardinals get C for picking Logan Thomas 120th
The Arizona Cardinals selected former Virginia Tech quarterback Logan Thomas in the fourth round (120th pick) of the NFL Draft on Saturday.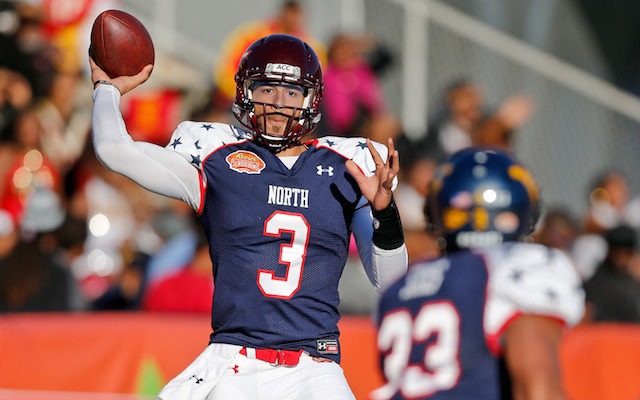 Draft coverage: Draft picks and grades | Prospect Rankings | Mock drafts | News
One of the most intriguing prospects in the NFL Draft is officially off the board. Former Virginia Tech quarterback Logan Thomas is headed for Arizona after the Cardinals made him the 20th pick in the fourth round (120th overall) on Saturday.  
What the Cardinals are going to get in Thomas is an erratic quarterback with a potentially huge upside. Thomas ran the fastest 40 of any quarterback at the combine in February. Thomas also had the highest vertical jump and the longest broad jump.
Although Thomas has a huge upside, there's also a chance he doesn't workout, which is why CBSSports.com's Derek Stephens gives the pick a C.
Logan Thomas grade for those scoring at home. VIa @DStephensScout pic.twitter.com/PVCkM2iXDx

— Eric Kay (@ekaycbs) May 10, 2014
Cardinals coach Bruce Arians is somewhat familiar with Thomas because he spent some quality time with him during a predraft visit to Virgina Tech. 
Bruce Arians and Logan Thomas ... #Hokies pic.twitter.com/wT5areVGMs

— VT Football (@VT_Football) May 10, 2014
The former Hokie is an athletic freak of nature and Arians is about to find out if his freakish athleticism will help him play quarterback. Thomas threw 53 touchdown passes at Virginia Tech, but he also threw 30 interceptions and only completed 55.5 percent of his passes.
Besides struggling with his accuracy, NFLDraftScout.com also notes that Thomas has inconsistent footwork and mechanics. The best bet for Thomas and the Cardinals is probably to keep him on the bench for a few seasons and hope he picks up a few tips from Carson Palmer, an idea Thomas seems to be alright with. 
"I know what pretty much every other quarterback who comes into the league knows: There's going to be that learning curve. And sometimes it takes a couple of years, so I understand," Thomas told the Roanoke Times before the draft. 
Thomas is only the third Virginia Tech quarterback since 2000 to get drafted, joining Tyrod Taylor (Ravens sixth round pick in 2011) and Michael Vick (No. 1 overall pick by the Falcons in 2000).  
Surprise! The coach who won Super Bowl 50 just got another job with the Broncos

Derek Carr is the NFL's new salary king, but Aaron Rodgers' deal was more valuable in 2013

A kicker and a punter are among the former NFL players diagnosed with CTE in the study
Lucky Whitehead was cleared of all charges and now has to see if the Cowboys are still cutting...

Second-round pick Curtis Samuel had his mom bring him to training camp and watch him walk...

The defensive end, who will sit out four games, probably should have seen that as a bit of...