After Further Review: Bucs' David earns Derrick Brooks comparison
Let's call Tampa Bay linebacker Lavonte David 'Baby Brooks,' because like the likely Hall of Famer he is an undersized run-and-chase linebacker worthy of Defensive Player of the Year consideration.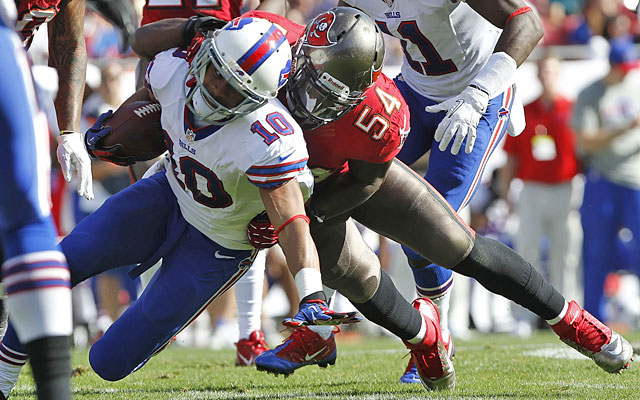 Former Tampa Bay Buccaneers linebacker Derrick Brooks will almost certainly be inducted into the Pro Football Hall of Fame early next year -- unless the committee botches it -- and will do so as a linebacker who helped redefine the position.
Brooks was a smallish linebacker who didn't pile up sacks, but rather excelled in the run game, covered backs down the field and flourished with an all-around dominant game. He was a run-and-chase linebacker.
Those kinds of players often get overlooked for awards and such because of the lack of sack stats. But Tampa Bay won a Super Bowl, and Brooks got the notice he deserved.
The current Tampa Bay team has four victories and isn't getting much attention. But there's a player I call "Baby Brooks" on the defense who should be getting Defensive Player of the Year consideration, a player who shows up week in and week out on tape doing things that make him truly special.
I liked Tampa Bay linebacker Lavonte David when he came into the league two years ago, but I have to admit now that I had no idea he would be this good. David is racking up numbers that put him with special players, and he's only a second-year linebacker still learning the position.
David has six sacks and five interceptions this season to go with his 116 tackles. The last player to have at least five picks and five sacks in a season was a guy name Brian Urlacher in 2007.
His two-year totals are significantly better than the two-year totals that Brooks had to open his career.
What can't David do?
He can run. He tackles. He sees it. He reacts. He can cover. He can blitz.
He is as good an all-round linebacker as there is in this league -- including Carolina's Luke Kuechly and San Francisco's Patrick Willis. In fact, he's significantly better than both in coverage.
I looked at some of David's recent games to get an idea where he was in his development and I came away thinking it's crazy he isn't in the DPOY race. He has a heck of player in front of him in defensive tackle Gerald McCoy -- who should be going to the Pro Bowl -- and that helps, but David shows up a lot on the tape.
What's more, he does so in a variety of ways. Here is a look at some of the plays that caught my eye while studying him -- and I don't include either of his two picks from last week, both athletic plays that allowed him to show off his speed and quickness.
The first play is a run play from last week's victory over the Buffalo Bills. It shows off David's ability to read, get to the football and stop the runner from breaking free.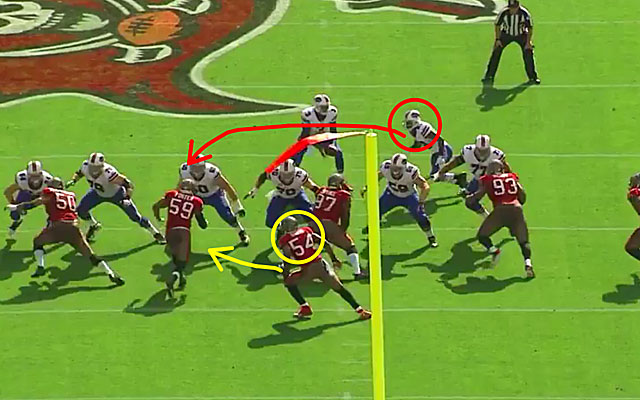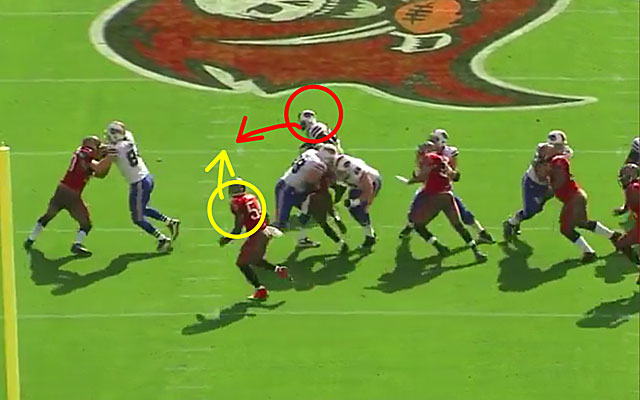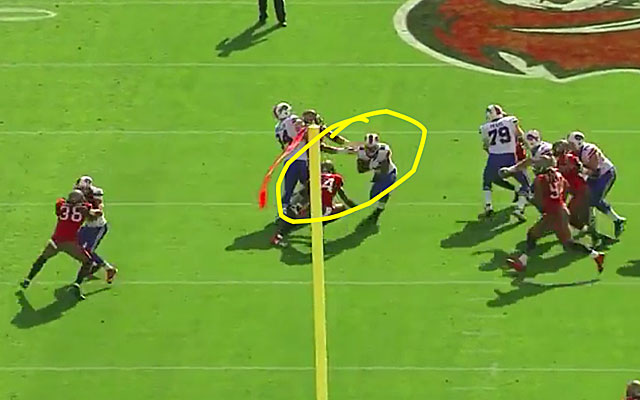 As you can see, the Bills ran a zone-read play to the right with C.J. Spiller. David (yellow circle) read the play, jumped to the outside, his left, and continued to fill as Spiller tried to cut inside the block of the right tackle. David stepped into the hole and held him to no gain.
The second play is David's sack on EJ Manuel. It wasn't a tough play, but it showed how quick he is as a linebacker, and also showed he can put down even the quickest quarterbacks.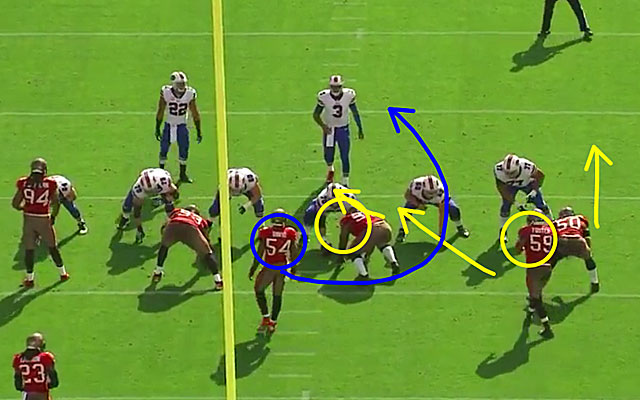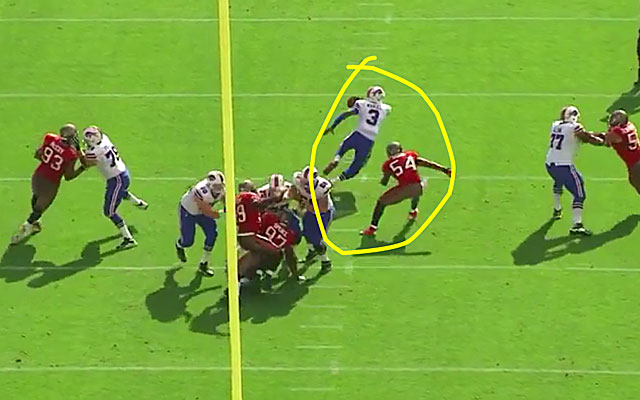 On the play, the Bucs blitzed linebacker Mason Foster and David (blue circle) ran a stunt through the open area to drop Manuel for the loss. Manuel tried to sneak away, but David's speed was too much, and he was sacked.
The third play is another that shows off David's ability to play the run.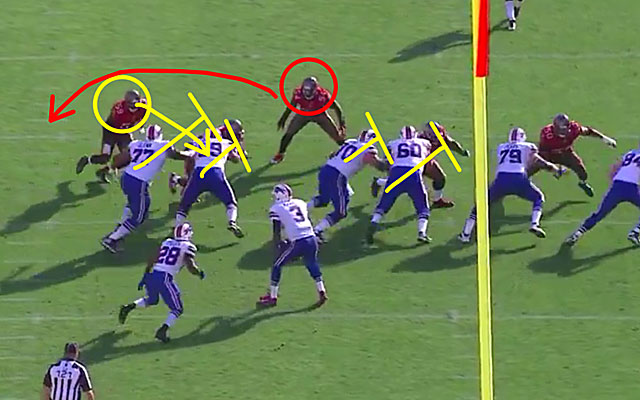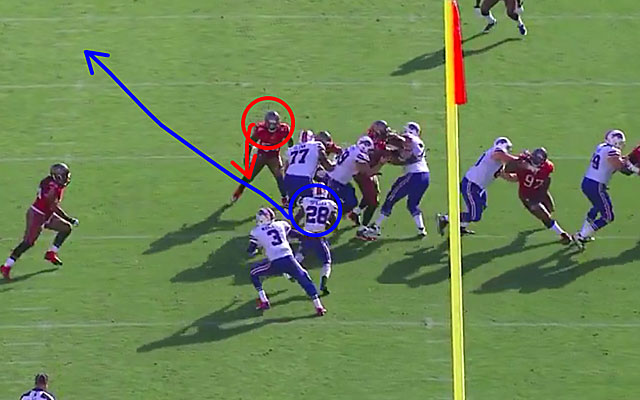 The Bills once again tried to run a zone-read with all the line action to the right. That left a cutback lane for Spiller, with Manuel carrying the fake to the left. That held the defensive end on that side. So there was a huge cavity in the defense. But David (red circle) was able to read it, scrape around the traffic and prevent Spiller from ripping off what could have been a huge play with his speed.
The final play I want to highlight shows off David's coverage skills, where excels in both man and zone schemes.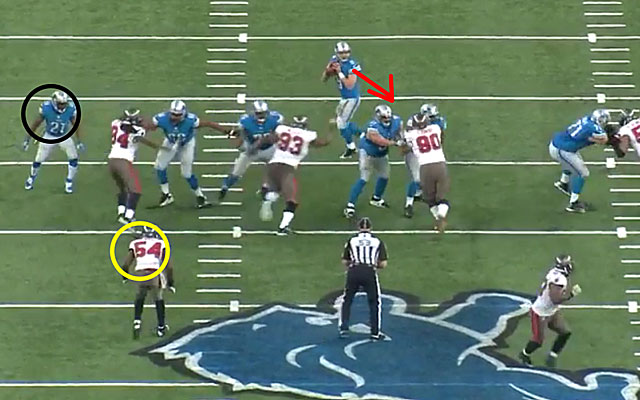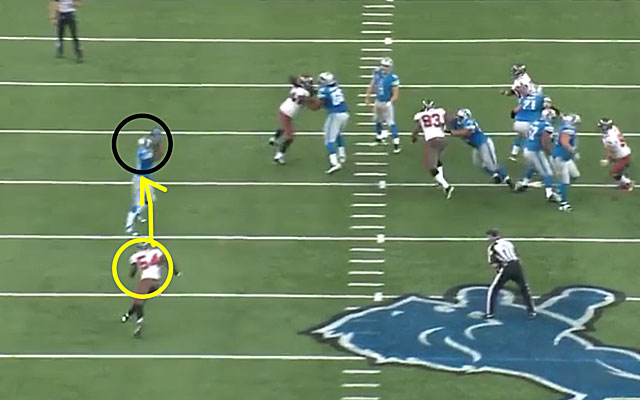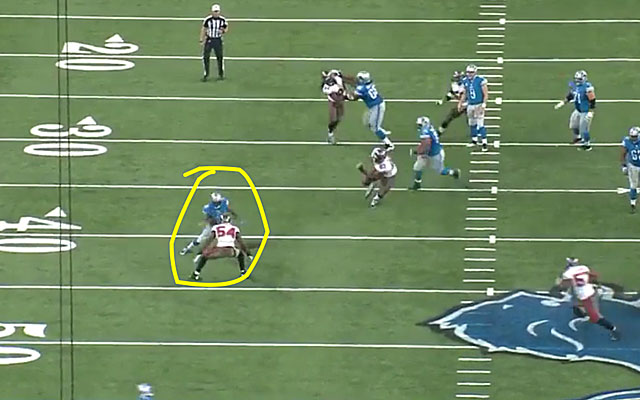 The Lions had a second-and-3 and their 42. They had Reggie Bush (black circle) lined up next to Matthew Stafford, who was in the shotgun. They had two receivers to the left and one to the right. The Bucs were in a nickel defense with two linebackers. They were in a two-high zone look, and David dropped into the short left area. Stafford looked to his left after taking the snap, but then came back to a check-down to Bush on the right side. That's when David reacted with speed and came up and dropped Bush for a 2-yard gain. It was a textbook tackle, the kind you can use to teach the proper technique.
When I talked to David this summer, he was humble about his impressive rookie season, but you could tell he had a chip on his shoulder. He didn't like the idea of people saying he was too small coming out of school. He also talked of working to be one of the best, desiring to be mentioned in the same class with the greats like Brooks.
It's too early to put him in that class, but he is off to a heck of a start. If the first two years are any indication, he might be following in Brooks' steps to greatness. For now, he deserves consideration as a DPOY -- even if his team isn't that good.
That's how good David is right now.
If he isn't at least All-Pro, something will be wrong.
Things I saw on tape
1. I love dissecting big plays. So I took a look at the 80-yard touchdown run by Tampa Bay running back Bobby Rainey against the Bills from last week's game. The run came on the second offensive play for the Bucs.
The play was blocked well for sure, but it was also designed well. The Bucs initially had a two-back look, but tight end Timothy Wright motioned up to the line on the right side, giving the Bucs a double-tight look with normal fullback Erik Lorig on the left side next to tackle Donald Penn. They had receiver Vincent Jackson lined up to the right with receiver Russell Shepard split out to the left.
After Wright settled in at tight end, the Bucs motioned Shepard from the left and he settled for a second just outside Lorig. It was obvious that Bills corner Stephon Gilmore had Shepard in man coverage and went with him. As the ball was snapped, Shepard went across the formation and made it look as if he was either going to take a handoff from Mike Glennon or release into the pattern on the right side. Instead, he kicked out on linebacker Manny Lawson.
But as you can see by the GIF below, the action of Shepard (yellow circle) caused linebacker Kiko Alonso (blue circle) to take a false move that way and safety Jarius Byrd (red circle) did the same. Gilmore, in man coverage, followed Shepard. When they all did that, there was a huge hole in the defense after the play was blocked so well up front. Rainey just had to open it up and go.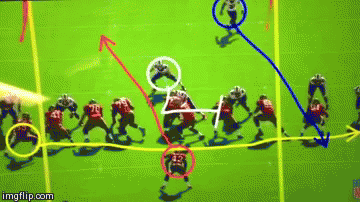 A couple of more things about the play stood out to me. One was that Jackson hustled to get a block on corner Leodis McKelvin downfield to keep him from getting over until late in the play, when Rainey made him miss. The other interesting thing was seeing Buffalo defensive end Mario Williams look to slack off a little when he got off his block to get over and make a play on Rainey. The effort was clearly not there. You tell me if you agree.
2. I have to hand it to Bears coach Marc Trestman: He sure makes it easy on his quarterback. We are hearing rave reviews about how any quarterback can play in Trestman's system. I don't necessarily buy that, but a smart passer who can make pre-snap reads can have success, even a journeyman like Josh McCown.
The notion that McCown should be the starter for the Bears going forward is foolish. It's Jay Cutler's job. But McCown is smart enough to make things work in Trestman's system. It is a system that helps scheme players open. That makes for easy throws and cerebral quarterback play. Two of the bigger plays made in the Bears' victory over the Cowboys on Monday night were schemed-up passes to the backs. Both had similar looks against different defenses -- and both worked.
The first came in the third quarter on second-and-6 from the Chicago 48 with the Bears leading 24-14. The Bears had a bunch formation to the left with receiver Earl Bennett and fullback Tony Fiammetta lined up outside of tight end Martellus Bennett. Brandon Marshall was in the slot right with Matt Forte in the backfield.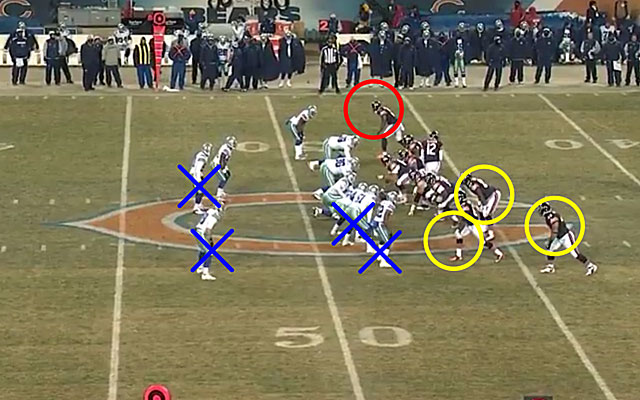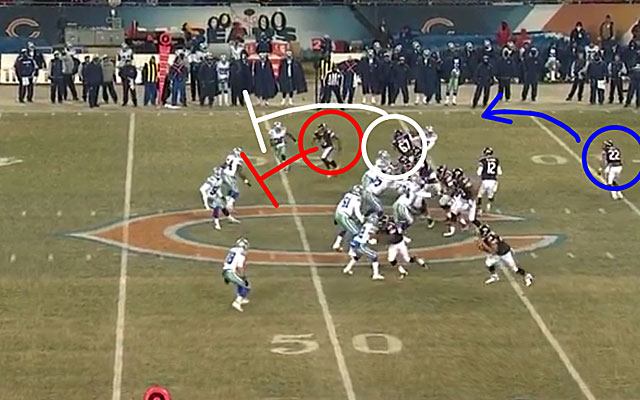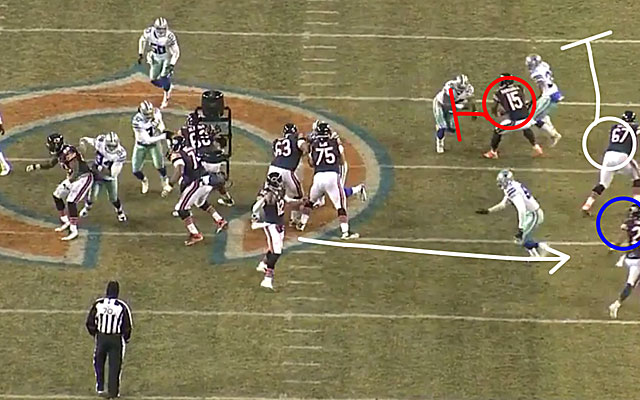 The Cowboys, as you can see by the pictures above, overloaded to the bunch side of their defense. That left Marshall (red circle) in man coverage with Brandon Carr. When Marshall ran what appeared to be a slant, Carr went with him, vacating the right side. Marshall was really running inside to block linebacker Bruce Carter, which he did. Right tackle Jordan Mills (white circle) took a short set to make it look like a quick pass, then passed off end George Selvie and went up the field. McCown then floated a pass over Selvie's head to Forte (blue circle) for a 34-yard gain to set up a field goal.
The next time they ran a similar play, it was a touchdown. It came in the fourth quarter when Chicago led 35-14 and had first-and-10 at the Dallas 17. The Cowboys played it differently on defense this time, and McCown made a spot-on read.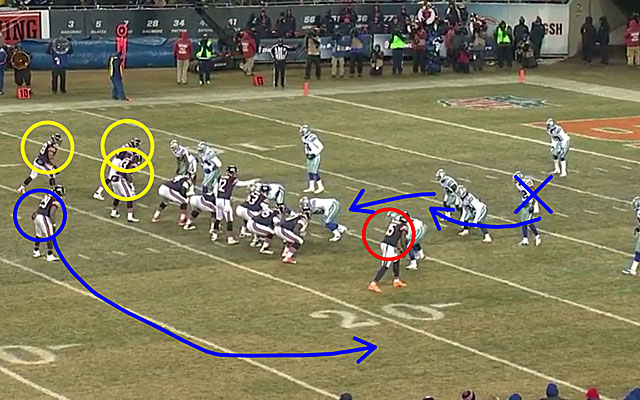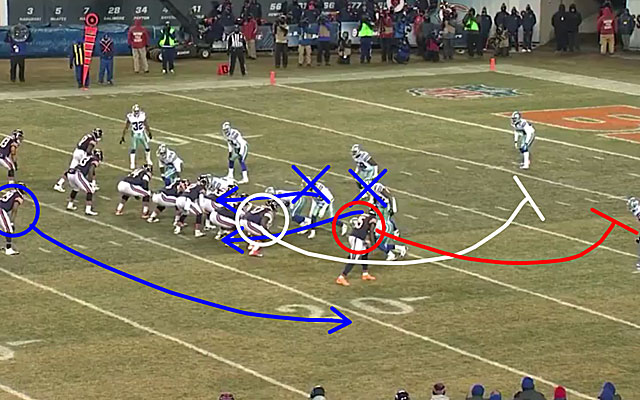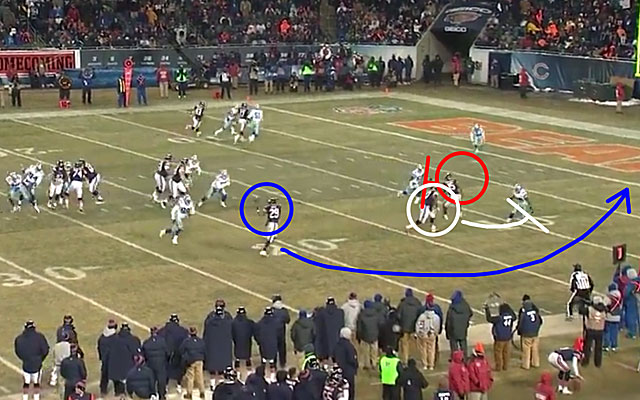 Once again, the bunch was to the left with Alshon Jeffrey and Fiammetta outside TE Bennett. That left Marshall on the right side again. This time, the Cowboys blitzed off the right side with linebacker Cameron Lawrence and safety Barry Church. McCown read it perfectly. Marshall (red circle) ran inside and blocked linebacker Ernie Sims and Mills once again got out to get a block on Carr. That enabled Michael Bush to take a short pass and rumble 17 yards for the score.
These were two simple-looking plays, but ones that came from tons of film study and great design. That's the Bears' offense in a nutshell. It's the thinking-man's offense, which is why McCown is having success.
The reality is that when you watch his tapes, you don't come away with the "wow" factor about McCown -- even if his numbers are impressive. What you do come away with is the idea that he and Trestman have put in so much work scheming things up that they are one step ahead of what is happening on defense.
The throws are the easy part.
It works.
3. One of the things that stood out from the Seahawks-49ers game was the problems Patrick Willis had in coverage. He was beat for a 29-yard gain in man coverage by rookie tight end Luke Willson in the second quarter. And then he was sucked in on a play-fake and did a poor job on Willson's 39-yard catch and run for a touchdown. Safety Eric Reid also did a poor job on that play, but Willis didn't get enough depth to make it a tougher throw for Russell Wilson. Willis is a good linebacker, but as I wrote when I did my breakdown with Falcons quarterback Matt Ryan this summer, teams think he can struggle at times in coverage.
4. It's so easy to blame everything that is wrong with the Redskins on Robert Griffin III. Does he have some blame? You bet. He has not grown as much as anticipated as a passer. But he is not alone in why he has struggled.
Pull any Redskins tape out from this season and you will find an offense that isn't good up front, lacks receivers who win consistently and is simplistic in how it is run. Some of that was because the Redskins felt they had to give RG3 a chance to grow into being an NFL passer, which is why they ran the read-option last season. I don't see much progress. Even when he had time last week against the Chiefs, he didn't have many open receivers.
The two-man-routes they used at times didn't help either. RG3 did his part, too. He moved out of the pocket too fast at times. He held the ball. And on an interception by Derrick Johnson he locked onto the slanting Pierre Garcon and Johnson made an easy play by reading his eyes, which never went anywhere else.
RG3 has issues in the passing game. He needs to spend this offseason working on his mechanics and understanding the passing tree better. But I think he can. It's time to put the crutch of the read-option away. And get him some talent on that offense. If not, he has no chance to succeed.
5. One of the things I love to see in young quarterbacks is how they respond after a horrible throw.
Miami's Ryan Tannehill made a terrible throw last week in the Dolphins' visit to Pittsburgh that was picked off by safety Troy Polamalu and returned for a touchdown. Polamalu dropped out after initially being close to the line and Tannehill never saw him as he tried to hit Brian Hartline on a crossing route from the left to the right. Bad read. Bad eyes.
Tannehill bounced back on the next series to hit a huge third-down throw down the right sideline for 40 yards to Charles Clay. The Dolphins went on to score on a touchdown from Tannehill to Hartline to give Miami a 24-21 lead. Bouncing back from the mistake is a good sign for the Dolphins. That's the type of resolve young passers need to succeed. Tannehill is growing. He also had a 48-yard run to show off his speed. That play came on a read-option run.
Three and outs
Three preseason All-Prisco team players that I jinxed
1. Falcons WR Julio Jones: He was off to blazing start, but suffered a season-ending foot injury in Week 5.
2. Packers WR Randall Cobb: He broke his leg in the fifth game after getting off to a great start.
3. Ravens G Kelechi Osemele: I thought he would be a Pro Bowl player, but he played poorly early because of back troubles and then had to have surgery.
Three Top 100 rankings I wish I had back
1. Panthers LB Luke Kuechly (No 92): He is much higher than that now.
2. Giants QB Eli Manning (No. 28): Oops. He sure hasn't played up to that level this season.
3. Dolphins S Reshad Jones (No. 78): His play has tailed off this season after he landed a big contract.
The Raiders are reportedly planning on partnering Beast Mode with Muscle Hamster

The Buccaneers bolster their defensive line by adding a proven talent in Curry

Keep up with the latest moves in free agency as teams try to build a Super Bowl contender
After only one season, Johnathan Hankins is on his way out of Indianapolis

The Seahawks quarterback has his eyes on a certain wide receiver

An avalanche of free-agent signings around the league has altered draft plans for most tea...