Agent's Take: How Mike Wallace will approach free agency
Mike Wallace should be able to command a five-year, $60 million contract with $27.5 million in guarantees in light of Dwayne Bowe's deal. Former agent Joel Corry explains how the process may unfold.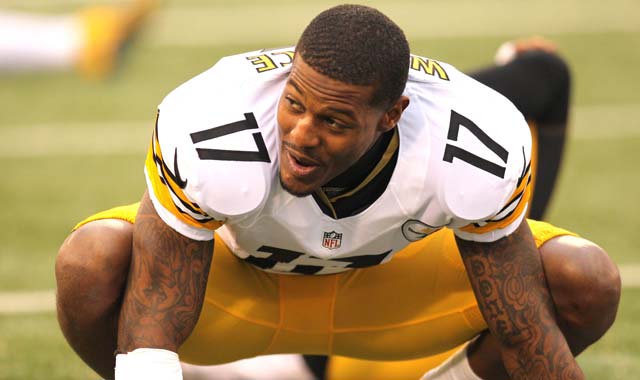 Mike Wallace is in an enviable position as arguably the top free agent available. He reportedly has two teams, the Miami Dolphins and Minnesota Vikings , making him their priority. According to ESPN's John Clayton, the Cleveland Browns are also rumored to be interested.
Miami reportedly misjudged the market when it targeted Vincent Jackson last year in free agency. General Manager Jeff Ireland may be determined to make sure he doesn't make the same mistake again during this year's free-agent signing period. The Vikings haven't had a vertical presence who can help take a safety out of the box for Adrian Peterson since Sidney Rice signed with the Seattle Seahawks after the 2010 season. Cleveland has an NFL-leading $47.2 million in cap room but does not have enough wide receivers suited for offensive coordinator Norv Turner's vertical passing game.
Wallace's position was strengthened by Dwayne Bowe  signing a five-year, $56 million contract (with $26 million in guarantees) on Monday to remain with the Kansas City Chiefs . Bowe's deal sets the floor for Wallace's market. It also removes a main competitor from the free-agent wide receiver pool.
[Related: CBSSports.com's Top 100 free agents]
Greg Jennings and Wes Welker are the other top-tier wide receivers available. Although Welker is the only NFL player to ever have five seasons with more than 100 receptions and has earned five Pro Bowl berths since joining the New England Patriots in 2007, he isn't expected to command a contract similar to Bowe's because he's an undersized slot receiver who will be 32 years old in May. Anquan Boldin is currently the NFL's highest paid slot receiver. The three-year contract extension he signed with Baltimore Ravens after being acquired in a 2010 trade with the Arizona Cardinals averages $8,333,333 per year.
Speedy wide receivers who can consistently stretch defenses as primary receiving targets are usually paid a premium. Wallace, who is 26 years old, is averaging 17.2 yards per catch during his four-year NFL career. His subpar 2012 season is irrelevant. Wallace will be given the benefit of the doubt that it was an anomaly because he missed most of the preseason in a contract dispute with the Pittsburgh Steelers and the new offensive system didn't utilize his strength as a deep threat. His 2010 and 2011 seasons where he caught 132 passes for 2,450 yards and 18 touchdowns will be considered as more indicative of his future performances.
The teams interested in Wallace should already have a sense of his contract demands if they met with his agent at the NFL Combine or had phone conversations some time this week. These types of discussions, which are prohibited by NFL rules, typically occur. Teams are rarely penalized for tampering with players from other teams when those players are scheduled to become free agents.
During these discussions, teams are given salary parameters, if not specific salary figures. For example, Wallace's agent may have conveyed that an acceptable contract range is between the Calvin Johnson / Larry Fitzgerald neighborhood, which is approximately $16 million per year and Bowe's new deal depending upon how the contract is structured. There is a risk of scaring off teams by initially giving them overly inflated numbers.
Ordinarily, NFL teams will lobby to become the first team a free agent visits. There is a new three-day period which starts on March 9 at 12:00 a.m. ET where teams are allowed to negotiate with the agents of impending unrestricted free agents until the 2013 league year begins on March 12 at 4:00 p.m. ET. It remains to be seen how this legalized tampering period will impact the importance of these trips.
A savvy agent will likely schedule the trip of his player's desired playing location first (assuming there is one) while attempting to assure the other teams interested in scheduling trips that the order is not a reflection of his player's preferences. The player's other trips can be piggybacked onto his first visit. This approach has led to the first visit being the only visit a player makes because the team knows its best window of opportunity of signing him is before he goes to see another club. Mario Williams had other teams ready to bring him in last year before the Buffalo Bills made him the NFL's highest-paid defensive player with a six-year, $96 million contract (with $50 million in guarantees) on his initial free-agent visit.
Wallace should be able to command a five-year, $60 million contract with $27.5 million in guarantees in light of Bowe's deal. If Wallace's agent is able to successfully leverage the interested teams against each other in a bidding war, particularly during the three-day negotiating period, his deal could average more than $13 million per year with more than $30 million in guarantees where at least $40 million is in the first three years of the contract.
Free Agency 101
Salary Guarantees and "offsets": NFL teams are signing players to contracts containing salary guarantees with more frequency. A majority of these guarantees have an offset clause, which allows a team to reduce the guaranteed money they owe a player when he is released by the amount of his new deal with another club. Without an offset, the player would receive his salary from the team that released him in addition to the full salary from his new contract with another team. For example, $6.5 million of Kamerion Wimbley 's 2012 base salary was fully guaranteed without an offset when the Oakland Raiders released him last March. He subsequently signed a five-year deal with the Tennessee Titans that paid him $11.5 million in 2012. He made $18 million last season because there wasn't an offset in his Oakland contract. He would have made $11.5 million with an offset clause because the Raiders would have recouped the $6.5 million they guaranteed Wimbley from the Titans.
Joel Corry is a former agent. You can follow him on Twitter: @corryjoel
After six weeks of football, is any team any good? Check back next month

The league has been working closely with civic-minded players on ways to assist them in their...

The 2018 draft class is shaping up to be absolutely loaded at the running back spot
Micah Roberts is gunning for nine straight winning NFL picks on 'Thursday Night Football'

Did Jackson text Deshaun thinking it was DeShone? Not the case, according to the Browns co...

The Vikings coach says the way that linebacker Anthony Barr tackled Rodgers was within the...