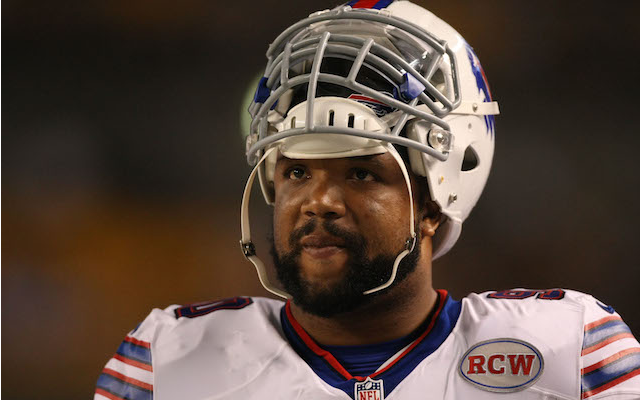 The Buffalo Bills cut defensive tackle Alan Branch on Sunday, the team announced. The move comes only one day after Branch was charged with DUI, an incident causing him to miss Saturday's game against Tampa Bay. 
Following the Bills 27-14 loss to the Buccaneers, coach Doug Marrone said Branch didn't play in the game because he had been arrested, but at that point, Marrone had zero details on the arrest. 
"It was reported to me that he was arrested," Marrone said. "I'm going to meet with him [on Sunday]. I found out somewhere around noon time, midday. I just had too much on my mind. I tried to call him, couldn't get ahold of him. But I wanted to get ahold of him some other way, so I got ahold of him through other people and just said, 'Hey, I'll meet with you tomorrow.' "
At the time Marrone made the comments, it wasn't clear what Branch had been arrested for, but those details are now out. According to the Associated Press, Branch was arrested and charged with DUI on Saturday around 2 a.m., a mere 14 hours before Buffalo was slated to kick off against Tampa Bay. 
Branch was taken into custody after authorities noticed him throwing up out of the driver's side of his car in the town of Cheektowaga, N.Y., a city about seven miles outside of Buffalo. 
The 29-year-old failed a sobriety test and police said he had a blood-alcohol content of .14, well above the legal limit of .08. 
Before being cut, the veteran defensive lineman had already been in hot water with the Bills. Branch chose not to show up for voluntary workouts this offseason and then when he showed up for training camp in July, he failed his conditioning test. 
The Bills had signed Branch to a three-year extension in December. 
More on Bills: Recovering Jim Kelly shows up at The Ralph