Broncos RB Knowshon Moreno cries giant tears
Knowshon Moreno teared up during 'The Star-Spangled Banner' on Sunday and you kind of need to see how big his tears are.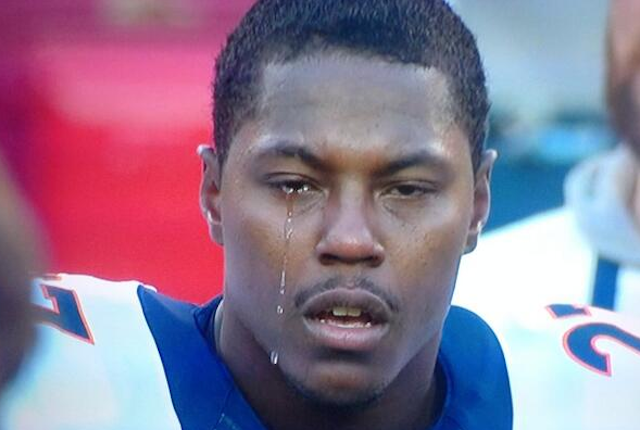 If you're ever around Knowshon Moreno when he gets sad, hopefully you have a small raft with you or you might drown. During The Star-Spangled Banner before the Broncos game in Kansas City on Sunday, Moreno was caught on camera shedding tears -- that's not the strange part though, it's actually kind of refreshing seeing an athlete show emotion in pregame -- the strange part is that the his tears look more like small rivers. 
As you can see, the tears are gigantic and frightening, yet somehow mesmerizing -- all at the same time. Although I can't decide if they're more gigantic or more frightening or mesmerizing. Moreno might be the answer to world's drought problems. Here's a closeup look at the tears.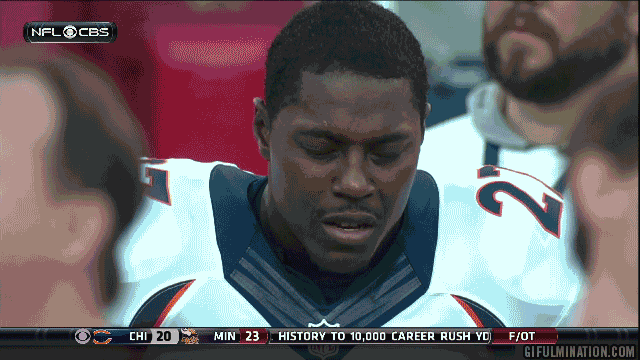 (Wink of the CBS Eye to gif.mocksession.com)
It had been rumored that the Jaguars might cut ties with Bortles, but instead he'll stay in...

Dez has struggled with injuries over the last few seasons

Cohen started last season red-hot before falling off dramatically but he has a ton of tale...
Beckham got injured during the 2017 preseason and then fractured his ankle after just four...

The Eagles were one of the most aggressive teams in the NFL in 2017, and it helped them win...

The ex-Dolphins offensive lineman was detained over a threatening social media post