Browns WR Josh Gordon makes NFL history
Browns wide receiver Josh Gordon finished with 261 yards receiving in Cleveland's loss to Jacksonville on Sunday, becoming the first player in NFL history to have back-to-back 200-yard receiving games.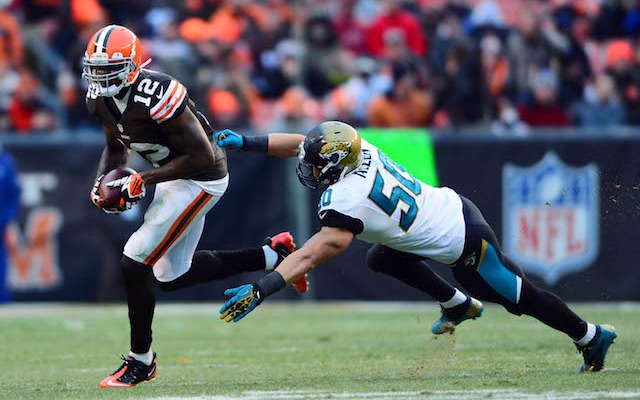 The next time you read the NFL record book, Josh Gordon's name will be in it and that's because Gordon made NFL history on Sunday. In the Browns 32-28 loss to Jacksonville, Gordon caught 10 passes for 261 yards. Combined with his 237-yard performance against Pittsburgh last week, Gordon becomes the first player in NFL history to go over 200-yards receiving in back-to-back games. 
Gordon crossed the 200-yard mark against Jacksonville in the fourth quarter when he caught a 95-yard touchdown pass from Brandon Weeden that gave the Browns a 28-25 lead. As you can see below, Weeden threw the ball about 20-yards and then Gordon did the rest. 
The most impressive part for Gordon might be that he set the record while catching passes from Jason Campbell and Brandon Weeden. Cambell was the Browns starting quarterback last week against Pittsburgh, but was knocked out of the game with a concussion. Weeden finished the Steelers game and then started on Sunday against Jacksonville. 
Gordon almost set another NFL record against Jacksonville too, but it was the kind of record you don't want set: the record for most receiving yards in a loss. Gordon's 261-yards was the second most ever for a player on a losing team. The NFL record for most receiving yards in a loss belongs to Jaguars receiver Jimmy Smith, who had 291 yards in a 2000 loss to Baltimore. 
The NFLPA executive director comes out out firing in a 'Real Sports' segment

Why didn't McCown, the presumed starter, play Saturday? The Jets don't want you to know

The Raiders duo had a great explanation for their decision to stand next to each other
The former Buccaneers kicker did not have things start well for him in Chicago

Bears special teams showed up in a big way against Arizona

Beast Mode got loose with Oakland and looked pretty impressive in the early going