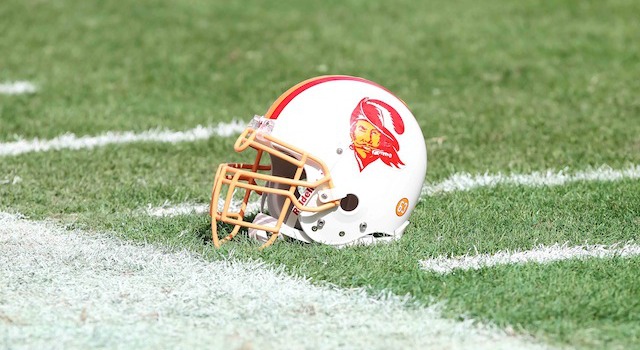 The Tampa Bay Buccaneers finally have a problem that has nothing to do with coach Greg Schiano. The Buccaneers announced on Tuesday that they won't be wearing the team's Creamsicle throwback uniforms on Sept. 29 against Arizona as previously planned.
Tampa Bay made the decision to scrap the uniforms because of a new NFL policy that forbids alternate helmets. That means no 'Bucco Bruce' and no Creamsicle uniforms.
Teams can still wear throwback uniforms in 2013, but players have to wear their regular helmets. For instance, the Bills wore throwback uniforms in Week 2, but their throwback helmets are the same color as their current helmets: white. So players were able to wear their regular helmets because all the Bills had to do was change decals.
"While we regret that our players will not be able to don the 'Bucco Bruce' helmet and traditional orange, red and white uniforms, there simply was no acceptable way to meet the requirements of the new policy while staying true to the spirit of our throwback theme," chief operating officer Brian Ford said in a statement. "We will continue to explore options with the league office for bringing back this fan favorite in future seasons."
This is bad news for everyone because one of the only reasons to watch a Buccaneers-Cardinals game would be throwback Creamsicle uniforms.
On the bright side for Tampa Bay, this announcement might briefly take the spotlight off of the sideshow that the Buccaneers seemed to have turned into. Schiano is reportedly making Darrelle Revis unhappy and that news came out after Schiano reportedly fixed the vote for Tampa's team captains.
The Buccaneers will wear their standard pewter, white and red uniforms against Arizona. This ultimately could end up being good news for the Bucs though, Tampa Bay is 1-3 in its throwback uniforms.