Dan Marino on concussions in 2013: Players know what the risks are
In an interview from June 2013, Dan Marino said that when he played in the NFL, he knew there was a chance he could get a concussion.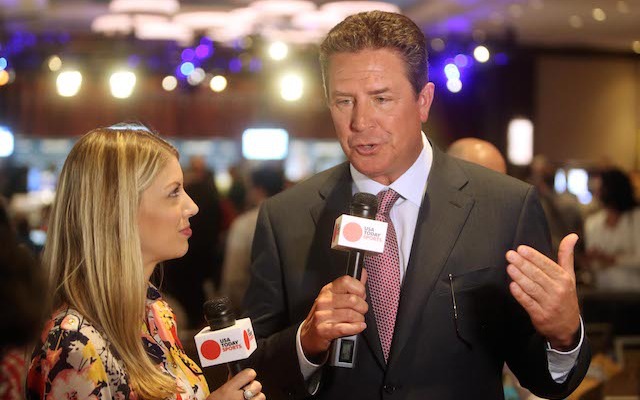 More NFL offseason: League minicamp dates | Latest news, notes
Former Miami Dolphins quarterback Dan Marino was one of 15 players to file a concussion-related lawsuit against the NFL last week. The suit, filed in Philadelphia's U.S District court, alleges that the NFL "concealed information about football-related brain injuries."
It will be an interesting case for Marino, who admitted in a June 2013 interview that he understood the concussion risks that came with playing professional football. Marino spent 17-seasons in the NFL and played his entire career with the Dolphins
"When I went out there to play I knew there was a chance I could get a concussion or I could break a leg or get a knee injury," Marino told Yahoo.com's Daily Ticker. "I really do believe they're protecting the players as much as they can right now."
Although Marino says in this interview he knew about the NFL's concussion risks while he played, that doesn't mean he got the information from the league, so it's possible the NFL was concealing concussion information from players.  
In the same interview, Marino said that commissioner Roger Goodell has "actually done a pretty good job," but that the league would "be like flag football" if rules kept changing.
The Pro Football Hall of Famer also said that most players understood the concussion risks, "When I look at it, the players know what the risks are." 
You can see the entire interview below. The concussion conversation begins at about the 1:20 mark. 
Look for Ezekiel Elliott and Dak Prescott to rebound after a rough outing in Denver

It was an emotional day in Philadelphia for the parents of kicker Jake Elliott

Nick Kostos, a.k.a. 'Mr. Monday Night,' has owned Monday Night Football
The Steelers weren't actually in their locker room for the national anthem

Players weren't the only ones protesting in Week 3

From London to Sunday Night Football, teams around the league demonstrated in response to...