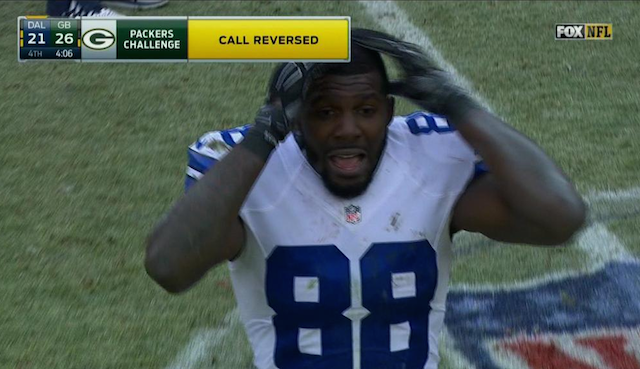 It's probably safe to say that no one will be talking about pro-Dallas officiating conspiracies this week and that's thanks to a call that went against the Cowboys during the fourth quarter on Sunday. 
On fourth-and-2 from Green Bay's 32-yard line, Tony Romo decided to go big -- he threw a deep pass to Dez Bryant toward the end zone. 
The call was ruled a completion on the field, with the Cowboys getting the ball at the 1-yard line. 
However, Packers coach Mike McCarthy decided to challenge the play and after a brief review, the call on the field was overturned -- Meaning the catch didn't count and the Packers would take over on downs. 
Here's another angle of the catch. 
Some people, like Giants receiver Odell Beckham Jr., were kind of confused by the call. Well, first, Beckham was impressed with the catch. 
@DezBryant u a damn fool bruuh #eat

— Odell Beckham Jr (@OBJ_3) January 11, 2015
Then confused that it was overturned. 
I by no means cheer for Dallas but I have no idea what or how thts not called a catch . Thts a joke

— Odell Beckham Jr (@OBJ_3) January 11, 2015
To read more about the Packers playoff win, head over to our CBSSports.com game tracker here.