Giants RB Brandon Jacobs announces retirement
Giants running back Brandon Jacobs announced on Twitter on Thursday that he's hanging up his cleats.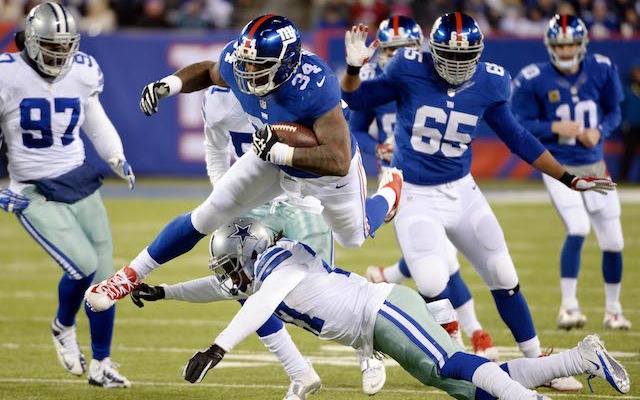 After undergoing a rare knee surgery in December, Giants running back Brandon Jacobs has decided to call it a career instead of risking long-term damage to his knee. Jacobs took to Twitter on Thursday night to announce that he's retiring. 
In a statement, the 31-year-old running back called the Giants a 'great organization' and said he's healing well from his surgery. 
After 9 years in this whirlwind business they call the NFL, I am proud to announce that I am hanging up my cleats. I've had an amazing run and I appreciate all of the support from the fans through the good and the bad. The New York Giants are a great organization and I am proud to have been a part of it for so long. I love my coaches and my teammates and will miss them as well as the game itself but I am healing well from my surgery and I look forward to running around with my kids for years to come!
The final game of Jacobs' career came in a Week 12 loss to the Cowboys. After that game, Jacobs began to experience stiffness in his knee and that stiffness eventually led to a mid-December surgery. According to NJ.com, Jacobs had a cartilage graft procedure done. Jacobs received new knee cartilage from a cadaver in a surgery that only two doctors in the United States perform. 
Jacobs will finish his career with a Giants franchise-record 60 rushing touchdowns. The former fourth-round pick rushed for 5,087 yards during his eight-years with the Giants, the fourth-highest total in franchise history.
The 31-year-old spent of eight of his nine seasons with the Giants, his lone season outside of New York came in 2012 when he was briefly with the 49ers. 
Jacobs will retire with two Super Bowl rings, both won in games against the Patriots. Jacobs rushed for a total of 79 yards on 23 carries in the Giants two Super Bowl wins. 
The retirement of Jacobs was second retirement of the day on Thursday for the organization. Offensive coordinator Kevin Gilbride also announced he was retiring on Thursday.
Aaron Rodgers' injury might've made this bar regret its promo

Tate had to wear a Miami jersey while speaking to reporters after Miami routed Notre Dame

Minnesota's fifth-year wideout, a Case Keenum favorite, is quietly on pace to shatter team...
The NFL Today analyst breaks down what's going on with the Dallas Cowboys and what to expect...

Here are the 12 teams we are projecting to make the NFL playoffs

The quarterback also says he's open to exploring politics and a law degree after football