Keyshawn Johnson: Warren Sapp bullied a Buccaneers player
Keyshawn Johnson went on radio on Wednesday and said that Warren Sapp used to bully teammate Chidi Ahanotu in Tampa Bay.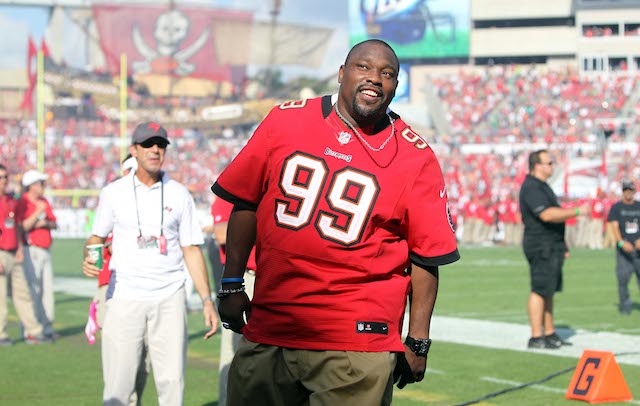 Former NFL wide receiver Keyshawn Johnson has been keeping tabs on the situation in Miami involving Jonathan Martin and Richie Incognito and he says the situation reminds him of something former teammate Warren Sapp used to do. 
In a radio interview on Wednesday, Johnson said Sapp used to bully Buccaneers defensive lineman Chidi Ahanotu. All three players were teammates in Tampa Bay in 2000. 
"Chidi Ahanotu played with me in Tampa Bay, and I used to watch Warren Sapp do some similar things to Chidi Ahanotu," Johnson told KGMZ-FM in San Francisco, via ProFootballTalk. "Now I'm saying this on the record, and it's going to go all over the country after I say this. I used to watch him try to bully Chidi Ahanotu, OK?  Because he felt he was more superior than Chidi.  So one day, you know what Ahanotu did? He got up and he told him, 'Get your you-know-what in the middle of the floor right now. I'm tired of it."
Basically, Johnson is saying that Ahanotu ended the bullying by challenging Sapp to a fight. 
"At that point, guess what Sapp did? He sat down. And then everybody else in the locker room, me, the Derrick Brookses, the Brian Kellys, we all said, 'Good for you, man,'" Johnson said. "[Sapp] didn't want no part of it.  Until you stand up for yourself and don't allow these chumps to do that sort of stuff to you, they'll keep doing it. That's the way bullies are."
Ahanotu took to Facebook to expound on Johnson's comments, here's small sliver of what Ahanotu had to say, you can read the rest of his Facebook post here.  
Richie Incognito tormenting & bullying of his teammate reminds me of what our own beloved Warren Sapp did to his teammates & the staff at Buccaneers. Tyoka Jackson, Super Bowl MVP Dexter Jackson, Marcus Jones & Chidi Ahanotu all confronted Sapp & had physical altercations of varying degrees with Sapp. Virtually Nothing was off limits to Sapp's verbal attacks & belittling of his teammates & front office staff.
After hearing about Ahanotu's accusations, Sapp responded later on Wednesday, "Check the source," Sapp said, via ESPN.com. "I've been in the locker room with Chidi for many years. If you know the nature of the beast, don't be surprised by what it does. He had plenty of time to say whatever he wanted to say about Sapp up until this point."
Sapp admitted he 'tortured' Ahanotu, but he said he did it for Ahanotu's own good. 
"I think I helped him get paid. And then when he got his 10 sacks, didn't come to the offseason conditioning, yeah, I tortured his ass because we needed him here in the offseason," Sapp said. "If I was going to be here every day, why wasn't he? He got his $30 million deal, I got my $36 million deal and we were out there in the same dirt. But he still says I'm his brother because he knows I was right to get on his ass about not being here."
The bullying allegations against Sapp marked the second time he made headlines on Wednesday. Earlier in the day, Sapp talked about how Incognito once used a racial slur against him during a game. 
Everything you need to know about the Packers-Panthers game on Sunday afternoon

The Lions will be wearing their Color Rush uniforms for the first time on Thursday

The Lions look to maintain playoff positioning while the Bears attempt to play spoiler
The Panthers have hired an outside law firm to conduct the investigation

Here's every official injury designation for each NFL team for Week 15

Bennett was one of the few players who escaped punishment after Sunday's melee in Jacksonv...