What do we make of Andy Dalton now?
The Bengals' much-maligned quarterback, after being named the AFC Offensive Player of the Month for October, has taken a significant tumble. In the process his club has allowed the rest of the AFC North to catch up. On a day when the Cincinnati defense was fairly dominant -- eliminating any chance the Ravens could run the ball and negating the pass much of Sunday -- and on a day that Joe Flacco struggled and on a day the Bengals benefitted from a ridiculous Hail Mary pass-cum-tip-drill-gone-awry for Baltimore, Dalton still did more than enough to undermine his team's chance to win.
In doing so, he gave the Ravens' season new life. The Steelers remain alive as well. The Browns, well, the Browns could make things even more interesting should their premier defense cull another sloppy performance out of Dalton next week. Coming into the season, I loved the Bengals' roster. Considered it perhaps the AFC's best at every position except for quarterback. Like many others, I wondered if Dalton was ready to take a leap forward. After the Bengals' meek exits from the past two postseasons, did Marvin Lewis' team have what it would take to reach postseason glory?
The past two weeks would say no. Hell no.
Dalton has thrown six interceptions in games at Miami and Baltimore that were quite winnable, even with stud defensive tackle Geno Atkins joining the ranks of their injured defenders. Dalton has thrown them at the worst times possible in many unforgiveable ways, and you have to wonder if he's a little rattled now and if this team can rally in the second half of the season. They remain in first place, but this was an opportunity to put real distance between them and the rest of the division, and they failed.
Dalton's three interceptions against the Dolphins, and the game-ending sack he took in overtime, prevented Cincinnati from coming away with a victory in Week 9. And Sunday, with the Ravens reeling and their offense sputtering and the team pretty much begging the Bengals to stay in the game and then ultimately win it, Dalton suffered.
Consider that at halftime his team trailed 17-0, with his turnovers again a major story. Baltimore didn't have any yardage to speak of, but benefitted from the odd big play and good field position to grab control. Make no mistake, the Ravens' season most definitely was on the line. The defending Super Bowl champs are barely breathing at 4-5, and 1-2 in the division after losing at Cleveland in Week 9 coming out of the bye. This game was there for the taking. Instead the Bengals, and their quarterback, just kept handing it back.
In the first half Sunday, Dalton was 8 for 21 for 47 yards, an interception and a rating of 26.5. His team was 2 of 9 on third-down conversions. And Dalton's first interception, where he found the safety but missed his receiver badly, resulted in a Ravens touchdown the 17-0 lead.
The Bengals seemed like they would grab some momentum early in the second half, scoring on the opening drive to make it 17-3. After a quick Ravens drive, the Bengals took over in great field position ... and Dalton tossed an interception on first down. Ravens corner Lardarius Web deserves a ton of credit for prying the ball away, but that turnover would end up looming large in such a close game.
When Cincinnati was in position to put the Ravens out of their misery in the final two minutes, or at least tie the game, he again misfired, throwing his third pick. That should have ended it, but Baltimore's anemic offense faltered and Dalton got the chance for the desperation heave that ended up in A.J. Green's hands in the end zone.
Even then the Bengals could not cash in. They stalled around midfield in overtime, Baltimore won on a field goal and, undoubtedly, big questions will be asked of Dalton again this week. He has attempted a shocking 104 passes the past two weeks since a blowout victory over Jets. The Bengals might be in a bit of an identity crisis.
He has completed only 56 of those 104 passes with two touchdowns (one of them the Hail Mary) and six picks for a rating of 54. This team may be talented ... but not nearly deep enough and good enough to overcome that sort of play from the most important position. Too many times Dalton throws lazy, wobbling balls on sideline routes, allowing defenders to jump routes and get their hands on the ball, like Ravens corner Jimmy Smith did on a late pass on third-and-11.
The Bengals were 2 for 14 on third down before Dalton's alert scramble prolonged a drive late in the game. On a day when Flacco was poor, Dalton seemed intent on being worse, from start to finish. That Week 12 bye is looking pretty good right about now. With the Chargers, Colts, Steelers, Ravens and Vikings down the stretch, the Bengals are going to have to go ahead and win this division after all. A few teams tried to give it to them in October, but it wasn't meant to be. Dalton, eligible for a new contract after the season, will be one of the most scrutinized players in the league down the stretch as the Bengals seek not just a team-record third straight playoff berth, but some big wins in January as well.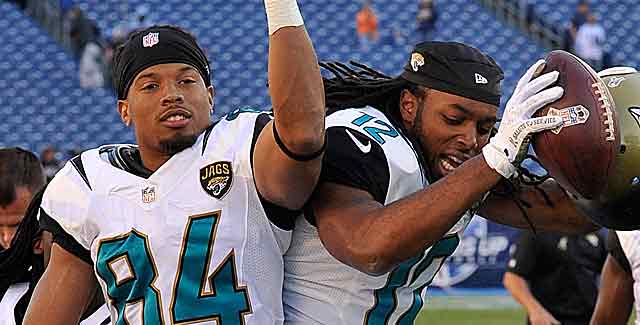 Let's hear it for the Jags
I wasn't sure the Jaguars were going to win a game this season. Actually, I was pretty much starting to doubt it.
So kudos to them for knocking off the Titans on Sunday. Tennessee had every reason to want, if not need, this win, trying to stay in the playoff picture and not let their fast start slip away. They had starting quarterback Jake Locker back -- well, before he suffered a season-ending injury in the second quarter -- and were coming off one of their best offensive performances.
Yet the Jags outplayed them in every facet and simply seemed more motivated to get this victory. Coach Gus Bradley had them fired up despite their lost season. In comparison to what the first half of the season was like for Jacksonville, this was a complete turnaround. Jacksonville had never built a lead of more than one score all season long, so this was new terrain, going up 10-0.
Previously, the Jags' only leads this season had been 3-0 against the Colts in Week 4 and 7-0 and 10-7 against the Rams in Week 5. That's it. You could fit it in a tweet and still have like 24 characters to spare. Trust me, I did. The Jags had also not held a lead of any sort beyond three minutes into the second quarter of any game this season.
For the Jags to clinch Sunday's win with a late defensive touchdown, after nearly blowing that lead they had held all day, after giving the Titans the ball back up by only two with about four minutes to play, was pretty special for them. With all of their lopsided losses, it was cool to see them react to this first victory, especially within the division and against a very physical opponent. I'm not sure there will be too much celebrating for the group this season, but as GM Dave Caldwell and Bradley try to shape this flagging organization, the victories will certainly be savored.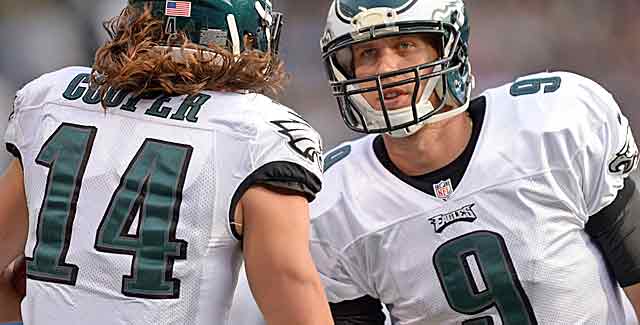 Extra Points
• How about Nick Foles? Three more touchdowns, to go with the seven he threw last week. Foles has 16 touchdowns and no interceptions this season. While he completed only 12 passes Sunday and even some of his scoring passes weren't exactly things of beauty, the Eagles are right back in the hunt in the lowly NFC East.
• The Packers, the Eagles' opponents Sunday, look like they might be in real trouble. The sheer number of injuries is staggering, to say nothing of the significance. Losing Aaron Rodgers is going to derail them. They were looking like the most complete team in the NFL before losing Rodgers last Monday night, but their issues, coupled with two straight gutsy wins by the Lions, have altered the scope of the NFC North.
• EJ Manuel did not look right in his first game back from injury. The Bills' rookie passer didn't seem to get his feet set, he was jumpy and erratic. While getting pushed around by a Dick Lebeau defense isn't a slight -- it happens to the best of them -- this Steelers defense previously had been anything but menacing. Manuel put too many balls up for grabs. It's a shame he has had to miss as much time as he has, which would stall any youngster's development.
• I have a feeling Ndamukong Suh gets another letter from the league office this week. He had a face-mask on Jay Cutler in which he yanked the quarterback's head a solid quarter of the way around -- 90 degrees -- the hard way. Given his history and his recent conference call with the officiating department during the Lions' bye week, his always-open pockets are likely to be picked again courtesy of a fine.
• The Bears did a helluva job on Calvin Johnson most of Sunday, a big reason why they hung around. Johnson caught only five of the first 16 passes he was targeted on, but his second touchdown grab of the day proved to be the winner. He has been able to show up in the red zone in critical moments this season after being shut down in that regard a year ago.
• Rookie head coach Marc Trestman has had a golden touch with his play-calling and decision-making but certainly suffered some against the Lions. With the game tied at 7 early, he called a run play on fourth-and-short inside the Detroit 30, on a day when his team could not run the ball at all. The play was stuffed, and those potential three points would have been vital. On the Bears' final play of the game, with a second crack at a two-point conversion to try to tie after a Lions personal foul, he called another run play that went nowhere -- in fact, it was stuffed for a loss. Odd.
• I was also pretty surprised Cutler was playing in this game at all after a quick return from a groin injury. Perhaps he wanted to push back after watching Josh McCown run the offense to perfection over six quarters in his absence -- but if so it was a mistake. Cutler was out again late in the game and McCown executed a flawless late drive under difficult circumstances to nearly pull out a victory. McCown has been beyond impressive and is a great fit in Trestman's system. If McCown gets a few more starts due to Cutler's health, and keeps flourishing, do they sign him to a short-term deal at a significant value and let Cutler walk, rather than pay Smokin' Jay $16 million-plus a year?
• Great to see Tavon Austin really break out Sunday. He looked like the kind of dervish on special teams, and beyond, many expected when he was the first skill player taken in the 2013 draft.
• The NFC West is back. The Cardinals are in the playoff equation, at least for now, at 5-4. While the 49ers have their share of offensive issues, they are still clearly right in the middle of the hunt themselves.
• I know the Texans lost again, and their offense has been bland in the second half of games, but I remain intrigued by what Case Keenum is doing at quarterback. He's keeping Houston in games, spraying the ball all over the place and has thrown plenty of big passes. Keenum has come in under duress, facing three of the best defenses in the NFL -- Kansas City, Indianapolis and Arizona, two on the road -- and tossed seven touchdowns with no interceptions. Despite sporadic, at best, help from the run game, Keenum has a 105.1 passer rating.