NFL: Patriots ran 'legal' formations vs. Ravens
The NFL says that the Patriots didn't break any rules with the unique formations they ran against the Ravens on Saturday.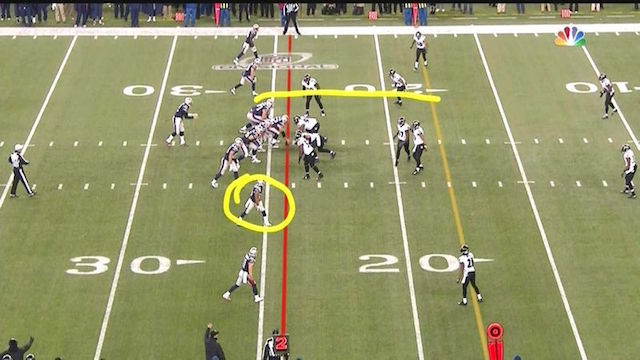 Maybe John Harbaugh should learn the rule book.
Following Baltimore's 35-31 playoff loss to the Patriots on Saturday, the Ravens coach accused New England of using an "illegal type" of formation during the third quarter. It turns the formations weren't illegal at all. 
In an email to the Baltimore Sun on Sunday, NFL vice president of football communications Michael Signora said everything the Patriots did was within the rule book. 
"Everything was legal from a formation and reporting standpoint," Signora wrote.
Harbaugh had said that one of his problems was that his defense wasn't given enough time to figure out who the eligible and ineligible players were after New England's players reported into the game.
"We wanted an opportunity to be able to identify who the eligible players were," Harbaugh said. "Because what they were doing was they would announce the eligible player and Tom [Brady] would take it to the line right away and snap the ball before [we] even figured out who was lined up where. And that was the deception part of it. It was clearly deception."
To give you an idea of what the Patriots were doing, check out the formation in the picture at the top of the page.
Vereen, who's circled, is an ineligible receiver on this play because only the end player on the line of scrimmage is eligible. Vereen clearly isn't the end player.
The yellow line represents the route Hoomanawanui is going to run. Hoomanawanui is lined up next to the left guard, where the left tackle would usually be, but Hoomanawanui isn't the left tackle, he's actually an eligible receiver.
The end result of this particular play was a 14-yard gain on a pass to Hoomanawanui.
The passing play took the Patriots down to Baltimore's 10-yard line. New England's next snap would come from Baltimore's 5-yard line though after Harbaugh came on the field and was penalized for unsportsmanlike conduct.
Patriots quarterback Tom Brady was asked about Harbaugh's complaints after the game and he had some simple advice for the Ravens coach: learn the rule book.
"Maybe those guys gotta study the rule book and figure it out," Brady said. "We obviously knew what we were doing and we made some pretty important plays. It was a real good weapon for us. Maybe we'll have something in store next week."
Plus the Eagles' formula for winning late, the AFC playoff mish mash and a budding young Vikings...

Here are the Week 11 grades for every team that played Sunday

The Eagles move to 9-1 after beating the Cowboys by four touchdowns
Peterman threw five interceptions in the first half before getting yanked

The Vikings' coach addresses the team's cloudy quarterback situation after their eighth win...

Green Bay could have brought in a veteran quarterback but decided to stick with Hundley