NFL Week 3: Top 10 battles to watch
Tom Brady vs Ed Reed highlights the best matchcups for Week 2 in the NFL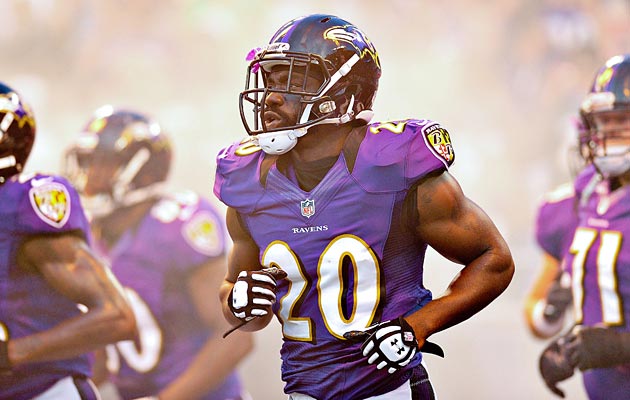 Ed Reed's gambles usually pay off for the Ravens, but sometimes they turn into big plays for the opposition. (US Presswire)
New England Patriots QB Tom Brady vs. Baltimore Ravens S Ed Reed : This pits two players headed for Canton. Both are smart, cerebral players who will try and out-think the other. Reed is a gambler, who takes a lot of chances. That can pay off big, but it also can lead to big plays in the passing game. He blew coverage last week on an Philadelphia Eagles touchdown.
Arizona Cardinals LT D'Anthony Batiste vs. Eagles DE Trent Cole  Batiste is starting because of an injury to Levi Brown. He is a young, athletic player who did some good things against Chandler Jones last week, but also had some rough moments. In Cole, he will be matched against one of the better rushers in the game. Look for the Cardinals to give him help.
Patriots DE Chandler Jones vs. Ravens LT Michael Oher  Jones is an impressive-looking rookie. He had a nice game against the Cardinals last week. He looks like a polished veteran. Oher is coming off a nice game against Cole last week. He looks much improved so far from 2011.
Cardinals WR Larry Fitzgerald vs. Eagles CBs Dominique Rodgers-Cromartie and Nnamndi Asomugha: Fitzgerald had one catch last week against the Patriots. Don't count on that happening again. He's too good for that. The Eagles corners play a lot of man coverage. It will be interesting to see if they dare do that against Fitzgerald.
NFL: Week 3
Columns

---

Related links
Pro Football 360
NFL coverage on the go
Houston Texans DE J.J. Watt vs. Denver Broncos OT Ryan Clady  Watt is an early leader for NFL Defensive Player of the Year honors. He has been a force. Clady is looking more like the Ryan Clady of early years after major knee surgery two years ago. Should be fun. The Texans might also use Watt at left end where he would work agaisnt Orlando Franklin .  
Texans WR Andre Johnson vs. Broncos CB Champ Bailey   Johnson had three catches last week as the Texans ran the football down the throats of the Jacksonville Jaguars . Some are saying he is slowing down some. I don't buy it. Bailey is still one of the game's best man-cover players. It will be interesting to see how much time he spends on Johnson alone to help the Broncos try and slow the Texans' running game. He wasn't on him much the last time he faced him.
New York Jets C Nick Mangold vs. Miami Dolphins DT Paul Soliai : The Dolphins are fourth in run defense in large part because of Soliai inside. He can be tough to move. Mangold is one of the best centers in the league. He is key to getting the running game going for the Jets.
Dallas Cowboys OLB OLB DeMarcus Ware vs. Bucs LT Donald Penn: Ware was held without a sack last week in Seattle Seahawks , so you know he'll be ready in the Cowboys' home opener. Penn did a decent job on the New York Giants pass rushers last week. When his weight is in check, he is a good player.
Los Angeles Rams CB Cortland Finnegan vs. Chicago Bears WR Brandon Marshall  Is there a cockier corner in the league than Finnegan? He plays with a chip on his shoulder. At 5-10, he will be facing a huge size disadvantage against the 6-4 Marshall. So look for Marshall in the Red Zone if Finnegan is matched up on him.
Cincinnati Bengals DT Geno Atkins vs. Washington Redskins G Chris Chester  Atkins is one of the NFL's best inside players. Chester is a solid guard, but containing Atkins for a day is tough to do.  He has to keep him from penetrating to help the Redskins' read-option offense get going.
After two weeks of snoozefests, the NFL was back to being must-see TV on Sunday

Here are the Week 3 grades for every team that played on Sunday

Plus Lynch sputters, the Raiders defense falls flat and the response to Trump continues on...
From Brady's perfect pass to controversy in Detroit, we have it all covered from a crazy Week...

It's been a rough Sunday night for the Raiders

From London to Sunday Night Football, teams around the league demonstrated in response to...