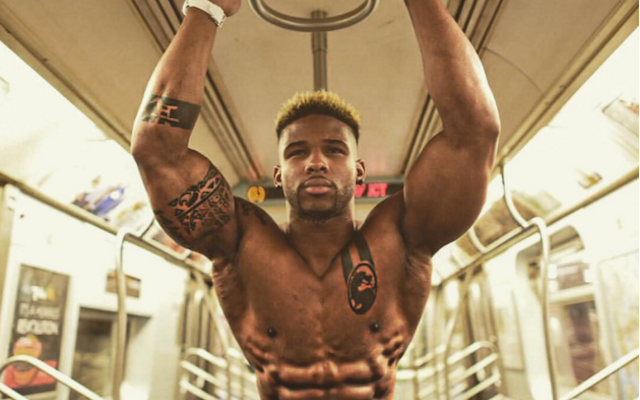 If NFL teams drafted players based on the bench press alone, then Odell Beckham's cousin, Terron, would probably be the No. 1 overall pick.
The 23-year-old announced last week that he was going to spend the next few months training so he could join Odell in the NFL.
ODB's really really ridiculously jacked cousin Terron Beckham trying out for NFLhttps://t.co/q9FGRgtauR pic.twitter.com/llrXElk0Hq

— NFLonCBS (@NFLonCBS) February 19, 2016
OBJ's ridiculously jacked cousin wasn't invited to the NFL combine this week, but he was invited to a separate event in Indianapolis where he was put through many of the same drills that the NFL offers at the combine.
One of those drills was the bench press, and when Terron got on the bench, he put up an insane number.
@CBSSports Terron Beckham with 44 reps at the BSN Combine, would have shattered the RB record at the #NFLCombine pic.twitter.com/FV18TNL4fb

— The Gridiron Crew (@Gridiron_Crew) February 26, 2016
The NFL hopeful, who wants to be a running back, did 44 reps of 225 pounds.
Just to give you an idea of how ridiculously high that number is, consider this: The combine record for a running back is 36, and Terron blew that number out of the water.
The combine record for all positions is 49, which was set by Stephen Paea in 2011.
Terron also showed off his hops earlier this month with a 45-inch vertical, a jump that would've been the combine record if he did it at Lucas Oil Stadium.
Odell Beckham Jr's @OBJ_3 cousin,Terron @FbAftermath just broke NFL combine record 45" vertical jump @TEST_Football pic.twitter.com/xogd5zdhv9

— Steve Overmyer (@OvermyerTV) February 11, 2016
Terron isn't crazy -- he knows he's a longshot to make it in the NFL, but he'd love to see a team take a chance on him.
"If that's a God-given gift, and that just happens and I'm a late-round pick, I would love that," Terron told the New York Daily News. "But if I could go in as an off-the-street free agent, get invited to a camp, I'll do what I need to do and get my job there at the camp."
Based on his size, Terron would likely never have to worry about any type of rookie hazing.
So what would a team get if they were to sign Terron? Apparently the best running back to ever play the game.
"They're going to get a workhorse," Terron said. "They're going to get Marshawn Lynch and [Adrian Peterson] transformed into one person."
Beast Mode All Day?
You can see more of Terron's workouts below.