Pass-rushing specialist Julius Peppers right fit for Packers
The Green Bay Packers know what they are getting in veteran pass-rusher Julius Peppers -- they've played him twice a season for the last four years. And once he met with the team's brass, Peppers knew the Pack fit his unique set of skills.
• 6 min read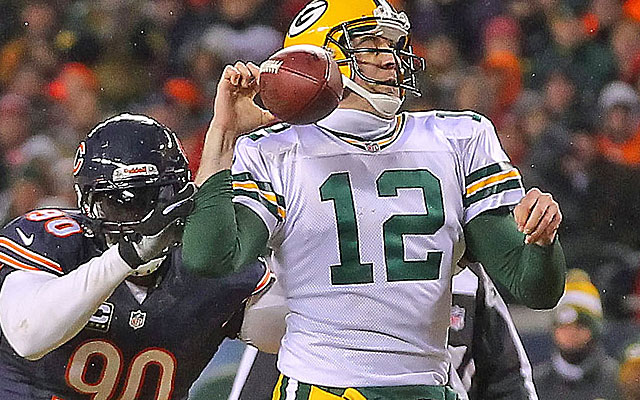 More NFL offseason: Mock Drafts | Prospect Rankings | Pro Days | Top free agents
Free agency has been cruel to many an older pass rusher. Not Julius Peppers.
  Peppers, at age 34, coming off his 12th NFL season which ultimately included his release by the Chicago Bears, certainly defied some of the odds, quickly striking a deal with the NFC North rival Green Bay Packers, which gives him the opportunity to earn $30M over three seasons, and, most importantly will compensate him with $8.5M in 2014. Because the reality is, in this sport and particularly with players at this stage of their career, the future is never guaranteed.
   The present will do just nicely for Peppers, thank you very much. For those who wondered allowed if his sub-standard 2013 campaign might dampen his market -- and I will admit I wondered if it might take a while before a team met his asking price -- the answer was a resounding no. Peppers' agent, Carl Carey, was unwavering that eight teams expressed interest in the future Hall of Famer (that's a quarter of the league, folks), and many of them were bearing offers right from the get go upon his release from Chicago on Tuesday due to a high cap number. If anything, the process went incredibly smooth, with the Packers the first visit he made, and Peppers telling Carey very shortly upon his arrival that this is where he wanted to be.
   This was everything he could ask for.
   The team is a perennial contender and is one of few that can match, and dare I say exceed, the extraordinary place the Bears have in the game. It already happens to be in the NFC North, where Peppers has a strong working knowledge of the tackles, and knows which tricks to run on which opponents. The Packers' financial offer was more than adequate and, at this time, the challenge of seeing how can integrate into a 3-4 scheme and add to his illustrious pass-rushing record was something that made Peppers downright giddy, gushing with excitement today. 
  "It feels great to be a Packer," Peppers said via text Saturday night, upon returning home from Green Bay and reflecting on the whirlwind past few days. "I'm excited to join a team with a great history of winning and tradition. I could not be more thrilled to have the opportunity to compete for a championship.
   "I was looking for the right opportunity to present itself. A team with a legitimate chance to win a title, an organization full of great people and a locker room with great players who know how to win. I was also looking for a unique defensive scheme that would allow me to be a more versatile and effective player."
   Peppers, who signed a record free-agent deal with the Bears in 2010, including $42 million guaranteed, had been bracing for the reality that 2013 might be the end in Chicago for quite some time. Since re-doing his contract a year ago, to provide some short-term cap relief, Peppers realized that his 2014 scheduled cap hit ($17M, including a $14M salary), coupled with a season in which he registered just seven sacks (tying his second-lowest output ever) was likely pointing to an exodus.
   "We were aware at the beginning of last year, when Julius restructured his deal with the Bears, that his cap number would skyrocket," Carey said. "And Julius wanted to help the team by doing that restructuring of the deal, and again we knew there was a consequence to that in terms of the cap number and so we were prepared for the possibility that he could be released for cap reasons."
  When that day came Tuesday, as the league year began and teams had to be fully cap compliant, Peppers was not surprised, and quickly the attention from other teams began to sway the process. Dallas was among the clubs pushing for his services, with teams not losing sight of what he has accomplished in his career. Peppers has amassed eight seasons with double-digit sack totals, he still has some freakish gifts and a 6-foot-7 frame, and since entering the NFL with Carolina in 2002, only Jared Allen (128.5) has more sacks than Peppers (118.5), to go with 39 forced fumbles and 62 passes defended.
  And, the fact that it was Green Bay who was pursuing him in particular -- a division rival that would know his strengths and weaknesses better than most having played him twice a year the past four seasons -- was significant as well. Furthermore, the Packers believed he could be a significant cog while trying to fit into a foreign defensive scheme at this advanced stage of his career, which weighed heavily in the decision as well.
   "That was really important to Julius -- that he have the opportunity to show the versatility he has and some of his special gifts," Carey said. "He's wanted to play in a 3-4 defense or a hybrid sort of a situation for many years, ever since he was with the Carolina Panthers years ago, and to have that opportunity now, he is super excited.
   "And when you have a team that is obviously a great division rival that has watched film on you and has been studying you and has game planned against you for four seasons and, that team then comes and says we want you to join us, I think that's probably the highest compliment that a player can receive. Because they know him, and they know what he brings to the table, and for them to come and say we want you on our side, I think that speaks volumes about what they know about him from the other side."
  The last part of the process was actually meeting the men who were recruiting him. And after spending just a little time with Packers general manager Ted Thompson and coach Mike McCarthy and contract negotiator Russ Ball, Peppers was in Carey's ear telling him to get this contract hammered out. It was announced by early Saturday morning.
  "Quite honestly, within the first five minutes of being at the team facility -- meeting Ted Thompson and Mike McCarthy and Russ Ball -- I could see that he felt right at home," Carey said. "And he actually said that he really liked the vibe that was there. In this process, since Tuesday when he was released, I heard from a total of eight teams that were interested in him, and a number of those teams actually put offers on the table. But when we got to Green Bay he looked at me and told me, 'Let's get this done.'"
  Now we'll find out if his arrival from the Bears to the Packers further swings the balance of power in the NFC North. And, ultimately, if he does, his old buddy Jay Cutler might end up bearing the brunt of that change in scenery.
Pick Six Newsletter
Get the day's big stories + fun stuff you love like mock drafts, picks and power rankings.
Please check the opt-in box to acknowledge that you would like to subscribe.
Thanks for signing up!
Keep an eye on your inbox for the latest sports news.
Sorry!
There was an error processing your subscription.
The former top draft pick leaves the game of football with a lasting legacy

Rosen, who lasted just one season in Arizona, is trying to jump-start his career in Miami

Miami has worn aqua throwbacks in recent years
The Jets signed Bell to a four-year, $52.5 million deal earlier this spring

Manning and Jets coach Adam Gase have worked together in the past

Will Arizona move on, or is Peterson now more likely to stay?