PHOTO: Here's a half Colts, half Broncos Peyton Manning jersey
Should a Peyton Manning fan wear a Broncos jersey or a Colts jersey to Sunday night's game? How about both.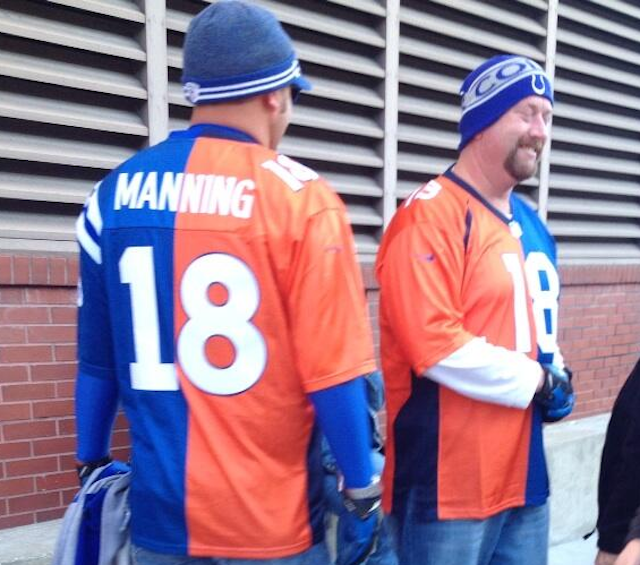 There's still plenty of Colts fans in Indianapolis that are also Peyton Manning fans and those fans are in a weird situation. Should they root for Peyton or should they root for the Colts on Sunday night?
Apparently some fans have decided on option three: root for both. These enterprising fans were spotted outside of Lucas Oil Stadium. Sure, they look like Colts fans, but don't be deceived, they're obviously Broncos fans because the Broncos side of the jersey is on the right side and Peyton throws with his right hand. Or that logic makes no sense at all. 
Anyway, the guys at the top weren't the only ones who decided to wear the mix 'n' match Peyton Manning jersey. The guy pictured below did too, although judging by the background in the photo, it's not clear if he's at Lucas Oil Stadium or a trailer park somewhere. 
I don't think this will be my first half-in-half Manning jersey sighting...he said he was torn. pic.twitter.com/LfyYIuz2FU

— Amy Haneline (@AmyBHaneline) October 20, 2013
(Wink of the CBS Eye to @DBrown1710 on Twitter for the top picture)
It is now Matt Moore time in Miami for the Dolphins

Dak had four touchdowns and Zeke had three as the Cowboys rolled to a 40-10 win

Here are the Week 7 grades for every team that played on Sunday
Kaepernick and protests aren't the problem, bad football is the reason ratings, attendance...

The Seahawks' offense is struggling on Sunday

Everything you need to know for Week 7 of the 2017 NFL season is here