Prediction: Rams will win more games than the Falcons
Most peg the Falcons as a Super Bowl contender. But could the Rams, a team in the mighty NFC West, actually finish with a better record? Predictionmachine.com says they just may.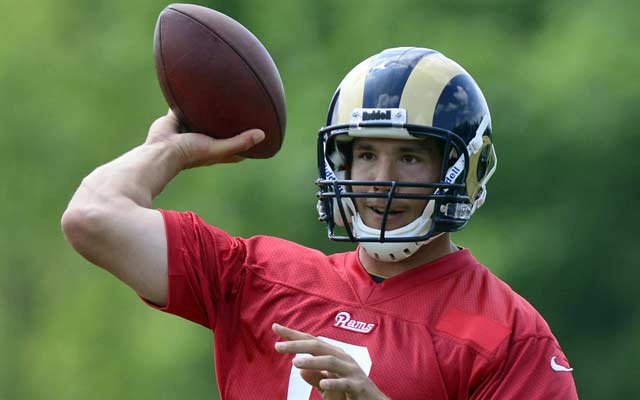 We asked our friends at PredictionMachine.com to share some insights from their findings about the upcoming 2013 NFL season. Throughout the preseason we'll be posting interesting items in Eye on Football. If there are specific things you want to know, drop it in the comments section below.
Why it is likely: While our research has long asserted that Jeff Fisher is among the elite head coaches in football at getting the most from his talent, the Rams are also the most improved team in the NFL year-over-year.
Yes, they have to play the 49ers and Seahawks each twice, but the NFC South is actually more competitive top to bottom than the NFC West and the Falcons have to go to Green Bay and San Francisco this year to play in outdoor venues against elite teams. Atlanta gave up over 6 yards-per-play (30th in the NFL) in 2012 and completely lacked a pass rush despite playing against a well below average schedule.
Possible obstacles: This projection does not suggest that Sam Bradford is a better quarterback than Matt Ryan, but it does expect Bradford to move in a positive direction with a better offensive line and young, improving weapons. If he fails to do that, the Rams are in trouble. Atlanta added Osi Umenyiora in an attempt to aid the pass rush. He does not look like a good enough upgrade from what the Falcons got out of John Abraham last year, but at just 31 years old, he could regain the abilities of seasons past and drastically improve this defense.
Final thought: Admittedly, as shocking as this sounds, it's about as likely that the Rams and Falcons end up with the same record (probably 8-8 or 9-7) than that the Rams win more games. Still, with the Rams projected to win 8.5 games and the Falcons projected to win 8.2, this certainly seems notable.
---
Previous predictions
The Fins wide receiver took a shot at the Pats with his touchdown celebration

Former Atlanta sportswriter Larry Hartstein knows the Falcons and locked in a pick for 'Monday...

The Patriots losing might be bad for New England but its great for watching Bill Belichick
The league-owned network suspended Marshall Faulk, Ike Taylor and Heath Evans as it investigates...

R.J. White has his finger on the pulse of Indy and made a strong play for 'Thursday Night...

Wondering which NFL teams are going to win in Week 15? You've come to the right place to find...