Saints QB Drew Brees willing to restructure contract to help team
The Saints haven't asked Drew Brees to restructure his contract, but he said if they did ask, he'd do 'whatever I can do to help' the team.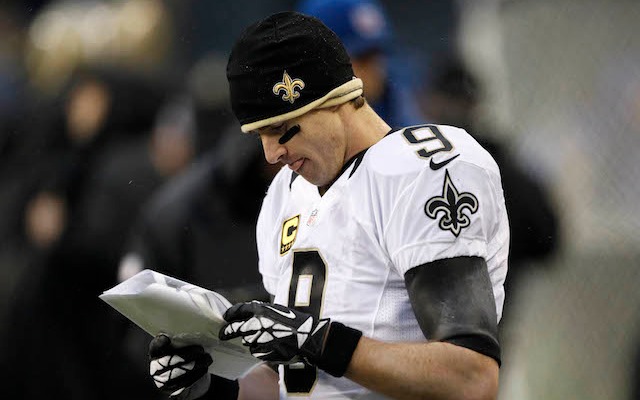 The New Orleans Saints aren't in a perfect financial situation as they head into the offseason. According to NOLA.com, New Orleans is currently projected to be at least $12 million over a 2014 salary cap that's expected to be around $126 million.
Not only do the Saints have to figure out how to get under the cap, but they have to do it and still figure out some way to re-sign tight end Jimmy Graham.
One of the ways New Orleans could save some money under the cap in 2014 is if quarterback Drew Brees was willing to restructure his contract. The Saints haven't asked him to do it yet, but on Monday, Brees said he was open to the idea. 
"Whatever I can do to help this team, if they want to come to me and extend me even further, that'd be great," Brees said. "Listen, there are so many possibilities as to what can happen here. Let's just let this offseason start. It's what, today's the second day of it unfortunately. We all wish it wasn't, but whatever helps this team win and puts the best team on the field."
Notice that Brees said he'd be willing to extend his contract to save the Saints some money next season, not take a pay cut. Brees is set to count $18.4 million against the Saints salary cap in 2014 and then $26.4 million and $27.4 million in the two seasons after that. 
"As far as our team, I know that our team is going to spend whatever they... I don't think ours has, ever since I've been here been, in a situation where they're not going to do what they feel like they need in order to field the next team," Brees said. "So within cap constraints with whatever they feel like they need to do, for me, I signed a six-year ($60 million) deal when I first got here. I'm two years into a five-year deal ($100 million) and hopefully I can play that out and sign another deal and continue to play this game even longer."
Brees also added that he's not playing football just for the money. "Listen, I get compensated very well. I don't take that for granted for one second," Brees said. "But I play this game because I love this game, I love this locker room and I love the opportunity to win a championship."
Graham officially becomes a free agent on March 11, so it looks like someone in the Saints salary cap department will be pretty busy between now and then. 
R.J. White, who nearly won the Las Vegas SuperContest, locks in his pick for the NFC Championship...

Mike Tierney has owned NFL totals and has a strong pick for the AFC Championship Game

The Saints coach wasn't in the mood to answer questions about Drew Brees on Tuesday
This is footage that you'll definitely want to see

It wasn't the matchup that we expected, but the Jaguars would argue that's everyone else's...

The Eagles quarterback and the Vikings quarterback have paths that have crossed many times