Sonic Drive-In apologizes after making racist Chiefs-Redskins sign
A restaurant in Missouri came under fire on Sunday for putting up a racist sign that suggested the Chiefs should feed the Redskins whiskey and send them to the reservation.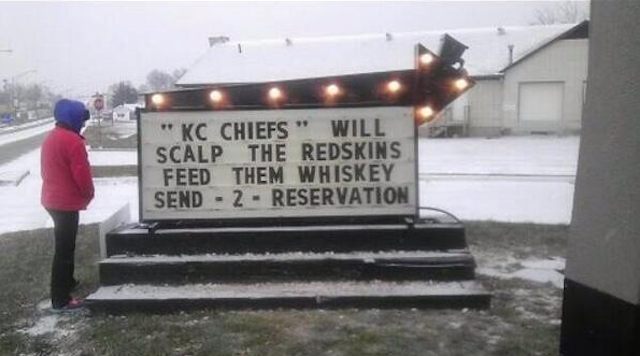 There are smart ways to support your favorite NFL team and then there's what a Sonic Drive-In restaurant in Missouri did on Sunday. To show support for the Chiefs in their away game against the Redskins, the restaurant made a sign and seemingly tried to fit as many stereotypes as possible onto that sign, which you can see above.  
A picture of the sign eventually made its way onto Twitter and as you can probably imagine, things didn't go over so well for the restaurant. Sonic immediately apologized for the sign once it was brought to the company's attention. Patrick Lenow, the restaurant's vice president of public relations, told NBC News the sign was made by an independent franchise owner who is 'known for creative use of his signs.'
"The remarks posted on this message board were wrong, offensive and unacceptable," Lenow said in a statement. "In a misguided effort to support his football team an independent franchise owner allowed passion to override good judgment. The owner has reinforced with his employees the boundaries of what is acceptable and unacceptable. On behalf of the franchise owner and our entire brand we apologize for the offensive remarks."
The sign, at a Sonic about 20 miles outside of Kansas City in Belton, Mo., was taken down after being up for several hours. A professor of anthropology at Columbia University told NBC News that the sign was 'shockingly racist.'
The Oneida Nation has been pressuring the Redskins all season to change their name. The D.C. Council also got involved in early November and passed a resolution asking the team to change its name.
The Vikings, led by Case Keenum, are one of the NFL's best teams

The Vikings' pass rusher revealed the latest addition to the family after sacking Matthew...

It's time to hook up that jersey of your favorite NBA player with some Black Friday deals
A Dallas Cowboys Salute to Service thermal pullover makes for the best early Black Friday...

It's time to hook up that jersey shirt of your favorite NFL player with some Black Friday...

Our computer model simulated every Week 12 NFL game 10,000 times with very surprising resu...