If Tom Brady and the New England Patriots are going to advance to Super Bowl 50, Brady's going to have to do something he's had trouble doing in his career: Beating the Broncos in Denver. 
Maybe it's the cold weather, maybe it's the mile-high air, but Brady can't seem to pull out a win when he plays in Colorado. Since 2001, Brady and the Patriots have played in Denver eight times and Brady is 2-6 in those games, a total that includes an 0-2 mark in the postseason. 
There's been no rhyme or reason to the losses either. In 2001, the 11-5 Patriots were beaten by a Broncos team that finished 8-8. In 2009, a playoff-bound Patriots team also lost to a Broncos team that would finish 8-8. 
To make things worse for New England, the only two wins that Brady and the Patriots have pulled out in Denver over the past 15 years came when the Broncos had to start Danny Kanell (2003) and Tim Tebow (2011) at quarterback.
Here's a brief look at each game Brady has played in Denver.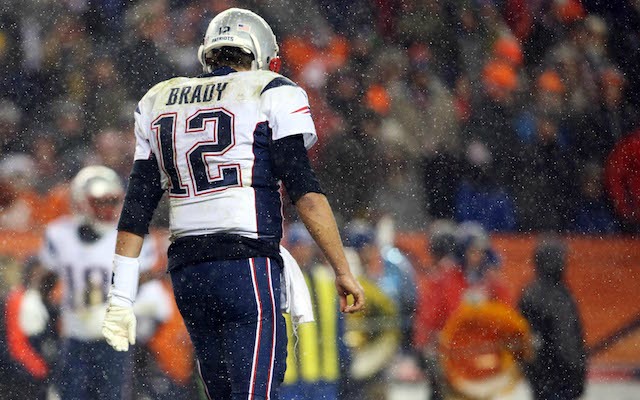 Oct. 28, 2001 (Patriots loss): Brady definitely can't blame this loss on the weather. In Brady's first year as New England's starting quarterback, the temperature was 72 degrees when the Broncos and Patriots kicked off for this Week 7 game. Brady threw four interceptions in this game, including a pick-six with under three minutes left that sealed a 31-20 win for Denver. Brady threw for 203 yards and two touchdowns, but the four picks, which are still a career-high for Brady, killed the Patriots chances of winning. Broncos quarterback Brian Griese threw for 283 yards and two touchdowns (along with two picks) in the win. 
Nov. 3, 2003 (Patriots win): Even when the Patriots were at their most dominant, they still had trouble in Denver. In this Monday night game, a Patriots team that would finish the season 14-2 was barely able to squeak out a win over Danny Kanell and the Broncos. With the Patriots trailing 26-23, Brady threw an 18-yard touchdown pass in the final 30 seconds to clinch a 30-26 win. Brady threw for 350 yards and three touchdowns in the game and New England needed all of it. 
Oct. 16, 2005 (Patriots loss): In this game, a 21-point second quarter boosted Jake Plummer and the Broncos to a 28-20 win over the Patriots. At one point, the Broncos led 28-3. Denver had three plays in the game that went for over 55 yards, although none of the three went for a touchdown. Brady threw for 299 yards and a touchdown in the loss. 
Jan. 14, 2006 (Patriots playoff loss): After the 28-20 Week 6 loss to the Broncos, the Patriots got another crack at Denver in the playoffs, and things went almost exactly the same the second time around. Denver jumped out to a huge early lead (24-3) and then hung on for the win (27-13). Brady threw for 341 yards and a touchdown, but he also threw two interceptions. 
Oct. 11, 2009 (Patriots loss): The Patriots were a 3.0 favorite going into this game and they jumped out to a 10-0 lead, but they couldn't hang on against Kyle Orton and the Broncos. Orton brought the Broncos back with an impressive 330-yard performance that included two touchdown passes. The Broncos' 20-17 win in overtime was big for then-coach Josh McDaniels, who beat his old boss, Bill Belichick. McDaniels is now back with the Patriots. Brady threw for 215 yards and two touchdowns in this game. 
Dec. 18, 2011 (Patriots win): Bill Belichick vs. Tim Tebow was almost unfair. In this game, the Broncos kept things close in the first half (17-16), before the Patriots blew things open on their way to a 41-23 win. Brady threw for 320 yards and two touchdowns in the victory. Although Tebow never got going through the air, he did do some damage on the ground, rushing for 93 yards and two touchdowns. 
Jan. 19, 2014 (Patriots playoff loss): This was the first meeting in Denver between Brady and Peyton Manning and thanks to Manning, the Broncos rolled to a playoff win. With a berth to Super Bowl 48 on the line, Manning threw for 400 yards and two touchdowns to lead Denver to a 26-16 win. At one point, the Broncos led 23-3. Brady threw for 277 yards and a touchdown in the loss. The Patriots didn't have Rob Gronkowski in this game. Gronk missed the entire postseason after tearing his ACL in December 2013. 
Nov. 29, 2015 (Patriots loss): This game might be fresh in your head because it happened less than two months ago. In what was only his second career start, Brock Osweiler led Denver to a 30-24 win in overtime. Osweiler brought the Broncos back from a 21-7 fourth quarter deficit. Brady threw for 280 yards and three touchdowns in the game, but things went south fast after Gronk went down with an injury late in the fourth quarter. Without Gronk, the Patriots went three-and-out on their only possession of overtime, which set up the Broncos game-winning touchdown drive.