Trae Golden could be missing piece for Georgia Tech
If Trae Golden receives a waiver to play immediately, Georgia Tech could have the pieces to make a run at the NCAA tournament bubble.
• 2 min read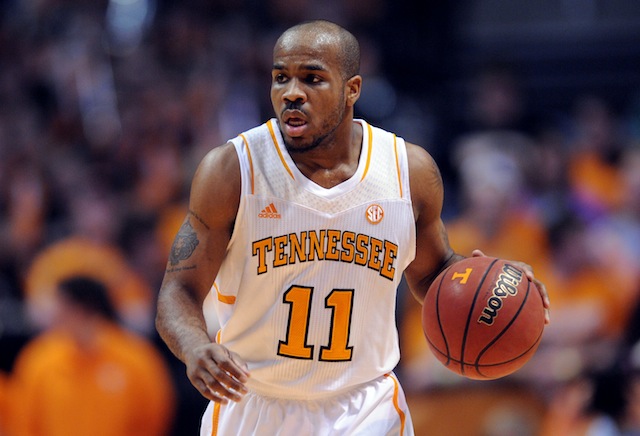 With the additions of Syracuse, Pittsburgh and Notre Dame, the ACC is obviously getting better this season -- especially at the top of the league. But there are also teams expected to improve and make a run at the upper half of the standings.
Georgia Tech is one of them.
Here's what I wrote about the Yellow Jackets back in early June: "Brian Gregory has this team poised for a jump in the standings. Consistent PG play is the key. Marcus Georges-Hunt is ready as a go-to-guy."
Gregory had most of the pieces needed to compete with most of the teams in the ACC. Georges-Hunt averaged double-figures last season, coming on very strong toward the end of the season. Robert Carter and Chris Bolden, two other rising sophomores, also played key roles. Carter looks set to be an impact big man. Daniel Miller and Kammeon Holsey combined for another 17 points and 12 boards in the paint. There was depth on the perimeter and in the post.
The only problem was at the point guard spot. Mfon Udofia wasn't spectacular, but he started 97 games over the past four seasons and was solid and experienced.
Gregory had three options to replace Udofia: rising sophomore Solomon Poole, incoming freshman Travis Jorgenson, and redshirt freshman Corey Heyward. It wasn't the most ideal of circumstances.
Enter Trae Golden.
The Georgia native left Tennessee in May, with sources telling Gary Parrish of CBSSports.com it was related to "academic issues." After a quiet recruitment, he decided on Saturday to transfer to Georgia Tech -- and he could be able to play immediately. Golden said he went closer to home because his father is ill, and he's hoping for a waiver to play his final year in 2013-14.
If Golden gets the waiver, that drastically changes Georgia Tech's prospects for the upcoming season. The 6-foot-2 Golden would immediately slot in at the point guard position, after averaging 12.1 points and 3.9 assists last season. He is a quality distributor who uses his strength to get into the lane and make plays. Golden is adept at drawing contact at the rim -- something Georgia Tech mostly lacked last season.
Most important, Golden would add veteran leadership and experience as a floor general. Gregory wouldn't have to throw an inexperienced option out there from Day 1 -- as his three current options are all very green at the college level.
Now what are the chances Golden gets a waiver? One source said, "It looks real good right now."
With Golden at the point, Bolden and Georges-Hunt on the wings, Carter and Miller in the post -- plus good depth -- Georgia Tech could make a push at the NCAA tournament bubble. At this point, though, the Yellow Jackets will just have to wait and see.
It could be worth the wait. 
The Wildcats are 3-2 with two losses to two unranked teams

Trump again says he should have left LiAngelo Ball in China

Cincinnati and Iowa highlight an impressive inaugural field for the Cayman lslands Classic
The president didn't take kindly to not getting a thank-you from LaVar

Southern California, ranked No. 8 in Sunday's Top 25 (and one), travels to face Vanderbilt...

Simons, 18, is a former Louisville pledge who is suddenly eligible for the upcoming draft