Ducks dust off Sun Devils in the desert
Marcus Mariota proves his worth on the road and the Ducks get an impressive blowout in Tempe.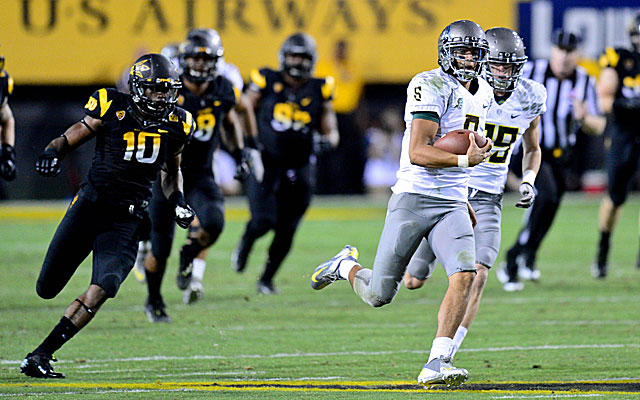 Marcus Mariota ran for 135 yards, while also throwing and catching TD passes in the first half. (US Presswire)
TEMPE, Ariz. -- Well, so much for Marcus Mariota's first road test in enemy territory. The Ducks redshirt freshman QB ran for 135 yards, while also throwing and catching TD passes in the first half alone while the Ducks raced out to a 43-7 first-half lead at Arizona State. The final was 43-21, but that score didn't reflect how dominant the Ducks were at Sun Devil Stadium on Thursday night.
This was a vintage Oregon-style runaway. Well, except for the fact that the Ducks' most dynamic weapon, De'Anthony Thomas was limited to 29 yards on 15 touches for the night. The bad news for ASU: Kenjon Barner, who has emerged as Oregon's top Heisman candidate, ran wild, going for 136 yards on 14 carries by halftime. But the real story was how sharp Mariota was.
ASU came into the game No. 8 in the nation in defense and Mariota shredded them like the Sun Devils were a middling FCS team. In fact, you probably won't see a more impressive showing by a QB who ended up with less than 50 passing yards for a game.
The night, though, got off to a brutal start for Mariota, who was stripped of the ball on the Ducks' first play from scrimmage by ASU's standout defensive tackle Will Sutton. The Sun Devils promptly scored on the next play on a 28-yard touchdown pass from Taylor Kelly to Kevin Ozier. But then Mariota and the Ducks offense took over. They scored touchdowns on the next six series. Four of those TD drives lasted less than 49 seconds.
"The great thing about this team," Chip Kelly said, "is they don't flinch."
Neither does the Ducks' young QB, who sounded very Zen in his reaction to Thursday night's blowout.
"We are as we allow ourselves to be," said the 6-4, 211-pounder from Hawaii.
For months, folks inside the Oregon program had been raving about Mariota's poise -- in addition to his excellent speed and deft touch -- and it all was apparent to a national TV audience. The game was essentially over within the first 20 minutes of game action. They had rushed for a whopping 290 yards in a little over a quarter as Kelly's frenetic no-huddle spread looked nearly flawless after that fumble on their first snap of the night.
In fact, it was shocking -- even by Oregon standards -- just how quickly the Ducks went up 43-7 and were running all over an ASU defense that sorely missed Sutton, who was knocked out of the game after the first play from scrimmage. (After the game, ASU coach Todd Graham said that Sutton would have an MRI perhaps as early as Friday on his leg.)
"All week long, we had heard about how physical they are, so we wanted to really set the tone," Oregon center Hroniss Grasu said.
Oregon knew ASU would be aggressive in their approach to the Ducks offense, and because of that, Kelly told them there would be opportunity for big plays. "The thing that happens when you blitz, the band is gonna play. And, hopefully, it's gonna be our band playing, not theirs."
Not only didn't the ASU band have much reason to play, with the way the Ducks were burning the Sun Devils, most of their fans were fleeing the stadium.
Kelly said thriving on the road is the mark of a good team, because, good teams "don't care about who is in the stands."
The victory moved Kelly to a jaw-dropped 29-2 lifetime in conference play and 41-6 overall. He was quick to sidestep the attempts by us in the media after the game to try and put some far-reaching sort of gauge on this team beyond its 7-0 record. "It's just a one-week deal," he responded, echoing his mantra.
The Ducks' defense also did more than its part by harassing ASU's Taylor Kelly. The sophomore QB, who came into the game as the Pac-12's leader in passing efficiency, did connect on a 28-yard TD pass to give the Sun Devils a 7-0 lead in the game's first minute. But after that, Kelly was running for his life. He managed to hit on only six of his next 14 passes for only 33 yards while getting picked off twice.
"The bottom line tonight was that we were overmatched and had some things happen that can't happen," Graham said. "But you have to give credit to Coach Kelly and that team. There's no doubt that they're one of the best two teams in the country and they showed that tonight."
Skeptics of the Ducks, especially those in SEC country, will dismiss this victory by saying ASU had an inflated 5-1 record, pointing out that they hadn't beaten anyone that has a winning record. Or that the Sun Devils had lost to a Mizzou team that is at the bottom of the SEC. Or skeptics go back to Oregon's past two meetings against SEC heavyweights, when they lost the 2011 BCS title game to Auburn on a last-second field goal (the skeptics usually gloss over the last-second field goal part) or when the Ducks were held under 100 yards rushing in a 40-27 loss to LSU in the 2011 season opener. But this is a very different Ducks team than those other ones.
As Kelly pointed out, these Ducks are taller and longer and more athletic than any of the previous Oregon defenses. "We're built to play in space on defense," he said. "We don't have those short, squatty guys [anymore]." Kelly added that the toughest defense the Ducks have faced is the one they're dealing with every day in practice this season.
Better still, the 2012 Ducks have a more dynamic triggerman who is more accurate than any other QB Kelly has had in Eugene. Those things make this Oregon attack more lethal than ever before. And Kelly knows when opponents see what Mariota did Thursday night on film --whether it was his perfect TD touch pass into the corner of the end zone midway through the first quarter or his 86-yard scamper blowing through the ASU defense early in the second quarter -- it's going to create even more headaches for them: "You can't sleep on [Mariota]," the coach said, noting how much bite this adds to their play-action game.
"We've touched the mountain, but we really didn't quite reach the top yet," Kenjon Barner said when asked how much better this offense can get. "Marcus makes us extremely dangerous because defenses can't just key on one guy. You've got to key on ... " Barner said, rattling off the names of the Ducks stash of offensive playmakers.
But defenses really can't key on ALL those guys?
Barner broke into a big grin.
"Exactly."
Cristobal's first game at Oregon ended the same way Chip Kelly's did

Conner Manning and the Panthers dominated the Hilltoppers in the Cure Bowl

You can only go to the well so often before it dries up
The Trojans beat LSU earlier in the year and now have their first 11-win season as a FBS t...

Saban has never been a fan of the early signing period and made it clear that hasn't chang...

Paul Tyson is a three-star quarterback prospect for the 2019 recruiting class