Spring arrest sidelines Sammy Watkins for Clemson's first two games
Tigers' All-American wide receiver/kick returner will miss dates with Auburn and Ball State.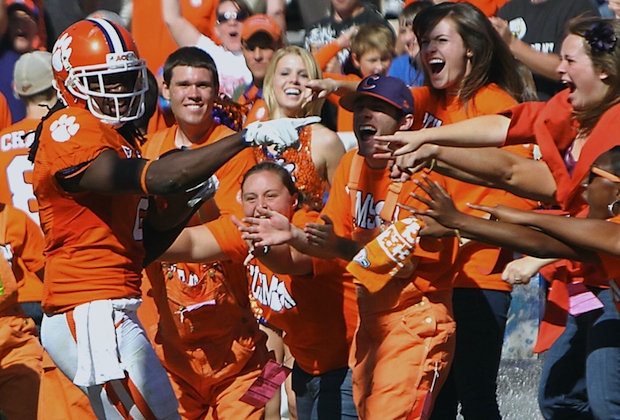 In 2011, freshman Sammy Watkins broke out in a big way against Auburn, shredding the defending BCS champs for 199 yards and two touchdowns in just his third college game, a 38-24 Clemson win. In 2012, sophomore Sammy Watkins will watch his teammates take on Auburn from the bench: As expected, the Tigers' all-everything wide receiver/kick returner has been suspended for the season opener in the Georgia Dome on Sept. 1, in response to a misdemeanor arrest in the spring. Watkins will also miss Clemson's second game, a Sept. 8 visit from Ball State, before returning to the lineup against Furman on Sept. 15.
"I told Sammy there would be a high end and a low end," coach Dabo Swinney said in a statement Friday, released following the Tigers' first preseason practice. "He has done everything we have asked and then some, so a two-game suspension is the low end."
Watkins was arrested in May along with Clemson soccer player Amadou-Tidiane Daniel Dia after an officer saw Watkins' car scrape against a curb on campus and subsequently found marijuana and two pills that Watkins did not have a prescription for inside the car. Later the same month he applied for a pre-trial diversion program that could result in the charges being expunged from his record.
Unless he stumbles back into the doghouse, two games on ice probably will not keep Watkins or Clemson from any realistic goals in the ACC. By himself, Watkins is a cruise missile awaiting launch from anywhere on the field: He emerged almost instantly last year as an elite deep threat and return man – and not a bad running back, in a pinch – eventually finishing first in the ACC and third nationally with 2,294 all-purpose yards. As part of an arsenal that also includes All-ACC quarterback Tajh Boyd, All-ACC tailback Andre Ellington and veteran targets Jaron Brown and DeAndre Hopkins, he figures to have plenty of opportunities against spread-thin secondaries.
In terms of national goals, Watkins' absence in one of his team's biggest games of the season could easily cost him down the line in All-American and Heisman consideration, and a loss will eliminate Clemson from darkhorse BCS contention regardless of the status of its best player. Either way, we won't get a glimpse of the Tigers at full speed until their ACC opener, a Sept. 22 visit to Florida State that will likely decide the Atlantic Division for the second year in a row.
It looks like Jennings is slowly making his way back to the Vols after being dismissed last...

Offensive coordinator Brian Daboll's departure to the NFL has left a void at Alabama

Wilkins was considered a potential first-round pick in the NFL Draft
Brown will have two years of eligibility remaining

Chip Kelly has added some talent to his quarterback room from within the Pac-12

The 2017 season is in the books, and several big-name stars are jumping early to the NFL