Spring Practice Primer: LSU
Les Miles takes aim at Alabama -- and returning to the top of the SEC West -- again.
College football never ends, and during the next few weeks teams will be getting ready for the 2013 season in their spring practice sessions. Here's a look at the  LSU Tigers  and what they'll be working on this spring.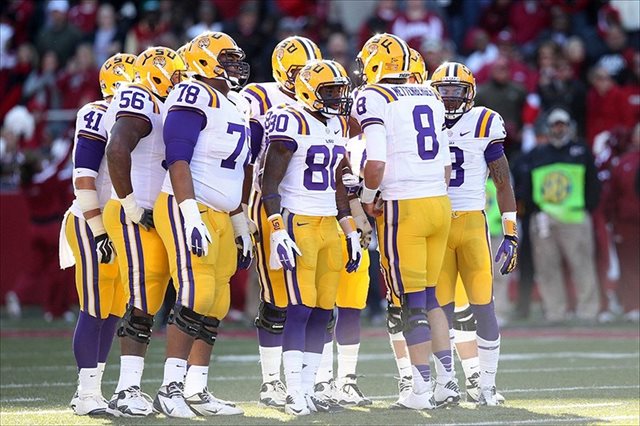 Spring practice began: March 14
Spring game: April 20
2012 record: 10-3 (2nd SEC West, lost Chick-fil-A Bowl to Clemson)
Returning starters: 11 (seven offensive, four defensive)
The Least You Should Know About LSU This Spring
-- The offense is going to be much-improved. No, seriously. This time we mean it. Probably. Maybe. Few LSU fans (or college football observers in general) had their pulses quickened by the hiring of deposed Baltimore Ravens offensive coordinator Cam Cameron as LSU's new play-caller, but Cameron's resume is at least as solid as Les Miles' previous hires at that position; he can't really underperform the likes of Steve Kragthorpe and Gary Crowton. And Cameron will have the most experienced, most talented Tiger offense (on paper) that the program has seen in years. Zach Mettenberger hopefully has his first-year growing pains behind him at quarterback and could become a legitimate weapon; Jarvis Landry , Odell Beckham , and Kadron Boone form a fine receiving corps; and Jeremy Hill has all-SEC potential at tailback. If the Tigers can find able replacements for departed tackles Chris Faulk and Josh Dworaczyk -- and former All-America recruits La'el Collins and Vadal Alexander look plenty able -- this should be the most prolific Tiger offense since at least 2007. 
Of course, LSU's offense has never lacked for talent under Miles, and it has still found a way to finish 55th, 112th, 86th, 86th and 87th the past five seasons in FBS total offense. A good spring under Cameron should change that, but the emphasis remains on "should."
-- The offensive line does need sorting out. The one true question mark for the offense (aside from Cameron) is the line, which, in addition to Dworaczyk and Faulk (who missed almost all of last season) lost bedrock center P.J. Lonergan. Collins and Alexander look set at the tackle spots, but the interior of the line has to be divided up between Josh Williford , Trai Turner , Elliott Porter  and possibly multiple other candidates. Given LSU's heavy emphasis on the running game, finding the right players for those spots and getting them comfortable with the shift to Cameron's schemes is of utmost importance.
-- Defensive end is, somehow, a weak spot. After two seasons of boasting arguably the deepest, best set of defensive ends in the country, Barkevious Mingo, Sam Montgomery and Lavar Edwards are all gone, leaving junior Jermauria Rasco and likely sophomore Danielle Hunter as the heirs apparent. Total sacks for that pair in 2012: zero. Total tackles-for-loss: two. The Tigers will be all right in the long run (as always, they're stocked with blue chips, like Rasco, that might just need some seasoning), but maintaining their lofty defensive perch this fall might require a major step forward from Rasco, Hunter or some third party this spring.
-- The back seven shouldn't be a problem. Any other program in the country (save Alabama) that lost the likes of Kevin Minter, Eric Reid and Tharold Simon would be left reeling. But LSU isn't one of those programs. With Lamin Barrow , Tahj Jones  and (come fall) a healthy Kwon Alexander , linebacker should be fine. And with Jalen Mills and Jalen Collins manning the corners and Craig Loston still patrolling the middle of the field at safety, the secondary should be better than fine. Still, the overall depth isn't what it was the past two seasons, meaning Miles and John Chavis will be happy to see their back seven get out of spring healthy -- and, of course, looking motivated enough to ease concerns that losing Minter, Redi and Simon really might be as big a blow as it might sem at first.
The Bulldogs jumped up to No. 7 after an emphatic win over Mississippi State

The Penn State running back made a case that he's a legit Heisman Trophy contender

Georgia jumped four spots to No. 8, while Florida State dropped 14 spots to No. 25
Louisville and TCU get big-time bumps after conference rivals fell on Saturday

The Nittany Lions came up huge when they needed to against Iowa

It just might have been the best game of the season so far