A Mets no-hitter? Impossible, or maybe it was just Johan
If anyone was going to throw the Mets' first-ever no-hitter, it had to be Johan Santana, who specializes in doing what can't be done. He overcame a shoulder surgery that few ever come back from, and Friday night he no-hit the Cardinals in the 8,020th game in Mets history.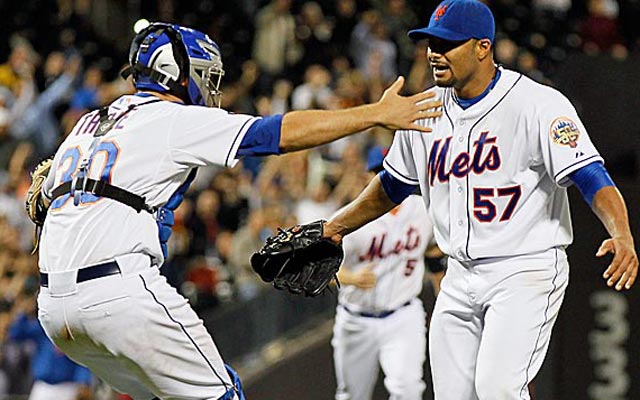 Johan Santana recovered from a potentially career-ending elbow injury.
(Getty Images)
NEW YORK -- It had to be Johan.
And it had to be like this.
It had to be
Johan Santana
, post-surgery. Not just post-surgery, but post a surgery that no one ever really comes back from.
It had to be against the
Cardinals
, the team leading the National League in batting average, on-base percentage and slugging percentage. It had to be against
Carlos Beltran
(with a little help from umpire Adrian Johnson), and against
Yadier Molina
(with a little help from left fielder
Mike Baxter
).
More on Cardinals-Mets
Related links
But yes, most of all, it had to be Johan.
He had to be the guy who did the impossible, the guy who finally threw a no-hitter for the
Mets
, after 8,019 games without one. He had to be the guy who pitched a game that couldn't be pitched, a game that couldn't be imagined.
Even by him.
"Tonight was a night when I was not even thinking about it," he said late Friday night at Citi Field. "It just happened. I never had in my mind that I would throw a no-hitter. Never.
"To talk about a no-hitter, coming into this game? No way."
No way. Just as there was no way a pitcher badly in need of knee surgery could pitch a season-saving three-hit shutout -- on three days' rest -- on the next-to-last day of the 2008 season.
Johan did that, too.
"A once in a lifetime performance," Omar Minaya, then the Mets general manager, said that day.
"I need to pitch," Santana had told Jerry Manuel, then the Mets manager.
In the seventh inning Friday, he told Terry Collins the same thing.
"You're my hero," Collins told him in the Mets dugout.
"I'm not coming out of this game," Santana told his manager.
Collins' voice nearly cracked after the game, as he talked about allowing Santana to throw a career-high 134 pitches (26 more than he had thrown in any other game since his 2010 shoulder surgery). Collins worried that he had just risked Santana's future, or the future of the Mets' season (and next season, as well).
"It's very exciting, but if in five days his arm's bothering him, I'm not going to feel very good," Collins said.
He shouldn't worry. He made the right decision, the only possible decision, no matter what happens in five days or 10 days or 10 months or 10 years.
He allowed Santana to give his young teammates a special night, one that no one associated with the Mets will ever forget. He allowed Santana to lift this team once more, just as he has been doing for the first two months of the season.
The Mets weren't supposed to be here, six games over .500 as they wake up on the second day of June, one game out of first place in the National League East. Just as Santana wasn't supposed to be here, with a 2.38 ERA and a .184 opponents batting average -- and a record that shows he has made every one of his scheduled 11 starts.
I remember going to Mets camp in Port St. Lucie, Fla., the day Santana threw off a mound for the second time this spring. I remember how excited they all were that he made it through a simple bullpen session without feeling pain. I remember Collins suggesting that he was looking for Santana to make 25 starts this year, and I remember a Mets official hearing that and saying, "I'm looking for him to make one."
"When I was in spring training, we didn't even know if I was going to break camp with the team," Santana said Friday night. "There were a lot of question marks."
No one knew if Santana would ever be able to pitch the way he did pre-surgery.
To be honest, he still doesn't. His average fastball was just 88 mph Friday night. His best two fastballs barely topped 90 mph.
"It's called command!" said one scout who watched him.
It's also called knowing how to compete, something Santana does as well as any pitcher in the game.
"There were a lot of question marks about whether I could be the same pitcher I used to be," Santana said Friday. "I didn't know, and I still don't know.
"But one thing I can tell you: Every time I go out there, I'll compete. I'll try to give my team a chance to win. Whether it's 88, 89, 90 or 95, I don't care, because I know what it takes to win a ballgame. I know what it takes to help a team win, and that's what I do."
Friday, it took an unusual Santana game, with five walks, the most he's had in a game this year, just the sixth time in 350 career starts he had walked that many.
It took Johnson, the third-base umpire, helping him out with an obviously wrong call on a Beltran sixth-inning line drive that landed on the foul line. It took Baxter, the left fielder, catching Molina's drive in the seventh, sacrificing his left shoulder as he crashed into the wall.
"It was a crazy night," Santana admitted.
A Mets no-hitter? It had to be crazy.
And it had to be Johan.
Another team rumored to be interested in Stanton has confirmed their interest

Chris Woodward has spent the last two seasons with the Dodgers

We heard about it being awful for years, but was it?
Then again, three trades in four days might be behind Jerry Dipoto's usual pace

Ohtani is arguably the best hitter and pitcher in Japan

The O's need rotation help, and Cobb is available for hire